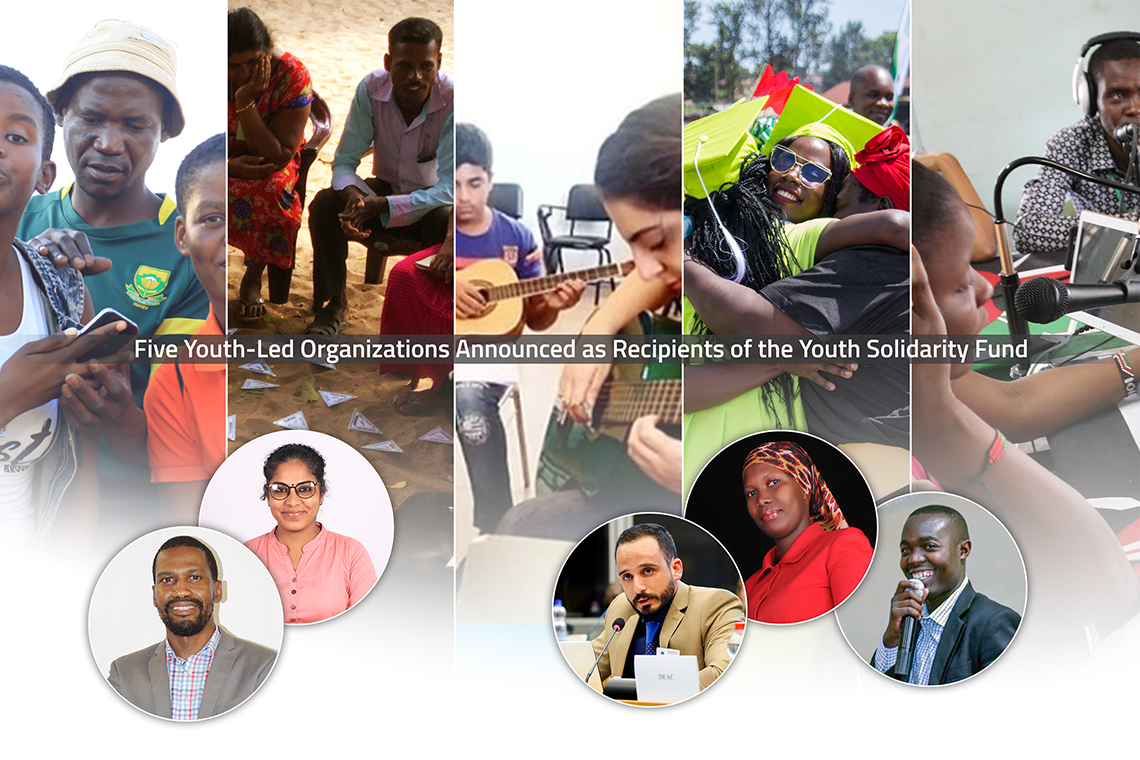 Programme Overview
The Youth Solidarity Fund (YSF) supports youth-led organizations that foster peaceful and inclusive societies. Seed funding is given to projects, for and by young people, that demonstrate innovative and effective approaches to intercultural or interfaith dialogue. UNAOC additionally offers capacity-building support to help youth-led organizations strengthen the implementation of their projects.
Established in 2008, YSF responded to calls for action made by youth-led organizations around the world on the importance of establishing funding mechanisms for youth. Today, YSF is more relevant than ever: As the global agenda increasingly speaks of youth's participation and contribution to peace, development and security, it is critical to support this participation and contribution through funding and partnership opportunities.
The funded projects are youth-led and youth-focused (18-35 years) but have an impact on entire communities, often involving religious or political leaders, policy-makers, educational institutions and media organizations. YSF also links small scale and local work to larger movements for social and global change, for a broader and deeper impact.
---
Youth Solidarity Fund Recipients Around the World
---
Impact
Since 2008, UNAOC has launched seven YSF editions and provided funding to youth-led organizations based in Africa, the Americas, Asia and Europe. A total of 63 projects were funded by the end of 2018 reaching 94,055 direct beneficiaries in 39 countries. In total, more than 1.7 million direct and indirect beneficiaries have been impacted over the past ten years.
We're training youth in Nakivale refugee settlement and surrounding Ugandan communities in peacebuilding. They are taught how they can come together, understand and respect each other, regardless of them coming from different countries, having different religions, and being from different cultures. Thanks to the funding we received, we've now seen that youth have now started cooperating, regardless of having those differences. There are reduced cases of fights, hatred and violence.

Kato Ssekah Abdu

Project Coordinator, Integrated Community Development Initiative (Uganda), 2017 YSF Recipient
The projects funded by YSF target young people from various backgrounds: students, marginalized youth, minorities, youth in rural or urban areas, youth in conflict or post-conflict situations, artists and activists. The youth-led organizations employ creative methodologies to break stereotypes, improve intercultural relations and promote a culture of peace, including:
Educational activities, ranging from one-day awareness raising sessions to week-long trainings, peer-education activities, summer camps, as well as development of educational materials and tools and creation of networks of student leaders and youth clubs;
Arts and sports as tools to address conflict in a non-violent way, to promote inter-community understanding and to raise-awareness about the dangers of sectarianism, extremism and radicalization;
Media and social-media campaigns, video production for advocacy purposes and radio series to promote messages of tolerance and peace;
Creative settings that facilitate intercultural dialogue, interfaith understanding, sharing of experiences and learning from each other in order to bring meaningful change to their society.
While we were learning to break stereotypes, I realized how important it is for me to accept my own stereotypes without shame, and then question them before blindly deciding that they needed to be discarded. A very important concept I'm trying to internalize is that there is no single truth. As I see it, the only truth is to question. It is difficult to give up the idea that ONLY I am right, and truly accept that someone else is ALSO right. Even as I work on this concept, I work on staying away from passivity about other's opinions; acceptance and understanding cannot turn into indifference.

Shatakshi Gawade, 25

Participant of the "I Am Not a Stereotype: A Journey through Photography" project,
from Standing Together to Enable Peace (India), 2014-2015 YSF Recipient
---
Resource Bank