Name of organization:
UZIMA Foundation, Kenya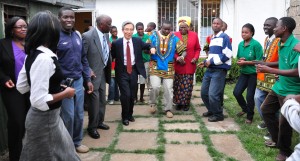 Description of organization:
UZIMA is a youth-centric organization that promotes peaceful coexistence, reconciliation and good governance. Youth-adult partnerships are enhanced through inter-generational communication programs and community-based organizations. The organization has 6,000 registered members that are distributed amongst 280 youth groups. The members are between 10 and 35 years old.
Project Description:
The project aimed to empower youth to become agents of change by promoting peace, justice, reconciliation and good governance. These objectives were met through the organization of various workshops and distribution of reading material, which increased the level of knowledge of the youth. Additionally UZIMA offered technical support during the field visits, and UZIMA Youth groups built networks and linkages with community leaders and local administrations.
Results:
Project implemented
Contact:
wkinaro@uzimafoundation.org
Website:
http://uzimafoundation.org
Facebook:
https://www.facebook.com/uzimafoundation