Since its inception, the United Nations Alliance of Civilizations (UNAOC) has become a leading United Nations platform for intercultural dialogue, understanding and cooperation. It has connected governments, lawmakers, local authorities, civil society organizations, the media, and individuals devoted to promoting understanding across diverse communities.
UNAOC features programming in the areas of Education, Youth, Migration, Media, and Women as Peace Mediators. Many programmes engage more than one area. To read more about UNAOC's Programmes and Projects, please visit UNAOC Programmes and Projects page.
UNAOC's Pillars
While active on a number of cross-cutting issues, UNAOC works mainly in five priority areas to which it brings a multidisciplinary and multi-perspective approach: Youth, Education, Media, Migration, and Women as Peace Mediators. The pillars of UNAOC provide an essential organizing structure for the development and implementation of its various programmes and initiatives, which all play a critical role in reducing cross-cultural tensions and building bridges between communities globally.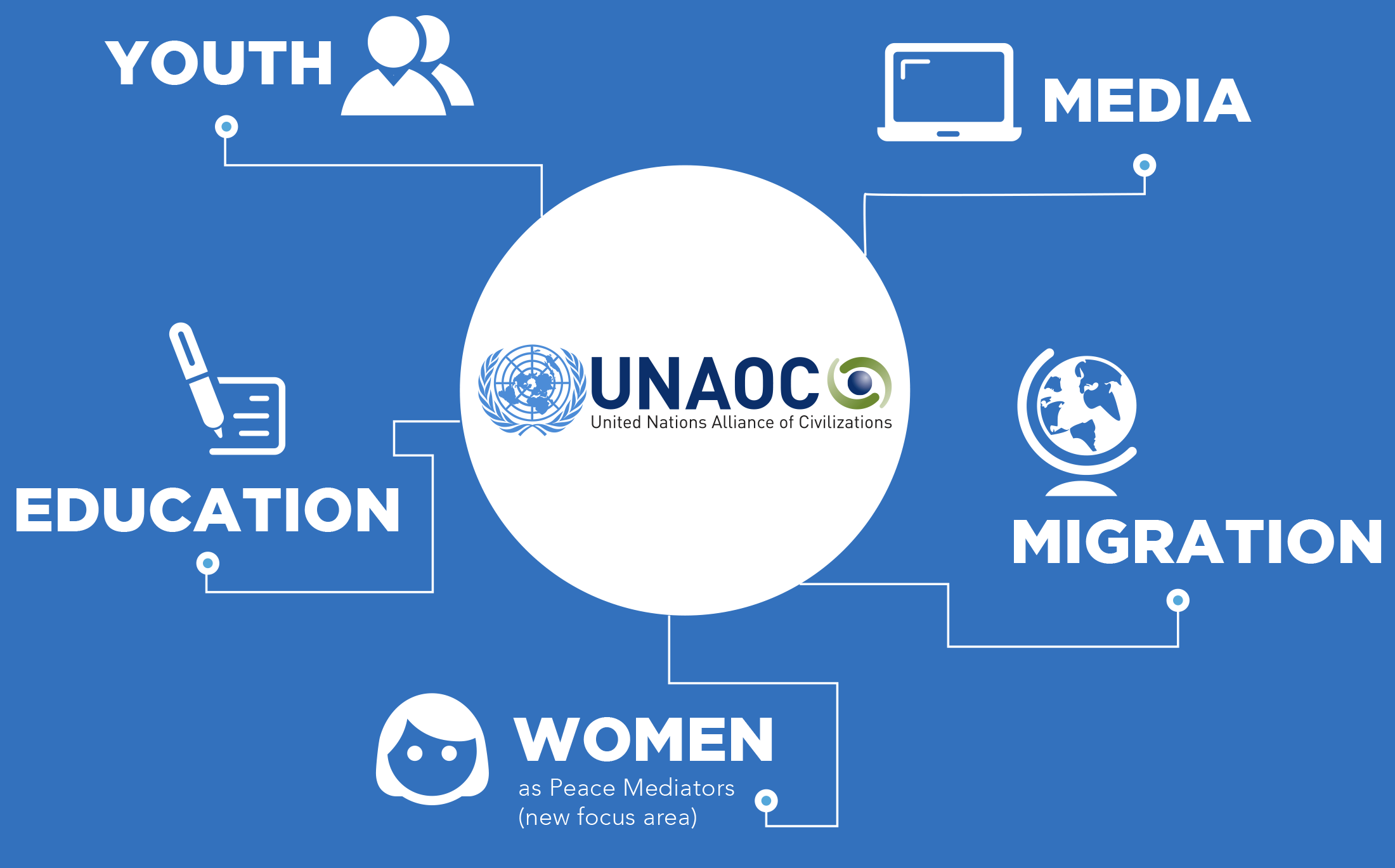 Advocacies and Areas of Focus
The High Representative for UNAOC delivers political interventions on a range of topics, including supporting attempts to increase the role of mediation efforts to promote the integration of migrants and refugees, as well as a broader space for dialogue for young women and men as a means of empowering youth in combatting radicalization and violent extremism. Other areas of priorities for the High Representative include:

Intercultural and interreligious dialogue and understanding

Peacebuilding, conflict prevention and conflict resolution

Preventing xenophobia and hate speech

The role of women in peacebuilding

Media and information literacy

Preventing violent extremism

Diversity and social inclusion
"The truth is – today more than ever – diversity is the reality that informs human life. Diversity means embracing pluralism in nations and cities, tribes and villages, in ethnicities and identities, in beliefs, faiths, and traditions."
H.E. Mr. Miguel Ángel Moratinos, UNAOC High Representative
How Does UNAOC Make a Difference?