EDIN – "Empowering Dialogue and Interfaith Networks"
Peer-to-Peer Capacity-Building Training between Young Religious Leaders and Young Media Makers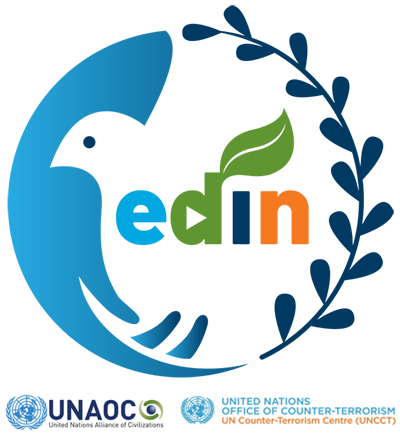 UNAOC is implementing EDIN – "Empowering Dialogue and Interfaith Networks" – a pilot project, launched in January 2021 by UNAOC and the United Nations Office of Counter-Terrorism and the United Nations Counter-Terrorism Center (UNOCT/UNCCT).
Through this project, UNAOC and UNOCT/UNCCT aim to provide young religious leaders, representatives of faith-based organizations and young media makers with a peer-to-peer learning space and build their capacity to prevent sectarian violence and counter-terrorist narratives, using efficient communication tools and strategies to reach their community. A series of capacity-building activities enhance participants' competencies that help to debunk hateful discourse and promote inter-religious understanding as key to social cohesion.
Participants work on creating and implementing social media campaigns targeting various audiences across Europe, the Middle East and North Africa. Their campaigns aim to highlight positive examples of peaceful coexistence and interfaith harmony among three Abrahamic faiths and celebrate diversity, promote inclusion and tolerance, address radicalization, hate speech, prejudices and biases, extremist views about 'the other' and related violence. They offer counter-narratives that will help build respect and mutual understanding, and celebrate shared values between the faiths, fostering social cohesion within societies.
As one of the outcomes of the project, young religious leaders and media makers will become better equipped to advocate for stronger collaboration between media professionals, religious leaders, and policymakers in the field of interfaith and interreligious dialogue.
EDIN's participants are 11 females and 9 males of the ages of 20 to 35 from Europe and MENA regions (Bosnia and Herzegovina, Egypt, France, Germany, Ireland, Italy, Lebanon, Norway, Saudi Arabia, UK and Ukraine). The first edition of the pilot project focuses on Christianity, Judaism and Islam. Subsequent iterations of the project may expand to other religions, faiths or regions of the world.
View the Microsite of EDIN – "Empowering Dialogue and Interfaith Networks"