Name of organization:
Youth Alive! Kenya, Kenya
Description of the organization: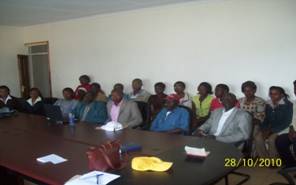 Youth Alive! Kenya (YAK) is an independent national NGO, that is committed to the empowerment of young people in Kenya. Its main objectives are to ensure a free and just world where young people are able to translate their aspirations and potential into productive and fulfilling lives. Currently there are 60 'offline' members and 247 'online' members in the organization.
Project Description:
The main aim of the "Husika Urekebishe" project was to promote peace and reconciliation in the rural areas of the Central and Nyanza Provinces, through the establishment of an exchange program. During the program the participants were hosted in different households outside their original ethnolinguistic groups. This allowed the participants to learn the diverse cultural practices and to appreciate the different past and common future shared by the different communities. Two rounds of Home stay/ exchange took place with a total of 36 participating hosts and participating guests. The participating guests were from Karatina, Solio and Kwa J locations in the Central region, while the participating hosts, came from Kisumu town, Kisumu rural and Nyalenda locations in the Nyanza region. The main project outcome was an increased understanding of and respect for the cultural richness of the individual communities.
Results:
Project implemented
Contact:
joan@youthalivekenya.org
Website:
www.youthalivekenya.org