---
The main objectives of UNAOC's programme activities are to facilitate the global conversation on the challenges and opportunities for living in a landscape of diversity in our age of global communication and exchanges; prevent intercultural tensions and crises; combat stereotypes, misperceptions, discrimination and xenophobia; and support innovative grassroots initiatives that contribute to intercultural dialogue and understanding, mutual respect and cooperation across divides.
Global Programme on Security of Major Sporting Events, and Promotion of Sport and its Values to PVE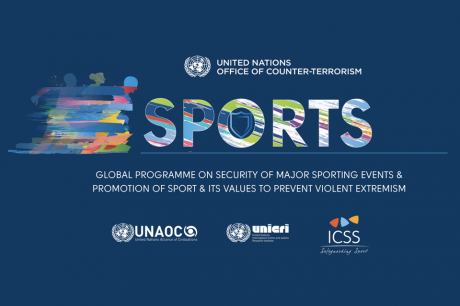 The Global Programme on Security of Major Sporting Events, and Promotion of Sport and its Values as a Tool to Prevent Violent Extremism, is an initiative of the UN Office of Counter-Terrorism (UNOCT) in partnership with UNAOC, the UN Interregional Crime and Justice Research Institute (UNICRI), and the International Centre for Sport Security (ICSS). It promotes the development and adoption of advanced policies and practices to enhance the security of major sporting events, while promoting the use of sport and its values as a tool to prevent violent extremism.
News Generation Against Hate: Empowering local youth to create alternative narratives in the media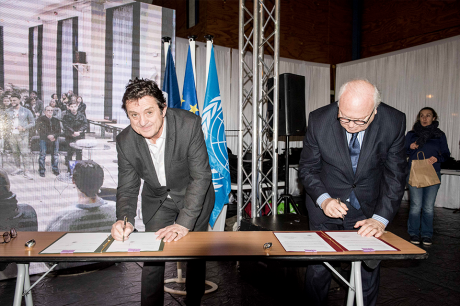 Municipalities are often in the frontlines in addressing challenges linked to intercultural and interreligious tensions that may erupt within diverse communities. This project is implemented in collaboration with the municipality of La Courneuve, France, and aims to empower new generations to combat fake news, hate speech, and stereotypes through the promotion of multiculturalism and interreligious understanding in the media.
#SpreadNoHate Initiative: Global Symposia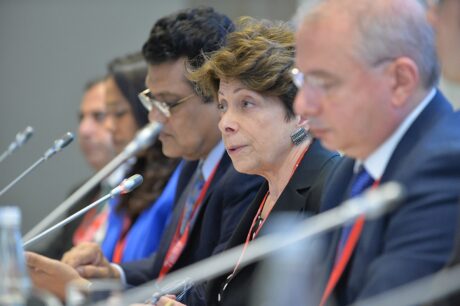 UNAOC's #SpreadNoHate initiative aims at preventing and countering hate speech and the negative portrayal of migrants and refugees in traditional and new media. Since its launch in late 2015, the initiative has promoted constructive dialogue on hate speech among media professionals, academia, and relevant NGOs, and allowed them to share best practices in preventing and countering hate speech in the media. To date, UNAOC has organized five international #SpreadNoHate Symposia at the United Nations Headquarters in New York, as well as in Baku, Azerbaijan, in Brussels, Belgium, in partnership with the European Union, and Cairo, Egypt. The #SpreadNoHate initiative also consists of an ongoing social media campaign that has consistently topped Twitter trends and comprehensive reports with recommendations.
PEACEapp
Global Workshops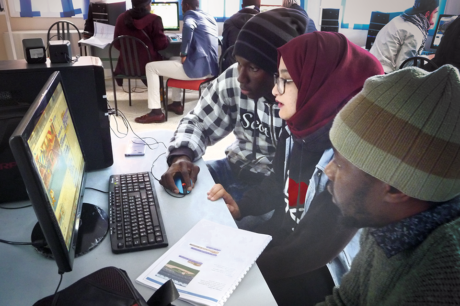 Initially designed with UNDP as a contest for digital games facilitating inter-cultural dialogue and violence prevention, PEACEapp developed into a series of hands-on workshops with young refugees focusing on the creation of video game apps for use on smart devices. PEACEapp creates a platform for mobile technologies to support creative forms of storytelling and digital narratives. The workshops and apps development also aim to connect young refugees to peers while building awareness about their situation and aspirations.
Engagement with Religious Leaders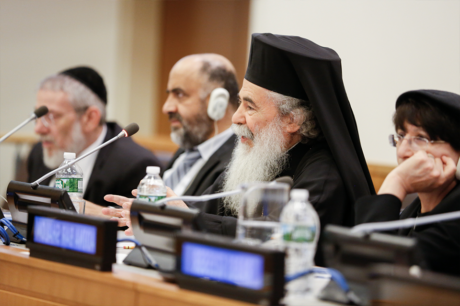 In resolution 69/312, the General Assembly recognized the critical role of UNAOC in promoting inter-religious and intercultural dialogue within the United Nations system. UNAOC works actively with religious leaders and faith-based organizations in three key areas: advocacy, capacity building, and knowledge management. Since 2013, UNAOC has organized or co-organized numerous events involving religious leaders and faith-based organizations, creating a global platform to discuss the best ways to advance the use of interreligious dialogue. UNAOC is also an active member and participant in inter-agency bodies, most notably, the Inter-Agency Task Force on Religion and Development (UNWPF).
UNAOC's Pillars
While active on a number of cross-cutting issues, UNAOC works mainly in four priority areas to which it brings a multidisciplinary and multi-perspective approach: Youth, Education, Media, and Migration. The four pillars of UNAOC provide an essential organizing structure for the development and implementation of its various programmes and initiatives, which all play a critical role in reducing cross-cultural tensions and building bridges between communities globally.