A Breakout Session at the 3rd UNAOC Global Forum, May 2010, Rio de Janeiro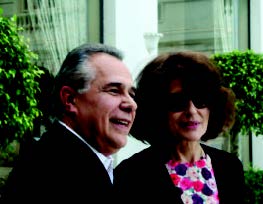 The presentation of the film Then and Now: Beyond Borders and Differences was preceded by a short selection of awarded videos from the PLURAL+ Youth Video Festival. Recognizing youth as powerful agents of social change in a world often characterized by intolerance, cultural and religious divisions, PLURAL+ is aimed at involving youth in addressing the key challenges in their communities related to migrant integration, inclusiveness, identity, diversity, human rights and social cohesiveness.
William Lacy Swing, General Director, International Organizations for Migration, and Marc Scheuer, Director, United Nations Alliance of Civilizations, opened the session with remarks pointing at the need to support young people's voices in the current and often heated debate regarding migration, and identified PLURAL+ as a good platform for supporting youth media production and distribution. Enrique Gaspar, President, NEXOSAlianza, gave the PLURAL+ A Collective Effort Award to representatives of the youth video makers of "Meeting in Mars", from Instituto Marlin Azul, Brazil.
The session continued with the presentation of the first five segments of Then and Now: Beyond Borders and Differences, a collective film addressing contemporary forms of spirituality within a cross-cultural perspective. This film project, which will
ultimately consist of 15 short segments from 15 filmmakers from across the world, is produced by ART for the World and will also include an art exhibition which will be featured during the 2011 Venice Biennale. Participants in the discussion included Adelina von Furstenberg, President, ART for the World; Danilo Santos de Miranda, Regional Director, SESC Sao Paulo; Jean-Pierre Titz, Head of History Education Division, Council of Europe; and the filmmakers Tata Amaral (Brazil), Fanny Ardant (France) and Masbedo (Italy). Jordi Torrent, Media Literacy Program Manager, United Nations Alliance of Civilizations, moderated the session.