Remarks by Under-Secretary-General Miguel Moratinos
The High Representative for the United Nations Alliance of Civilizations
Bahrain Dialogue Forum: "East & West for Human Co-existence"
3 November 2022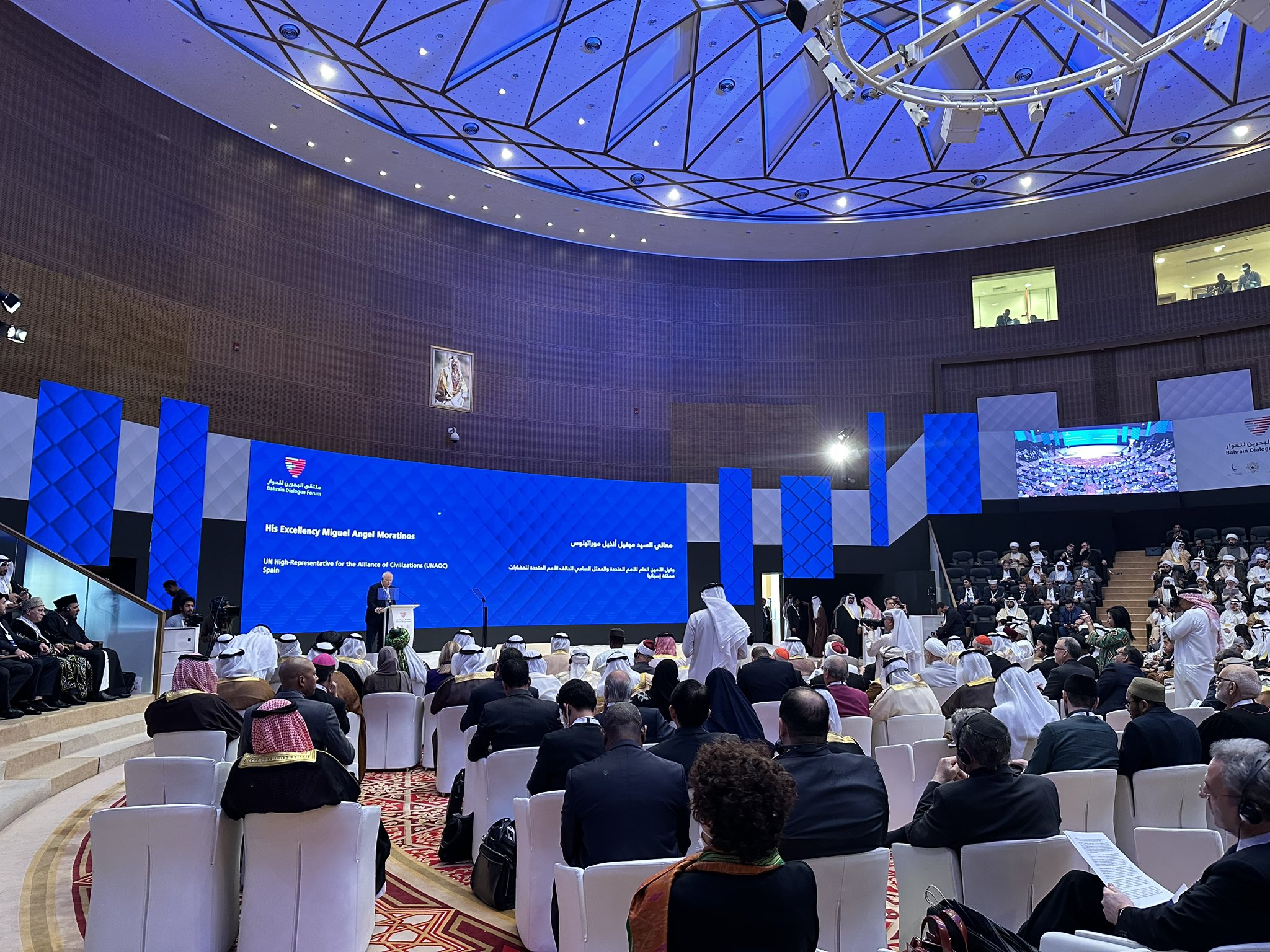 Your Excellency, Sheikh AbbulRahman al khalifa
Chairman of the Islamic Council for Islamic Affairs,
Your Excellency, Judge Mohamed AbdelSalam
Secretary General of the Muslim Council for Elders
Excellencies,
Distinguished Guests ,
Al Salam 'u Alay'kom wa Rahmatu 'Allah wa barakatou.
It is a great honor to be in the presence of such eminent audience, and equally a great pleasure to be back to this beautiful country. I wish to thank the Muslim Council of Elders for inviting me and providing me with the opportunity to address this important and timely theme.
Promoting mutual respect, living together in peace and strengthening cultural diversity and advancing religious pluralism have been and still are key priorities for the Kingdom of Bahrain, thanks to the forward-thinking vision of the leadership of the Kingdom. The wealth of diverse religions, cultures and languages in the Kingdom enriches the colorful mosaic of the Bahraini society.
The Kingdom of Bahrain is home to hundreds to mosques, numerous churches and the oldest synagogue in the Gulf region as well as Hindu, Sikhs and Buddhist temples.
I applaud the Kingdom of Bahrain for the opening "Our Lady of Arabia Cathedral" last December.
These houses of worship serve the multi-ethnic, multi-faith and multi cultural community that has lived in Bahrain for decades.
In this context, The Bahrain Declaration issued by His Majesty King Hamad bin Eissa Al Khalifa reflects this reality with its emphasis on freedom of religion , and denunciation of all forms of violent extremism and acts of terror and hate speech in the name of religion and on account of religion or belief.
In this respect, upholding the freedom of religion or belief and the freedom of expression are interdependent, interrelated and mutually re-enforcing rights rooted in articles 18 and 19 of the Universal Declaration of Human Rights. Upholding and protecting these fundamental rights is the primary responsibility of member states.
At the same time, freedom of expression should be exercised in a way that fully respects the religious beliefs and tenets of all religions. I firmly believe that acts of violence cannot and should not be associated with any religion, nationality, civilization or ethnic group. At the same time, violence can and should never be justifiable or acceptable response to acts of intolerance on the basis of religion or belief.
Distinguished guests,
I wish to acknowledge Bahrain's initiative in 2019 mobilizing support for a UN International day of Conscience. The UN General Assembly Resolution (A/RES/73/329) proclaimed April 5th International day of Conscience and invited UN member states to remember that all human beings are endowed with reason and conscience and should act towards one another in a spirit of fraternity, solidarity and compassion as stated in the Universal Declaration of Human Rights.
Yes , my dear friends , conscience is what defines us as human beings and re-invigorates ethics and spirituality at a time when Artificial Intelligence seem to be overtaking our lives. That's why UNAOC was the first to support and congratulate the Kingdom of Bahrain for initiating this GA resolution.
Your Excellencies,
The overarching theme of this forum " East and West for Human Co-existence" is befitting the complex geopolitical scene prevailing today. The context, is reminiscent, one way or another, with the aftermath of 9/11 terrorist attacks which pitted 2 world against each other. It is also that context that eventually led to the creation of the Alliance of Civilizations few years later with the aim to address the root causes of polarization and to refute Samuel Huntington's theory about the Clash of Civilizations.
Our world today is facing unprecedented challenges where conflicts are multiplying and people whose identities are defined by religion, culture or ethnicity, continue to be besieged by hatred.
There is little merit in lamenting our shortcomings without the commitment to address them with a clear vision.
A holistic approach is the way to respond to global challenges of this nature. Security measures will not suffice to stem up the scourge of terrorism, sectarianism and racist rhetoric. We need to counter these false narratives with a true one that offers human solidarity and hope.
Strengthening interfaith dialogue against bigotry and hate should guide our collective actions. From the local community to cyberspace, the voices of inclusiveness, empathy and respect of the other must be heard.
I recall the United Nations General Assembly Resolution A/73/296 that calls for strengthened international efforts to foster a global dialogue and the promotion of a culture of peace at all levels, based on respect for human rights and the diversity of religions and beliefs, emphasizing that States, regional organizations, national human rights institutions, non-governmental organizations, religious bodies, the media and civil society as a whole have an essential role to play in such efforts.
In preparation for my speech today, I drew inspiration from Article 1 of the Universal Declaration of Human Rights – the magna carta of all humankind -which states, "All human beings are born free and equal in dignity and rights. They are endowed with reason and conscience and should act towards one another in a spirit of brotherhood".
All the prophets and religious messengers throughout history have preached a similar message of peace, love, mutual respect, and tolerance.
Islam is a case in point, the dignity of all human beings in Islam derives from our common humanity, regardless of race, creed, color or gender. Islam views the world as a single family with citizenship rights as the basis for cooperation and peaceful coexistence. Islam is a faith of tolerance, a faith of humanism.
I quote from the Holy Quaran, Surat Al-Hujrat: "Oh, mankind! We created you from a single (pair) of a male and a female and made you into nations and tribes, that ye may know each other"
And these values are not limited to the scriptures of the three monotheistic religions. They are cherished by all the world's major religions and faiths.
Yet, in all corners of the world, we see these values in decline; social and cultural divides are deepening ; tribalism, ethnic violence, Islamaphobia, anti-Semitism, xenophobia, hate speech and ultra-nationalism, are in full swing.
This is where the role of religious leaders and faith actors come into play. The Untied Nations Alliance of Civilizations has long recognized the value added of religious leaders and faith based organizations in our societies. Hence, we broadened our outreach to provide a unique global platform for interfaith dialogue.
Intercultural and interreligious dialogue is a critical tool against isolation, mistrust, and confrontation. It is also the most powerful vector for conflict prevention and conflict resolution. I must say, a viable tool that has been often overlooked.
Distinguished guests,
I talked earlier about a gloomy global landscape. But there is a always a good story to tell . The document of Human Fraternity co-signed by His Holiness Pope Francis and His Eminence the Grand Imam of Al Azhar, Dr. Ahmed El Tayeb on the 4th February 2019 is a shining light at the end of the dark tunnel, a true model of interfaith. It is blueprint for interfaith dialogue not only among one or two faiths, but it encompasses all faiths. The manifesto speaks volumes of this forum's theme.
History has shown that dialogue is not a simple process, but that if we fail to teach and cultivate it, the situation can give way to a monologue or to mutism, which is conducive to conflict and violent extremism. HH Pope Francis describes it as parallel monologues.
I am proud of our partnership with the Higher Committee of Human Fraternity . Together we celebrated the International Day Of Human Fraternity proclaimed by the UN General Assembly since 2021.
Concluding, allow me to re-iterate that words like dialogue, tolerance, diversity and respect mean little if not supported by concrete broad range of actions under an international umbrella of sincere cooperation from state and non-state actors. After all, peace, justice and human fraternity that we all aspire for, are what bind us together as we are all part of one humanity despite our many diverse cultures.
Let me conclude by quoting the Bible: "Love your neighbor as yourself. No commandment is greater than these" – Mark 12:31
And from the Torah (Talmud, Shabbat 31 a): "What is hateful to you, do not do to another. This is the Whole Torah".
Allow me to reiterate that words like dialogue, mutual respect and diversity mean little if not supported by a concrete broad range of actions under an international umbrella of sincere cooperation from state and non-state actors. After all, peace, justice, and human fraternity that we all aspire for, are what bind us together as we are all part of one humanity despite our many diverse cultures.
---
Photo courtesy of: @NizamiGanjaviIC