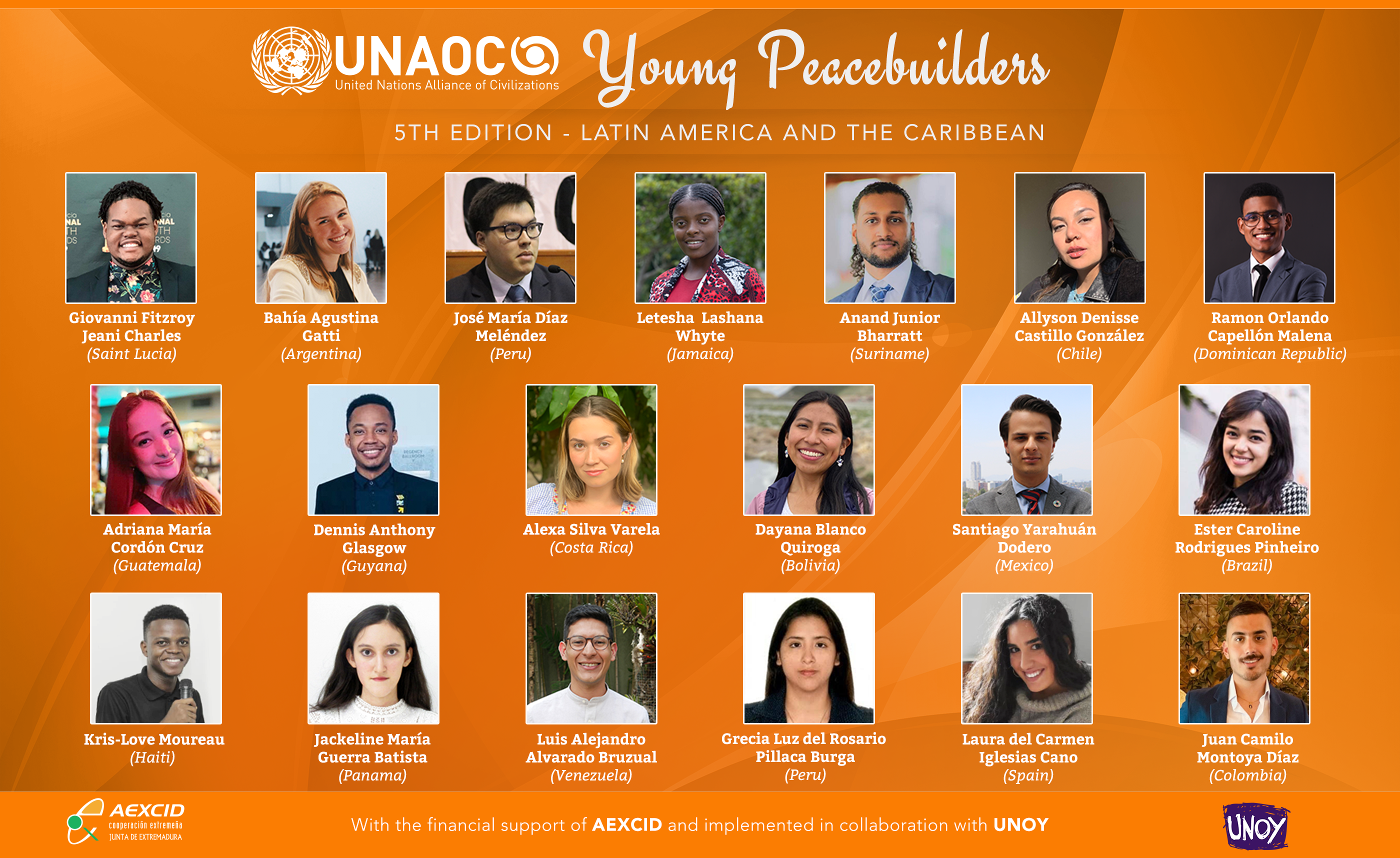 Merida, Spain – Within the framework of the 5th edition of its Young Peacebuilders programme, the United Nations Alliance of Civilizations (UNAOC), in collaboration with the United Network of Young Peacebuilders (UNOY), is organizing a capacity-building workshop in Merida, Spain from October 3-8, 2022.
The in-person training is the second phase of the programme, following a two-month online engagement. In its 5th edition, this UNAOC peace initiative focuses on aspiring peacebuilders from Latin America and the Caribbean. It will bring together 19 young civil society leaders from Argentina, the Plurinational State of Bolivia, Brazil, Chile, Colombia, Costa Rica, Dominican Republic, Guatemala, Guyana, Haiti, Jamaica, Mexico, Panama, Peru, Saint Lucia, Spain, Suriname, and the Bolivarian Republic of Venezuela.
Guided by experienced facilitators, the participants will work on conflict analysis, utilizing peace tools to build bridges between cultures and religions and designing peace interventions, which they will implement upon returning home.
The Young Peacebuilders programme is made possible by the generous contribution of the Agencia Extremeña de Cooperación Internacional para el Desarrollo (AEXCID) of the Junta de Extremadura.
---
About the UNAOC Young Peacebuilders programme
The Young Peacebuilders is a peace education initiative that is designed to support young people in gaining skills that can enhance their positive role in issues of peace and security and in preventing violent conflict. It also brings visibility to the initiatives, actions and projects initiated by young people towards peace and the promotion of diversity and dialogue. Read more about Young Peacebuilders here.