New Memorandum of Understanding between UNAOC and the Council of Europe
Strasbourg, 21 October 2022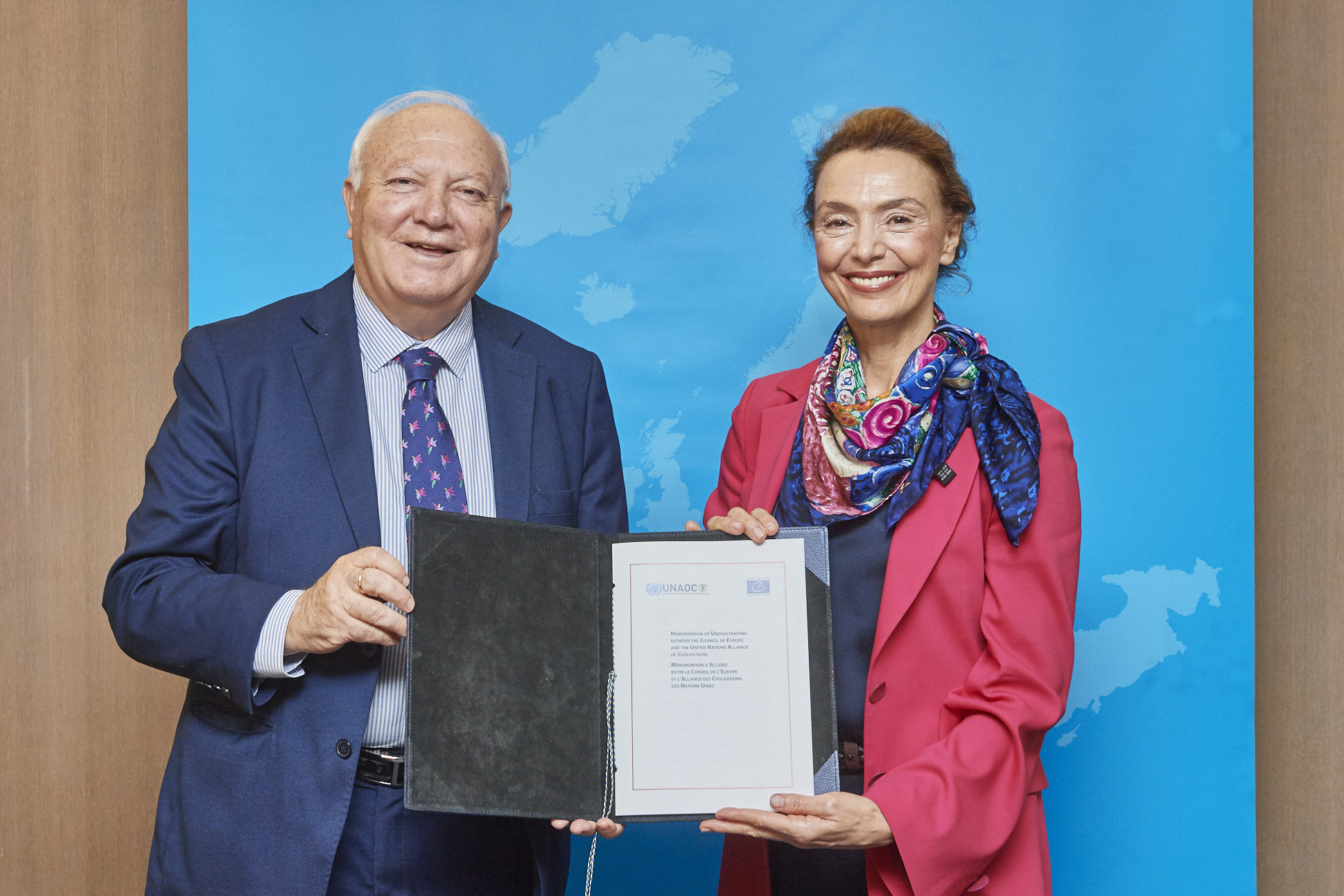 The Council of Europe and the United Nations Alliance of Civilizations have signed a memorandum of understanding by which they commit to enhance their co-operation and develop joint activities in fields of common interest, such as the fight against all forms of intolerance and hate speech, education for democratic citizenship, youth, in particular youth participation in intercultural and interreligious dialogue, culture, the media with a view to promoting and protecting freedom of expression and information, migration, social cohesion and inclusive diversity management or sport.
The agreement was signed in Strasbourg by the Secretary General of the Council of Europe, Marija Pejčinović Burić, and the High Representative for the Alliance, Miguel Ángel Moratinos. This co-operation, which will allow the two organisations to exchange information and expertise, should contribute to the implementation of the United Nations 2030 Agenda for Sustainable Development.
---
Nouvel accord entre le Conseil de l'Europe et l'Alliance des Civilisations des Nations Unies
Strasbourg, 21 October 2022
Le Conseil de l'Europe et l'Alliance des Civilisations des Nations Unies viennent de signer un mémorandum d'accord par lequel ils s'engagent à renforcer leur coopération et développer des activités conjointes dans des domaines d'intérêt commun, comme par exemple : la lutte contre toute forme d'intolérance religieuse et le discours de haine ; l'éducation à la citoyenneté démocratique ; la jeunesse, plus particulièrement la participation des jeunes au dialogue interculturel et interreligieux ; la culture ; les médias en vue de promouvoir et protéger la liberté d'expression et d'information ; les migrations, la cohésion sociale et la gestion inclusive de la diversité ou encore le sport.
L'accord a été signé à Strasbourg par la Secrétaire Générale du Conseil de l'Europe, Marija Pejčinović Burić, et le Haut-Représentant de l'Alliance, Miguel Ángel Moratinos. Cette coopération, qui permettra l'échange d'informations et d'expertise entre les deux organisations, devrait contribuer à la mise en œuvre de l'Agenda 2030 des Nations Unies pour le développement durable.
Source: https://www.coe.int/fr/web/portal/-/new-agreement-between-council-of-europe-and-un-alliance-of-civilizations
---
The Council of Europe and @UNAOC are joining forces to take action on:

☑️ fight against intolerance and #hatespeech
☑️ education for democratic citizenship
☑️ youth
☑️ culture
☑️ media
☑️ migration
☑️ social cohesion
☑️ sport

About the agreement: https://t.co/KDoghrsKsc pic.twitter.com/LdMuWKDOiB

— Council of Europe (@coe) October 21, 2022
Had a very productive meeting with H.E. Ms. Marija Pejčinović Burić @MarijaPBuric, Secretary General of the Council of Europe, and very pleased to sign a new MoU between @UNAOC and @COE, renewing our commitment to do more in investing in dialogue and the culture of peace. pic.twitter.com/OwJQJd30Cm

— Miguel Ángel Moratinos (@MiguelMoratinos) October 19, 2022
Very glad to sign a new MoU @coe–@UNAOC w/@MiguelMoratinos & to discuss our future cooperation / Très heureuse d'avoir signé un nouveau MoU @coe_fr–@UNAOC avec @MiguelMoratinos et discuté notre coopération à venir pic.twitter.com/l63vOPWUON

— Marija Pejčinović Burić (@MarijaPBuric) October 19, 2022