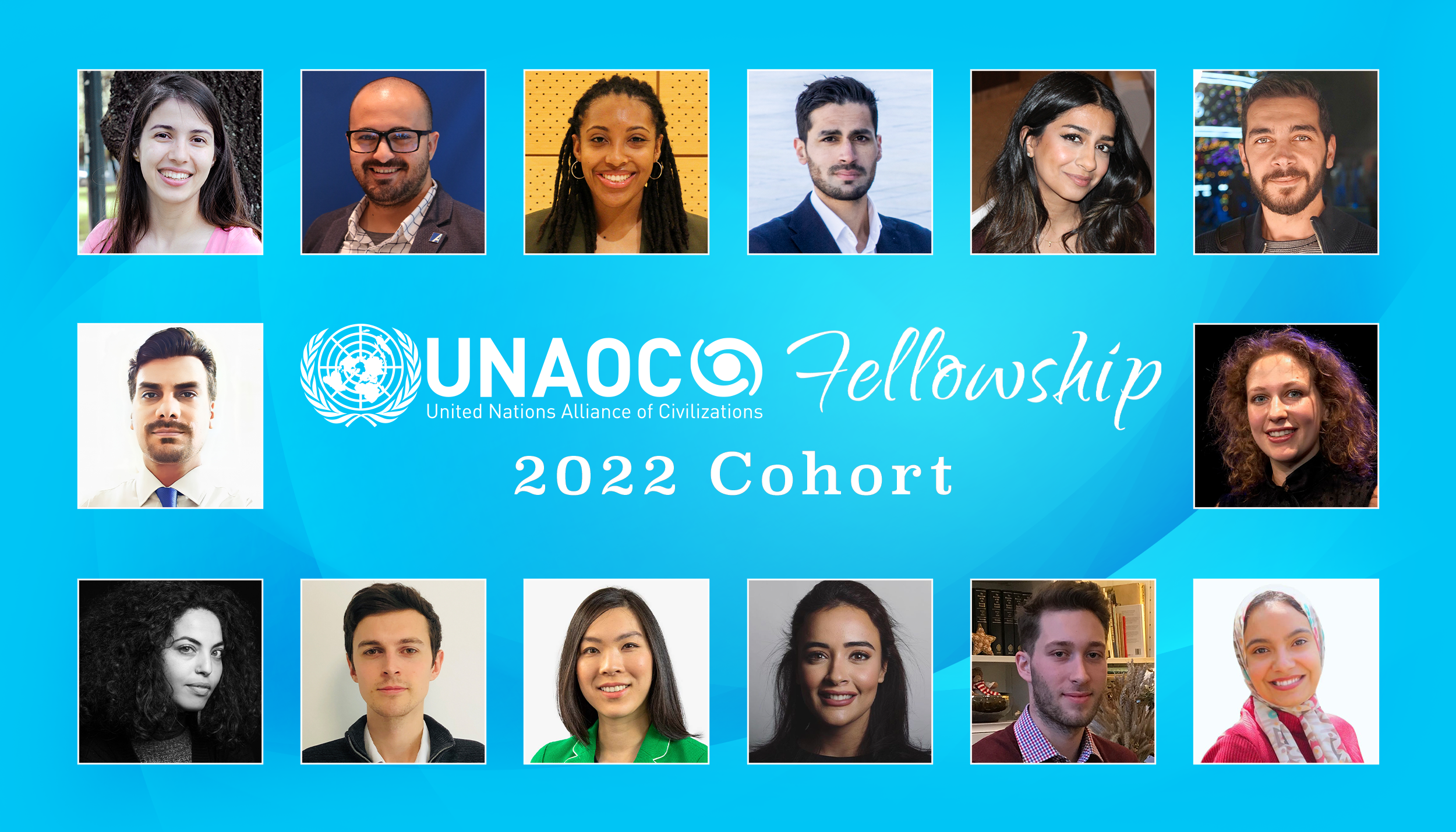 New York, 17 October 2022 – The United Nations Alliance of Civilizations (UNAOC) is pleased to announce that seven participants from Europe and North America (EUNA) and seven participants from the Middle East and North Africa (MENA) have been selected to participate in the 2022 edition of its Fellowship Programme.
The Fellowship Programme aims to challenge perceptions and deconstruct stereotypes by encouraging young civil society leaders from Europe, North America, the Middle East and North Africa to engage in intercultural dialogue and embrace cultural diversity.
The Programme exposes participants to key stakeholders who work on issues related to building pluralistic and inclusive societies through intercultural dialogue and collaboration. Fellows are provided with crucial comprehension tools to help them understand the plurality and the complexity of different cultures, geopolitical landscapes, societies, religions and more.
Building on immersive experiences and interactive exchanges with a broad range of regional and global partners, the Fellows then become better equipped to position themselves as informed stakeholders and develop cross-cultural partnerships while bridging divides between peoples from different faiths and cultures.
The theme of this year's Fellowship Programme is: "Countering racism and discrimination: the nexus to building pluralistic and diverse societies". The choice of the theme stems from the UNAOC core mandate of tackling racism and discrimination and seeking ways to address the root causes of polarization within and between societies. It is also very well aligned with the UN global agenda. This theme has framed the competitive selection process, with the final cohort of Fellows selected for their strong involvement with fighting racism and discrimination in their communities.
The 2022 edition of this flagship UNAOC programme offers participants from both EUNA and MENA regions the opportunity to experience the Fellowship together. They will begin by engaging online in a series of virtual interactive sessions to jumpstart the dialogue and cross-cultural exchange prior to their first in-person meeting in the Kingdom of Morocco, where they will also take part in the 9th UNAOC Global Forum in Fez, scheduled for November 2022.
---

This 2022 edition of the Fellowship Programme is organized with support of the Network for Religious and Traditional Peacemakers.
---