Media Advisory: 2022 Global Dialogue on AI "Towards the World of #OneHumanity"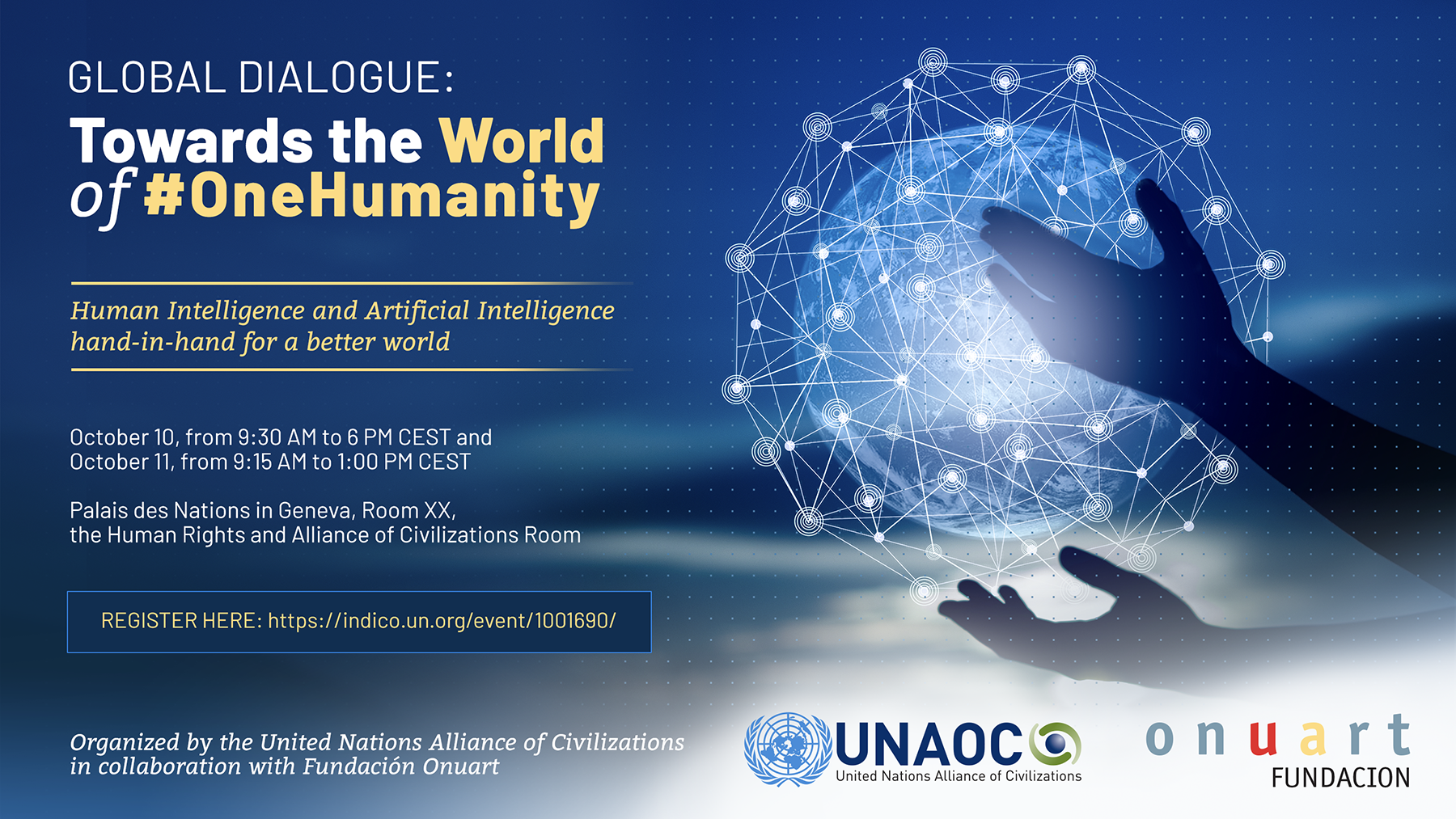 ---
WHAT:
The United Nations Alliance of Civilizations (UNAOC) and the Fundación Onuart are co-organizing a high-level global dialogue on the interplay between Human Intelligence and Artificial Intelligence for better public affairs management, to pave the way for new private sector initiatives that bolster positive global development driven by innovation and inclusiveness.
Artificial Intelligence, in the service of humanity, can drive diversity, respect and progress for all through innovation. Moving forward under a strong public-private partnership is essential to this end. The Global Dialogue aims to further strengthen this cooperation.
The two-day event will be inaugurated by high-level keynote speakers, with participants from the
public and private sector bringing forth their expertise in the field. They will present how their organizations and companies approach AI and AI-enabled technologies and expound on their
vision moving forward.
---
WHEN:
10 October 2022, 9:30 am to 6:00 pm Geneva time (UTC +2)
11 October 2022, 9:15 am to 1:00 pm Geneva time (UTC +2)
---
WHERE:
Room XX, the Human Rights and Alliance of Civilizations Room
(Palais des Nations, Geneva)
Join us live here (UN TV webcast): https://media.un.org/en/webtv
The Global Dialogue will be covered live on Twitter. Join the social media conversation through the official hashtag: #GlobalDialogueAI
---
WHY:
UNAOC and the Fundación Onuart are committed to contributing to the advancement of the SDGs and human progress. AI and AI-enabled technologies are having a decisive impact on the economic, legal, and ethical fields. While there are challenges ahead, the potential for technology to bring us closer to the world of #OneHumanity exists and pursuing ethical and cooperative global development should be at the forefront of forward-looking strategies.
---
WHO:
The Global Dialogue will be inaugurated by:
H.E. Mr. Miguel Ángel Moratinos, Under-Secretary-General and High Representative for
the United Nations Alliance of Civilizations (UNAOC)
H.E. Professor Petteri Taalas, Secretary-General of the World Meteorological
Organization
Ms. Shamika Sirimanne, Director of the Division on Technology and Logistics, United
Nations Conference on Trade and Development (UNCTAD)
H.E. Dr. Amandeep Gill, Under-Secretary-General and United Nations Envoy on
Technology, and
Mr. Juan Antonio March, President of the Fundación Onuart.
Selected experts representing a broad range of public and private institutions (including the
European Commission, national governments, academic institutions, and leading companies in
the field) will participate in the four thematic sessions scheduled for the two-day discussions.
---
REGISTRATION:
Registration is required to attend the event in person. Please register on INDICO, which you can
access here (https://indico.un.org/event/1001690/).
If you find any issues with your registration, please contact Ms. María Merchán Rocamora at
maria.merchanrocamora@un.org.
---
CONTACT:
For media inquiries, please contact:
Ms. María Merchán Rocamora, UNAOC Office in Geneva
Phone: +41 (0)229173182 // Email: maria.merchanrocamora@un.org