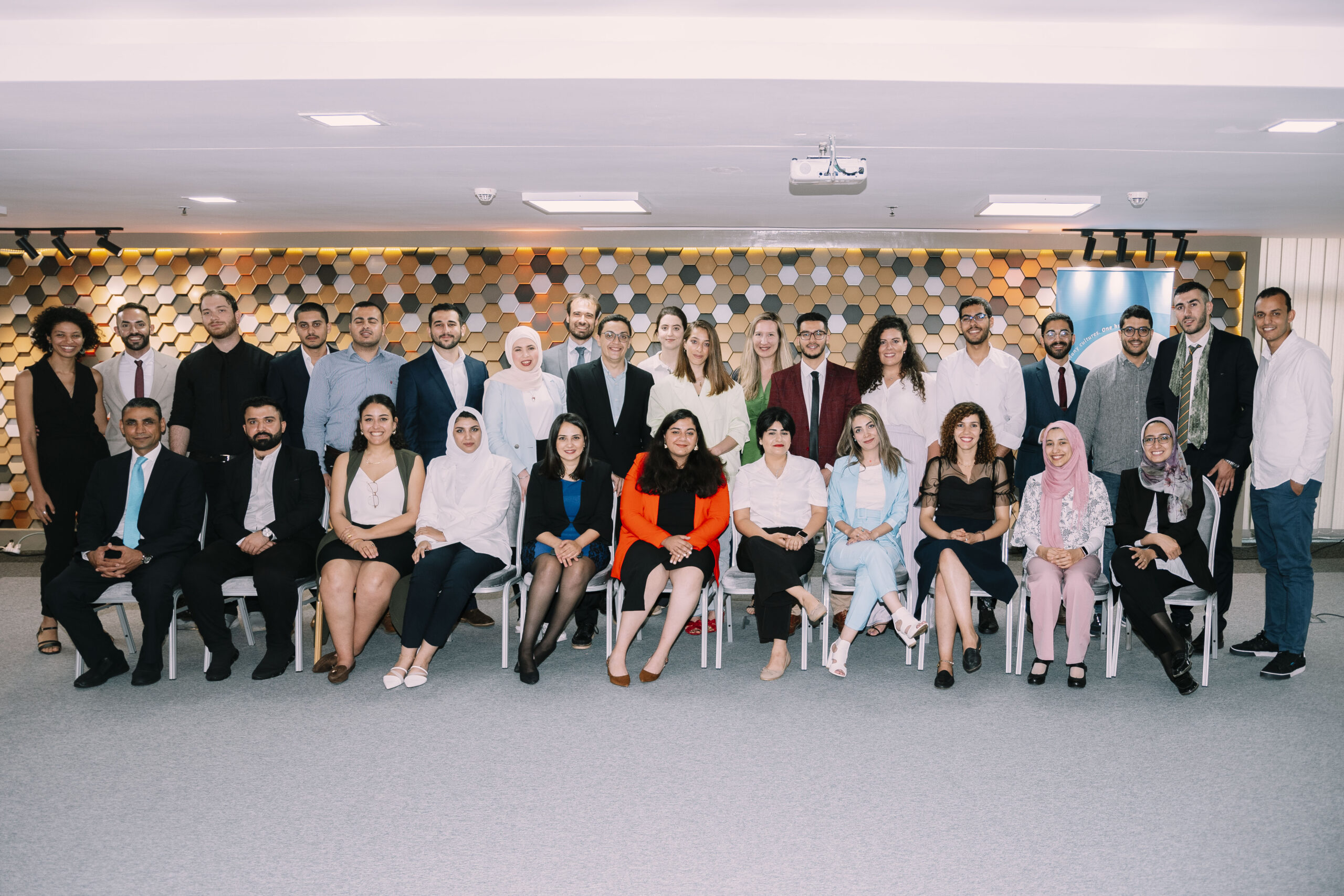 16 June 2022 – During a symposium in Rabat, Morocco, twenty-five talented and committed young leaders, participants of the 3rd and 4th editions of the UNAOC Young Peacebuilders programme, presented their peacebuilding experiences to key regional stakeholders. The presentations were the culmination of a comprehensive online training and implementation phase. 
The UNAOC Young Peacebuilders programme, implemented by the United Nations Alliance of Civilizations (UNAOC) with the generous support of the Agencia Extremeña de Cooperación Internacional para el Desarrollo (AEXCID), is a peace education initiative that equips young leaders aged 18 and 25 years old with peacebuilding skills while bringing visibility to their actions and projects towards the promotion of diversity and dialogue. After an intense training period in 2020 and 2021, the participants were able to apply their acquired skills by implementing peace initiatives within their respective communities, overcoming the logistical limitations of a global pandemic. 
For the first time since their peacebuilding training, the youth participants had an opportunity to present the main outcomes of their peace projects during the symposium. Their projects tackled a range of issues with the following themes: "Prevention, Peacebuilding and Conflict Transformation"; "Intergenerational Dialogue"; "Media, Technology and Storytelling"; "Gender and Peacebuilding"; and the "UN Youth, Peace, and Security Agenda".
Addressing the audience through a video message, Mr. Miguel Moratinos, UN Under-Secretary-General holding the office of High Representative for UNAOC, emphasized the role of youth in international peace and security. "We believe that empowering current and future generations is an integral tool to decrease violence and increase understanding so that we can build a common world together beyond our differences. Today, we will have the unique opportunity to interact, listen and experience the power of youth. Let us all continue supporting young people's involvement in shaping lasting peace," he said.
Meanwhile, Mr. Jose Angel Calle Suarez, Director-General of AEXCID, addressed the Young Peacebuilders in his pre-recorded remarks. "It is time for all of you to transform the world, for you to healthily and peacefully become revolutionary. It is the moment for you to take advantage of this opportunity. I ask you to stay committed to building peace," he said.
The United Nations Alliance of Civilizations has long recognized the important and positive contribution of youth and youth-led organizations in conflict prevention and peacebuilding efforts, responding to the United Nations Security Council Resolutions 2250, 2419, 2535 on Youth, Peace, and Security, and the Secretary-General's Plan of Action on Preventing Violent Extremism. 
For more information about UNAOC's Young Peacebuilders programme, please click here or contact Bram Van Haver, Project Management Specialist Youth and Education: BramVH@unops.org.