Briefing on Efforts on Combating Antisemitism
Organized by UNAOC and the Delegation of the European Union to the UN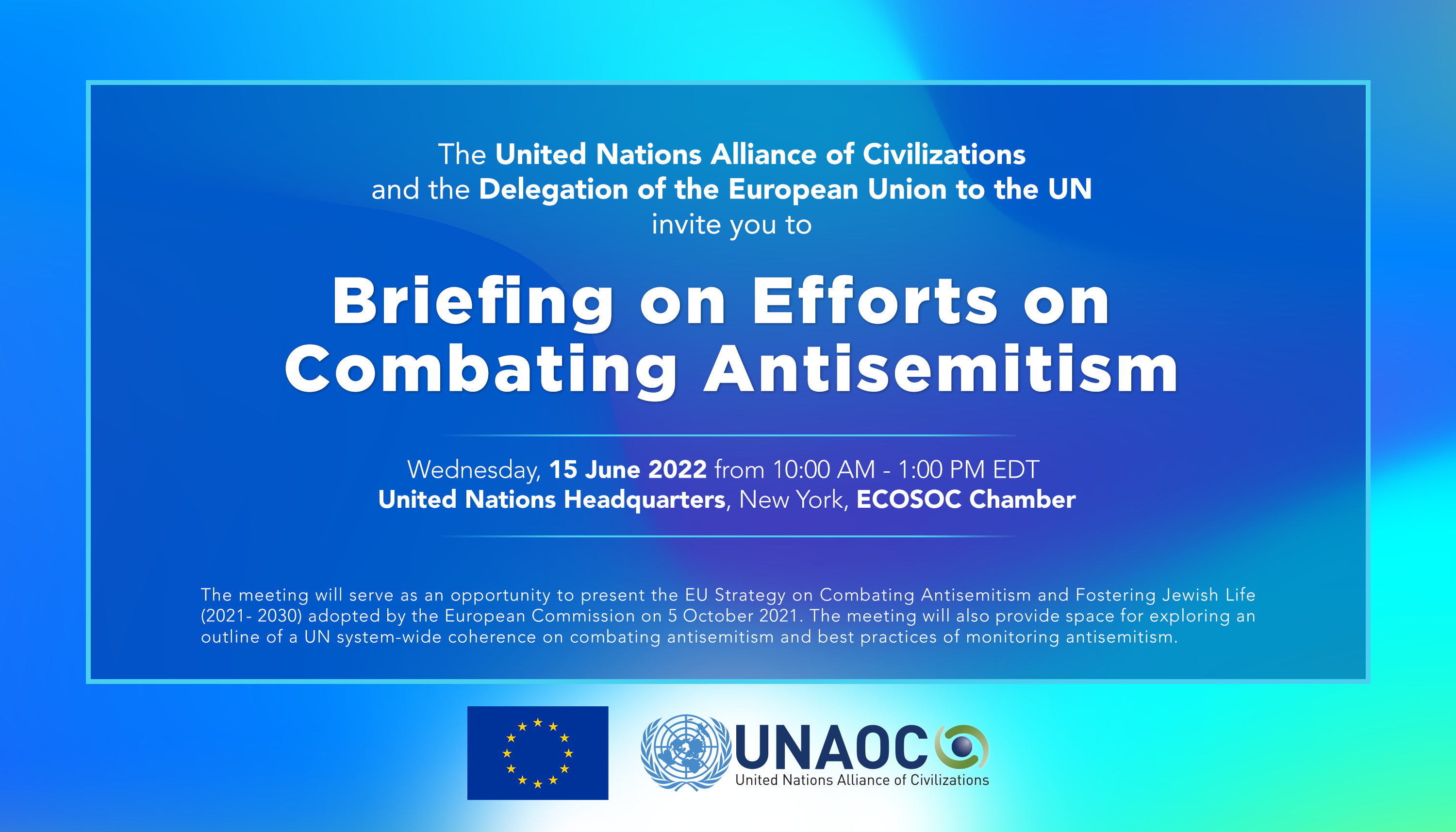 ---
WHAT:
The United Nations Alliance of Civilizations (UNAOC) and the Delegation of the European Union to the United Nations are convening a "Briefing on Efforts on Combating Antisemitism".
---
WHEN:
Wednesday, 15 June 2022, 10:00-13:00 pm EDT (New York time)
---
WHERE:
The event will be held at the ECOSOC Chamber at the United Nations in New York. It will also be streamed live on UN Web TV as well as on the UNAOC website.
Join us live here:
UN Web TV: http://media.un.org/en/asset/k11/k11ofy2yqx
UNAOC Website: https://www.unaoc.org/antisemitism-briefing/
The meeting will also be covered live on Twitter. Join the social media conversation through the official hashtag: #No2Antisemitism
---
WHY:
The meeting aims to present efforts by relevant stakeholders to combat Antisemitism and explore ways to develop a system-wide response on combating Antisemitism across the UN system. The meeting will also serve as an opportunity to present the EU Strategy on Combating Antisemitism and Fostering Jewish Life (2021-2030) adopted by the European Commission on 5 October 2021.
---
WHO:
Mr. Miguel Moratinos, High Representative for the United Nations Alliance of Civilizations.
H.E Mr. Olof Skoog, Head of the Delegation of the European Union to the UN
Ms. Katharina Von Schnurbein, Coordinator on Combating Antisemitism and Fostering Jewish Life, European Commission
Representatives of Jewish Organizations
Representatives of United Nations Member States
Coordinators and Envoys on Combating Antisemitism
In addition, the following guest will deliver a special address:
Rabbi Arthur Schneier, UNAOC Ambassador, Holocaust Survivor, President & Founder of Appeal of Conscience Foundation & Spiritual Leader of Park East Synagogue
---
CONTACT:
For inquiries, please contact:
Ms. Nihal Saad, Chief of Cabinet and Senior Advisor on Policy for UNAOC
Email: saadn@un.org