Remarks by Mr. Miguel Moratinos
The High Representative for the United Nations Alliance of Civilizations (UNAOC)
Opening Session: "Covid19: A Warning to Humanity"
at the World Youth Forum
Sharm El Sheikh, Egypt, 9-13 January 2022
Your Excellency,
Mr. Abdelfattah El Sisi, President of the Arab Republic of Egypt
Excellencies,
Distinguished guests,
Let me begin by saying that I am truly honored to be addressing the opening session of the World Youth Forum in the presence of His Excellency, Mr. Abdel Fatah El Sisi, President of the Arab Republic of Egypt. I, therefore, wish to seize this opportunity to commend the leadership and forward-thinking vision of His Excellency, President Al Sisi. The World Youth Forum which has evolved to become a global platform providing space for dialogue among youth in Egypt, the region and beyond, clearly demonstrates the commitment of the government of Egypt to ensure that the youth of today and tomorrow are empowered, included and their voices are being heard. Having participated in the 2019 edition of this forum, I saw firsthand the dynamics between the youth participants and the political leadership as they exchanged views on global issues. Youth spoke and we listened. This is an intergenerational dialogue that is crucial to enabling youth.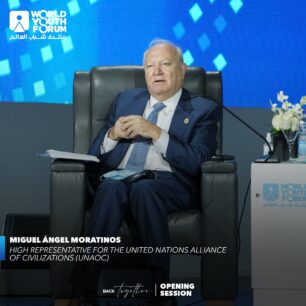 I am also very pleased to be back in the city of peace: Sharm El Sheikh. A city that is close to my heart as it stood witness to the many meetings mediated by Egypt as a peace broker between the Palestinians and the Israelis and in which I actively participated in my former capacity as the EU Special Representative of the Middle East Peace Process.
Excellencies,
The theme of this opening session could not have been more timely: "COVID19 A Warning to Humanity and A New Hope".
Indeed the COVID19 pandemic was a moral test of our humanity.
Have we passed this test? I think not.
We have failed to put our collective will together for the common good of all humanity.
Therefore, the color code is still RED as long as there are people who are left behind.
Looking at the global context, we see hatred, mistrust, division, and conflict have had their way. People whose identities are defined by religion, culture or ethnicity, continue to be besieged by hatred.
Vaccine inequity exacerbated the deepening inequalities and polarization that already existed prior to the pandemic.
The ineffective responses to climate change demonstrate that it is not just our planet and biodiversity that is going through a state of degradation but also it is our humanity and cultural diversity that is degenerating.
Young people were not immune to the repercussions of the pandemic including being exposed to the negative trends in our societies. At the same time, youth have shown, time and again, to be the true agents of change around the globe.
Excellencies,
Challenges also offer opportunities. It is time to reverse course. To usher in a new era of peace, trust, and mutual respect. It's time to demonstrate compassion, humility, and solidarity. It's time for a new social contract.
Knowing too well that no country can do it alone, we need to demonstrate our collective will and stand together in solidarity. We need to re-enforce a reformed, networked multilateralism so that we can chart a new course for a better future for the young women and men of this generation and beyond.
It is within that context, that the Secretary-General of the United Nations introduced his vision "Our Common Agenda" last September as an agenda of action, designed to strengthen and accelerate multilateral cooperation – particularly around the 2030 Agenda – and make a tangible difference to people's lives.
Many of the thematic sessions of this year's World Youth Forum are in line with the priority areas in the document Our Common Agenda. One of these priorities is a new focus on the world's young people and future generations. They should have a seat at the table.
The United Nations Alliance of Civilizations has long recognized the potential of young people. We work with them and for them through a vast network of youth-led grassroots. The current youth generation is acknowledged as the largest in history with a critical role in shaping significant social and political advancements. In line with the United Nations Security Council Resolutions 2250, 2419, and 2535 on Youth, Peace, and Security, UNAOC has always encouraged youth leadership through capacity-building workshops and empowering future generations to become skilled peacebuilders.
I wish to underline that over the years we have had in our programs many youth leaders from Egypt and we are very proud of their achievements.
Another global challenge to humanity is the threat of terrorism and extremist ideologies. As one of the Vice-Chairs of the Working Group on Preventing and Countering Violent Extremism Conducive to Terrorism (PCVE), we focus on Pillar I: Measures to Address the Conditions Conducive to the Spread of Terrorism. We believe that eradicating terrorism and radical ideologies should go beyond security measures. I cannot stress more that Egypt played a leading role in this area during its presidency of the United Nations Security Council in 2016.
Excellencies,
Distinguished guests,
Before concluding, I wish to highlight that UNAOC benefits from the political and financial support of its Group of Friends who have reached 156 Members of which are 127 UN Member States, 1 non-member state, and 28 international organizations. Egypt has been one of the first members to join the Group of Friends.
I therefore wish to take profit of this moment to thank the Permanent Mission of Egypt to the United Nations in New York for their continued support of our work and their active engagement in our events.
We are also proud of our ten-year partnership with the League of Arab States.
Concluding, I wish to underline that the motto of the organization I lead is: "Many Cultures, One Humanity". I firmly believe that saving the planet and saving our humanity are intertwined and interdependent. In this context, I cannot agree more with what His Excellency President Al-Sisi said in his address before the 76th Session of the United Nations General Assembly last September when he made a call to humanity and said "let's join forces to save ourselves before it's too late, using reason instead of power".
I thank you and I look forward to following the panel discussions of the forum.