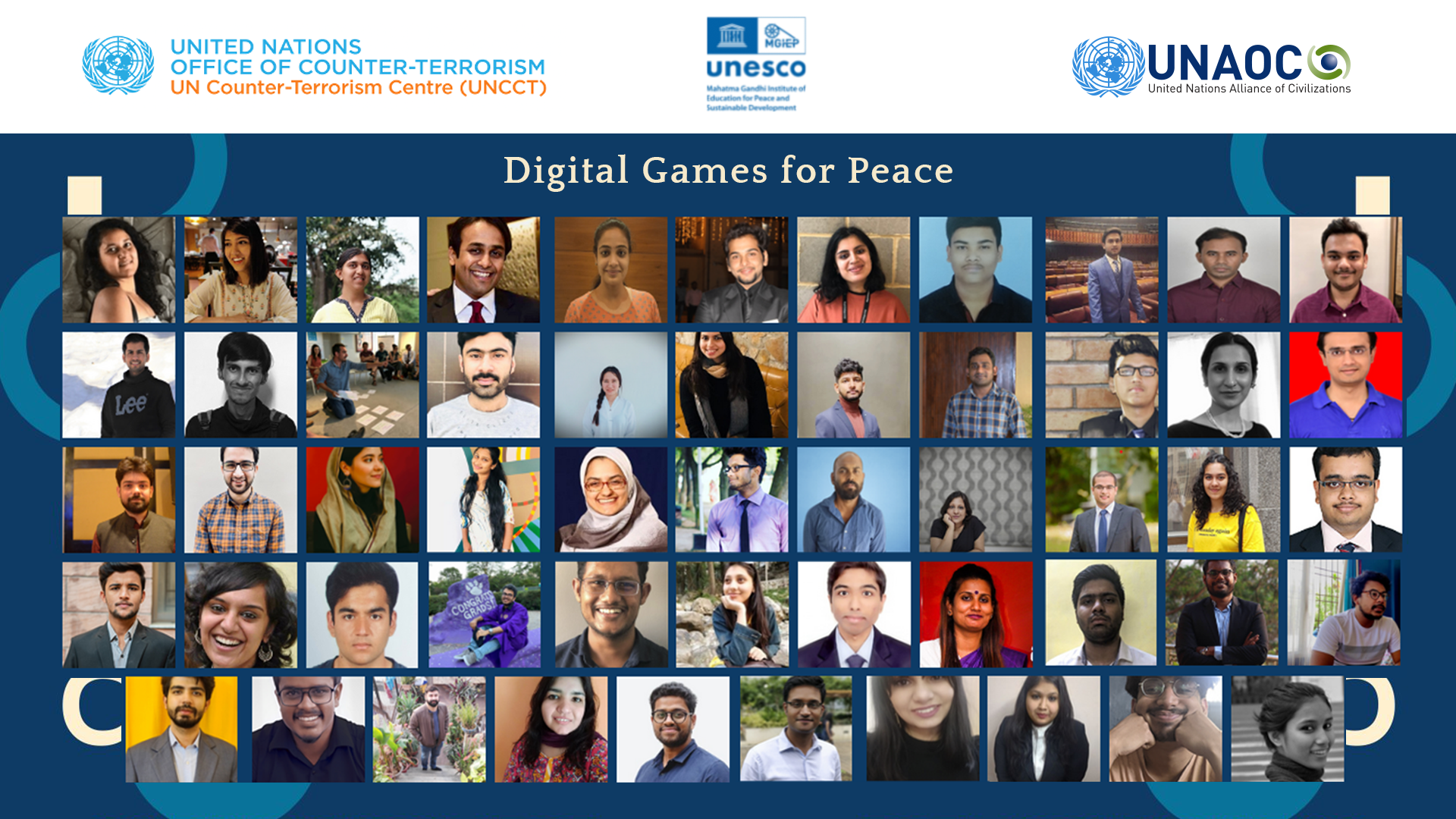 We are delighted to announce 53 outstanding youth for the first Phase (July-August 2021) of the Digital Games for Peace Challenge 2021. Their potential to be a game-changer stood out from among hundreds of applications that were from six countries in the region – Afghanistan, Bangladesh, India, Myanmar, Pakistan, and Sri Lanka.
The selected participants will undergo exclusive capacity-building training for two months, including virtual boot camps, lectures, and workshops. They will train with world-class experts on digital games, social-emotional learning, intercultural dialogue, and the prevention of violent extremism. As a youth-led programme, peer-to-peer learning will present a unique and intensive opportunity for them to gain interdisciplinary knowledge and intercultural exchange.
The selected participants are:
Anand Kumar is an undergraduate student at Pakistan's National University of Sciences and Technology (NUST). He is part of different student-led clubs at his campus and continuously volunteers for various community-building initiatives. In the future, Anand intends to work on the solutions of different social issues leveraging the power of technology.
Arya Bhattacharyya believes in using technology for social good. While working on mental health, he realized that there is considerable potential in Artificial Intelligence (AI), Video Games, and Augment Reality/Virtual Reality (AR/VR) to create a positive change. He will graduate from BITS Pilani, India, by July 2021 and wants to forge a career in this field.
Fardoush Hassan's fascination for games and tech, especially computer games, started from childhood. This is why Fardoush has always wanted to work on computer game development and 3D design. As a result, he has experience in coding, editing, music, 3D modeling, and cinematography, among others. He enjoys exploring and learning new things.
Darshatha Gamage is the Co-Founder and Director at IMPACT VOICEs. He also serves as the Head of Capacity Building and Resource Mobilization at Hashtag Generation. He has experience working on youth issues, peacebuilding, PVE, and volunteerism. Darshatha also served as the Assistant District Rotaract Representative for Sri Lanka and Maldives (2018-19). He strongly believes in the ability of youth to lead positive transformation.
Sushmita Krishnan is a final year master's student in Life Sciences at Bharathidasan University, India. She specialized in chemical ecology through research in different institutions across the nation. She is a TAGe alumnus at series Reimagining education by UNESCO-MGIEP. She is interested in pursuing a career in social and emotional learning to enable a purposeful education for future generations.
Arijit Goswami works as a pre-sales professional with an IT major and is passionate about volunteering for climate action and quality education. A business management graduate, as well as a Shaper with World Economic Forum and a CRISIL Young Thought Leader honoree, he loves interacting and blogging on emerging technology trends and volunteering for education-related community projects.
Abobakar Sediq moved from his hometown Jalabad, Afghanistan to Brussels, Belgium. One of his passion is coding, as he looks at coding as a way to improve the quality of life. At 17 years old, he wants to use technology to work a better and sustainable future. He is also passionate about Physics, and is particularly interested in the universe and the origin of everything.
Ganga Madhavi Rathnayake from Sri Lanka is currently pursuing a Bachelor in Social Work and is a final year student of Psychological Counselling. She is a volunteer with Sri Lanka Unites and Youth Advocacy Network Sri Lanka and as well as a participant of the 7th Leadership Conference for Youth 2021 by APCEIU.
Himanshu Panday has a background in design research, data analysis, and robotics. He explores the unconventional intersections of peacebuilding and SEL opportunities. He is a 2020 YWP South Asian Leader and a coordinating lead author of the state of PVE-E in South Asia report. In his recent endeavors, he brings peer-led opportunities for social and emotional learning at higher education institutes.
Jaimin Parikh hails from the land of Mahatma Gandhi. He is a policy team member of the Global Youth Alliance for Kindness and is also engaged as a research fellow with the European Institute of Policy Research and Human Rights, EU. He cherishes deliberations on Peace, Diplomacy and International Affairs.
Oshan Gunathilake is a practitioner of Global Citizenship Education (GCED), transformative education, and Sustainable Development. Being a passionate advocate in peace, human rights, and democratic governance, he has years of experience working with local youth communities alongside private and government counterparts, in the areas of GCED, human rights education, media literacy, peacebuilding, transitional justice, and reconciliation.
Sabareesh Suresh is an urban planning professional with advanced qualifications in Infrastructure Planning and Management. He currently works as a Consultant at Athena Infonomics specializing in urban governance and service delivery. He is also a UN SDSN Local pathways fellow and a member of the Global shaper's community – an initiative of the World Economic Forum.
Vidhi Bubna is the Youth Ambassador of India and Bhutan and a writer for around 10 publications in India. She covers International relations, world peace, feminism, travel, culture, defense, and various other beats. Vidhi believes that games have the power to shape how we see the world. She is looking forward to being a part of the Digital Games for Peace Challenge.
Madhav Khanna is an experienced Game Designer and Programmer with over 4 years of experience developing multiple projects. His favorite language to code is C++, and likes learning new concepts and technologies. Madhav graduated from Northwestern University in 2021 with a Master's in Computer Science.
Ankita Saha is a Development Professional with over four years of experience in the non-profit sector, specifically in the field of Education. She earned a Master's degree in English Literature from Visva Bharati University in India. She is a passionate advocate of every child's fundamental eight to education.
Sahil Chatta currently works in the Ecommerce domain, having donned multiple hats prior to this, from food to fashion. A management graduate with a keen interest in writing stories, articles, and poetry, he also occasionally delves into thoughts on issues that touch human lives.
Umaima Ehtasham is a Curriculum and Digital Pedagogy Specialist at Slam Out Loud (SOL), India. She previously worked on developing entrepreneurial skills amongst Tribal Rural Govt. schools and co-founded Kaavyanam Organics, a for-profit organization advocating sustainable organic farming practices. She served as a consultant to the Ministry of Rural Development- MGNREGA (GoI), is a Gandhi Fellow, as well as an art enthusiast.
Padmini Ghosh is a human rights lawyer and feminist peace-practitioner. She works on the interlinkages between YPS and WPS agenda in India and South Asia. She has led online courses on WPS, youth outreach programs, and a regional webinar series bringing together people from four South Asian countries.
Imad Ul Riyaz is a young professional, whose work revolves around the localization of SDGs at the grassroots level, and advancing the Human Development Index in the regions affected by extremism. A politics enthusiast, he is part of diverse grassroots campaigns and is passionate about making the world a better place to live in.
Shovan Chowdhury lives in Bangladesh. He completed graduate and post-graduate studies in Human Resource Management. He works in an NGO called Young Power in Social Action (YPSA). His main working focus area is youth development and youth participation to prevent violent extremism in society.
Maryam Mehboob graduated with a degree in International Relations. She has been involved with non-profits in Pakistan and the USA for the last three years. She has extensive experience developing PVE interventions through compassion training. Maryam's work incorporates mindfulness techniques and practices. She's an avid reader and a proud Potterhead.
Siddharth Khemka is a second-year engineering student, who aspires to bring change in this world and work towards making this world a better place to live in. He has solid experience in digital games. Apart from his interest in video games, he is interested in music, books, and other science-related articles.
Paras Ghaffar Malik is the Executive Director of Sindh Development Society (SDS). He is a young leader and organizes young people for peacebuilding, reduction of violent extremism, and building tolerance. Through digital games, interactive theatres, and puppet shows, he has engaged young peers in rebuilding peace and interfaith respect in Sindh, Pakistan.
Jashan Jegasothy is an L.L.B graduate from the University of London (Int. Programmes) and is currently serving as a legal research assistant at the Evangelical Alliance, Sri Lanka. He is motivated to use his talents and skills to bring social change. He is currently co-leading a project that utilizes gaming for PVE.
Shenal Jesudian is currently pursuing a Higher Diploma in Digital Marketing whilst serving as a Design and Tech Officer for the Evangelical Alliance, Sri Lanka. He is motivated to use his talents and skills in designing technology to bring about social change. He is currently co-leading a project on gaming and PVE.
Sumeet Singh is the Founder of OneKeyCare Ventures, a start-up that empowers communities through social impact technology. He has over 9 years of experience in designing, developing, and implementing relevant technology and system innovations for low-resource settings as part of improving the quality and efficiency of global development programs.
Dinesh Kumar is working as a Tutor and Mentor for BigBodhi Academy and he is the Director for AffordSocialTech, a social enterprise. He graduated from IRTT under Anna University in 2014 with a Bachelor's of Electronics and Communication.
Anwesha Mishra is a professional lawyer. She has been involved with peacebuilding activities in the past years. She has also been a part of a project called "READ" organized by the European Commission in Austria which had a focus on non-conventional teaching activities and games to reduce social exclusion and protect human rights through such tools.
Anzal Baig is a trainee lawyer based in Scotland with a keen interest in the power of technology to be a force for good. She loves all things art and games and she is really excited to bring her unique experiences to Games for Peace and learn from other game-changers.
Siddhi Gupta is a visual communication designer working at the intersection of education and culture. She is involved with Kalakarm Curriculum, an initiative that facilitates art in education, she is the Design Lead at Justice Adda and Design Affiliate with FemLab.co. She studied Design in London and Delhi.
Anurag Soni is currently pursuing his design education from the IDC School of Design, IIT Bombay. He is obsessed with stories and narratives in different forms, and loves to play and experiment with designing interactive stories and games.
Md. Sahariar is a student from Bangladesh. He is a person of faith. His faith teaches him compassion, tolerance, and peace toward all people, regardless of faith, nation, color, or culture. As a result, he aspires to make the world a better place for everyone.
Drishti Goenka is the founder of Journey Matters, a mental health and learning design venture from Hyderabad, India. Armed with an M.A. from NTU Singapore, she began her career in SEL and education 7 years ago. Her vision is to build a safe world where we love, trust and believe each other wholeheartedly.
Shourya Shukla studied a combination of Computer Science, Entrepreneurial Leadership, Psychology, and Economics. He currently manages the Digital Marketing team of an Ed-Tech organization. He is passionate about using and developing technology to address critical social issues. His activities of interest include sports, creative writing, and strategic gaming.
Jannatul Mouwa is a youth climate activist. UN Women Bangladesh declared her as a climate champion in 2021. Further, ActionAid Bangladesh awarded her as one of the Climate Champions in 2021. She is the Founder and Executive Director Of BINDU Women Development Organization, a youth women-led organization in Bangladesh.
Nithyn C. Joseph is a recent industrial design graduate from DJ Academy of Design, Coimbatore. Currently, he is a full-time UX researcher learning/working at Peepal Design Bangalore. His hobbies include meditating, gaming, and reading. He has a keen interest in trend spotting and tech capability and evolution. The graduation thesis he had developed in association with Turian Labs on the probability of how applied games in the right cultural context, could be the future backbone of personalized 'peace of mind'.
Fatima Ahmed has an undergraduate degree in Peace and Conflict Studies and a professional degree in Education. Fatima is pursuing three graduate degrees and starts law school in 2022. She has lived, worked, or studied in Pakistan, Canada, USA, Sweden, Botswana, Vanuatu. She's currently working as a grade 5/6 teacher in an Inuit village.
Siddharth Sengar is currently a student at BITS Pilani. He is currently staying in Kanpur and has also lived in Lucknow, Ahmedabad, and Gwalior. He has practiced Game Development and Design for over a year. He has always been interested in interactive and environmental storytelling that only games can achieve.
Robin Sharma is a Ph.D. student in the Learning Sciences program at McGill University. He is a member of the Technology, Learning, and Cognition Lab where he studies the design and curricular integration of games for learning. His latest favorite games to play are Valorant and Overcooked."
Kirti Tyagi is a Ph.D. Scholar at the Department of Humanities and Social Sciences, IIT Delhi, India. She is working in the area of adolescent decision-making (cognitive control and emotional system) and positive risk-taking. Her focus is on developing interventions for positive youth development. Her other areas of interest are psychometrics, existential positive psychology, leadership, and youth spirituality and well-being. Her top strengths are kindness, love of learning, spirituality, creativity, and appreciation of beauty.
Rishabh Chakrabarty is a caffeine-dependent life-form, who dreams to one day change the world!
Abdulla Mubharak is an MBA graduate from NITIE, currently working as a Business Consultant for Infosys Consulting. He loves building tech products and achieving user-led growth. A strong believer that every moment of life has to be experienced and enjoyed to the fullest with people around you. Hobbies are gym, cycling, reading books, cooking, and hiking.
Pann Ei Soe, 28 years old, lives in Mandalay city in Myanmar. She is working as an Agent of Change Trainer at Saya Foundation.
Charvi Gangwani is a student at Choithram School, Indore. She is the founder of The Amygdala, a virtual forum for proactive youth across the world. She is involved in organizations that encourage people and cultivate a positive impact.
Abinash Kanti Gogoi has a strong interest in literature and history. He has a recent MA degree in Peace and Conflict Studies. By nature, he is a closeted stoic and skeptic. He is an avid reader and a movie buff wishing to be a writer.
Srishty Arun is part of Athena Infonomics, an international development consultancy firm. Her passion for sports led her to represent India in five Asian and World roller-skating championships including the XVI Asian Games. She believes and has seen that sports and games can be leveraged for positive social transformation.
Shehar Bano is a Pakistani citizen who is currently studying in Taiwan. Most of her academic and professional career was spent learning about, making, and building peace. And one thing that she knows for sure, is "we always should give peace a chance."
Dr. Kushal Anjaria is an Assistant Professor in the IT and Systems area at the Institute of Rural Management Anand (IRMA). In 2018, he earned a Ph.D. in Information Security at the Department of Computer Science and Engineering at the Defence Institute of Advanced Technology (DIAT-DRDO). His research interests focus on Cybernetics and Artificial Intelligence. He has authored 17 research articles in international journals and conferences.
Agrima Bhasin is an educator, compassionate leadership trainer, social policy analyst, and writer based in Delhi. She is a Gold Medallist in Journalism from Delhi's Lady Shri Ram College and a graduate in Social Anthropology from the prestigious Oxford University. She is also Visiting Faculty at the Indira Gandhi Delhi Technical University for Women (IGDTUW) and taught the paper on Human Values and Professional Ethics to third-year engineering students.
Abdul Samad is a web developer, amateur researcher, student, and human rights advocate, who is looking to expand his horizons in humanities and technology.
Heela Yoon is the Founder and CEO of Afghan Youth Ambassadors for Peace Organization (AYAP) which is a grassroots civil society organization based in Afghanistan, which works towards women and young women empowerment and capacity building. She is currently working at the Global Network of Women Peacebuilders (GNWP) as the Fourth Cora Weiss Peacebuilding Fellow.
Ramón Martínez is a researcher and educational practitioner specializing in critical thinking, and working on game-based learning and gamification of learning processes for human rights, citizens democracy, and active participation. Ramón believes in more fair and diverse societies where citizens participate in meaningful ways.
Sourabh Garg is an enthusiastic educator and visual artist, currently working as a Creative Associate (Team Lead) with Byju's Think and Learn. He oversees the 2D animations' visual design and content communication in both the Digital Synchronous and Digital Asynchronous learning modules of grade 4 to grade 10 mathematics courses.
Find out more about #GamesForPVE.