(Re)Building Post-Pandemic Societies:
Youth Using Sport to Prevent and Counter Violent Extremism
AN ECOSOC YOUTH FORUM SIDE EVENT
Tuesday, 6 April, 2021, 9:00 AM to 10:00 AM EST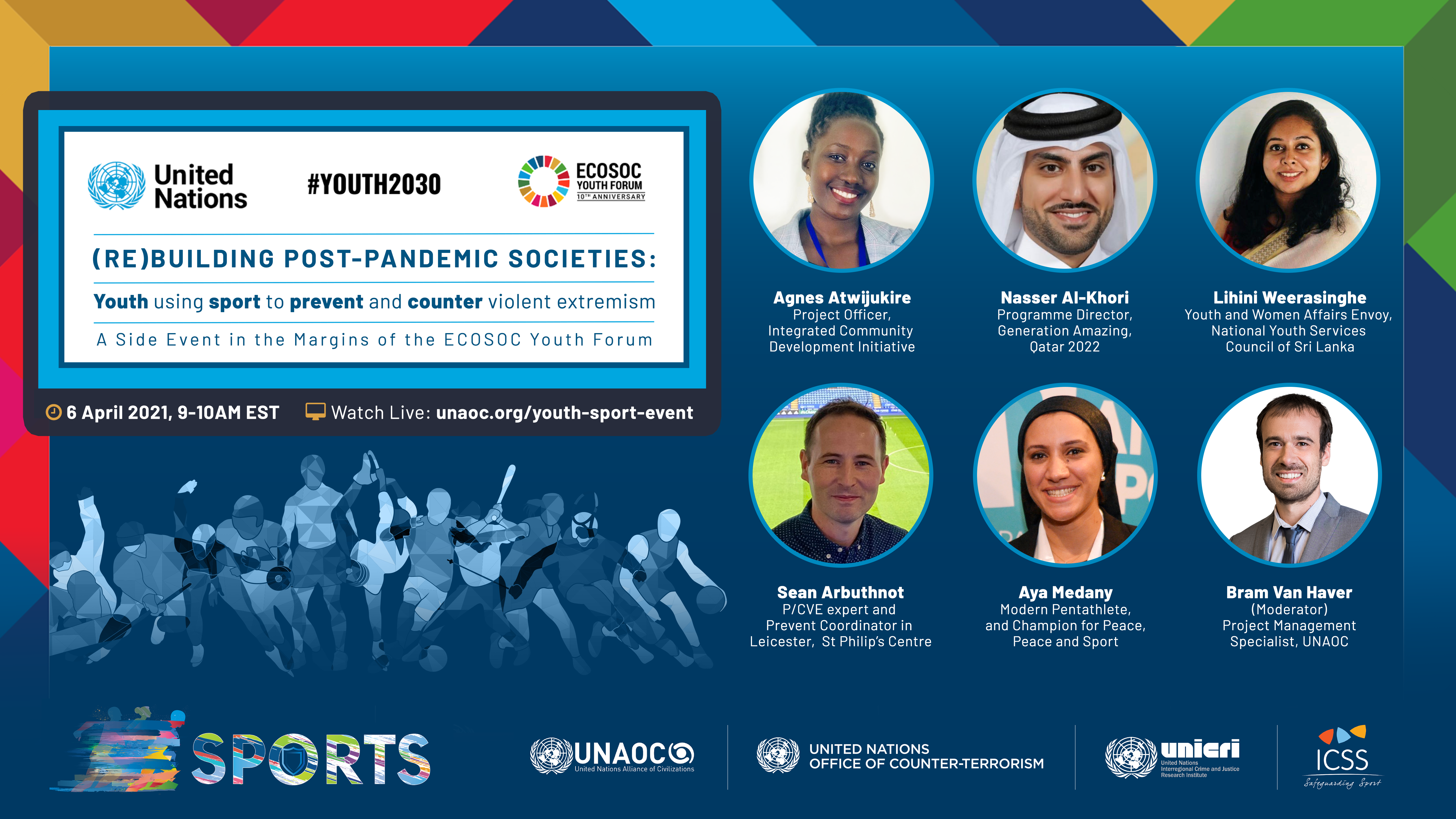 WHAT:
In the margins of the 2021 ECOSOC Youth Forum, the United Nations Alliance of Civilizations (UNAOC), together with the UN Office of Counter-Terrorism (UNOCT), the UN Interregional Crime and Justice Research Institute (UNICRI), and the International Centre for Sport Security (ICSS), are hosting a side event entitled "(Re)building post-pandemic societies: youth using sport to prevent and counter violent extremism".
WHEN:
Tuesday, 6 April, 2021, 9:00 AM to 10:00 AM EST.
WHY:
The side event will commemorate the International Day of Sport for Development and Peace by highlighting the role of youth leadership in preventing violent extremism, advancing the role of sport in P/CVE interventions, and ensuring sustainable peace and development.
WHO:
Mr. Nasser Al-Khori, Programme Director, Generation Amazing, Qatar 2022 (Qatar);
Mr. Sean Arbuthnot, P/CVE expert and Prevent Coordinator in Leicester, St Philip's Centre (UK);
Ms. Lihini Weerasinghe, Youth and Women Affairs Envoy, National Youth Services Council of Sri Lanka (Sri Lanka);
Ms. Agnes Atwijukire, Project Officer, Integrated Community Development Initiative (Uganda);
Ms. Aya Medany, Modern Pentathlete, and Champion for Peace, Peace and Sport (Egypt).
LIVESTREAM:
https://www.unaoc.org/youth-sport-event/