US Side Event: Answering the Call to Protect Religious Freedom
Remarks Delivered by Ms. Nihal Saad, Chief of Cabinet,
on behalf of the High Representative for UNAOC
25 September – 9:00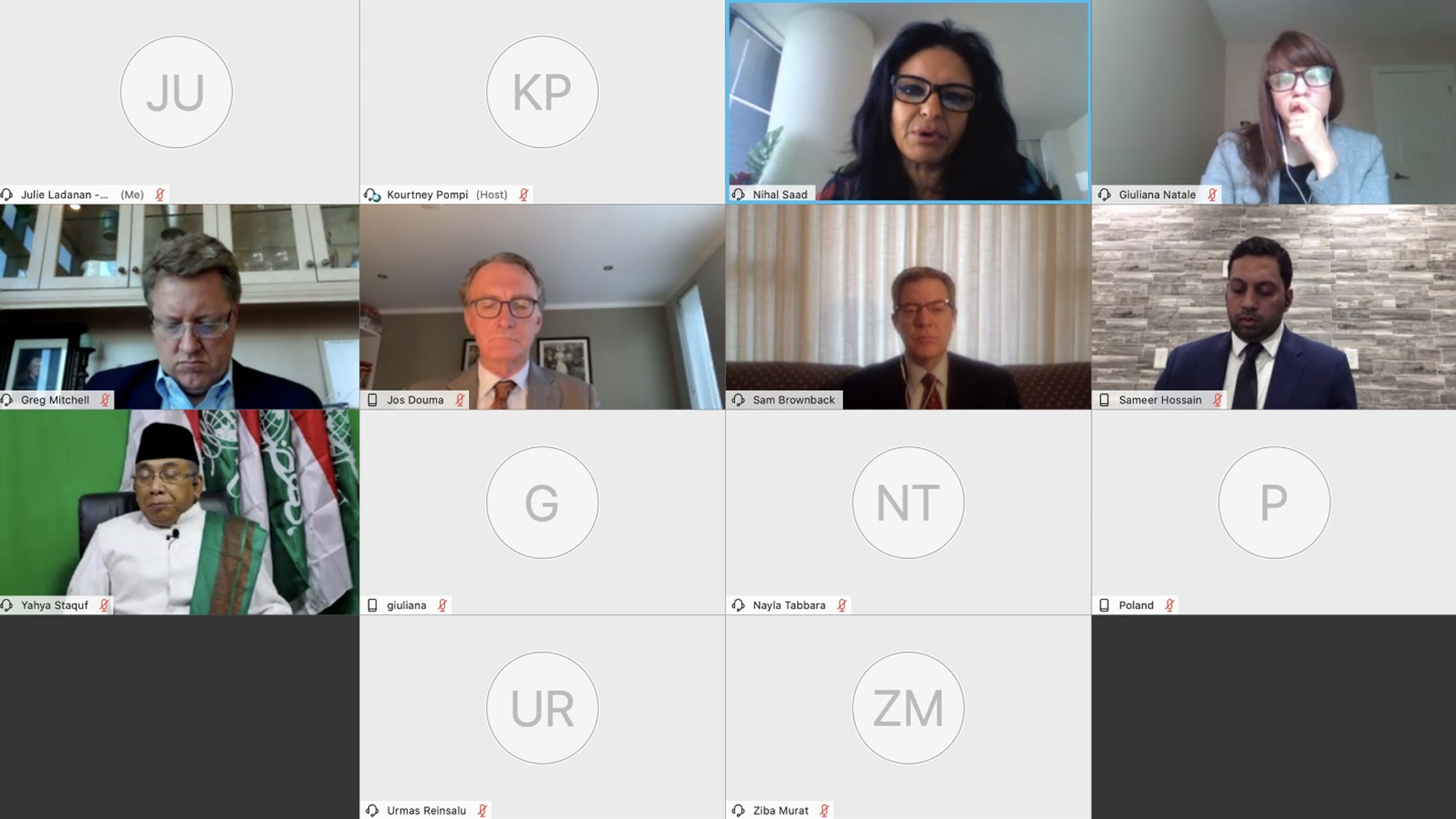 Good morning
Your Excellency Ambassador Sam Brownback,
Ambassador at large for International Religious Freedom,
I thank you for giving me the opportunity to speak again on this important topic. I was very glad to hear about the progress made in the young initiative The International Religious Freedom or Belief Alliance. The testimonials we just heard should encourage the international community to protect the freedom of religion and belief and to safeguard places of worship against any acts of violence or terrorist attacks. The freedom of religion or belief is rooted in  article 18 of the Universal Declaration of Human Rights.
Upholding these rights are crucial now more than ever particularly as we chart our course towards re-building a better world post COVID19. It is imperative that we put an end to all forms discrimination based on race, ethnicity, religion or belief which has been on the rise since the COVID19 pandemic unraveled.
Allow me to update you on the new initiatives that UNAOC has launched in the past few months in support of the UN Strategies and Responses to COVID19:
Broadening Our Outreach to Religious Leaders and FBOs
1. On March 26, heeding the UN Secretary General's repeated appeals for compassion & Solidarity, UNAOC in collaboration with OSPAG issued a joint call for Unity, Solidarity & Compassion and warning of the repercussions of hate speech, stigma and xenophobia while stressing the role of religious leaders in mobilizing their communities.
2. On 28 May 2020, mobilized faith actors and FBOs to garner their support for and active engagement in UN Response and Recovery strategies., UNAOC, Office of the Special Advisor on Genocide Prevention and Office of the High Commissioner for Human Rights convened a consultation meeting with religious leaders and Faith based organizations to develop a results-oriented plan to operationalize a Global Pledge for Action by Religious Actors to Address the COVID-19 challenges;
3. May 14, co-organized a Prayer for Humanity with the Higher Committee for Human Fraternity in which HH Pope Francis, HE Grand Imam offal Azhar & UNSG participated . Many political leaders and faith leaders from across the faith spectrum participated in a show of solidarity, unity and compassion.
4. April 18, In our capacity this year as the co-chairs of the Inter Agency Task Force for Religion
and Development, we mobilized the Multi-faith Advisory Council to support and promote the Global Humanitarian Response Plan for COVID-19
5. On the Plan of Action to Safeguard Religious Sites launched in September 2019, UNAOC is the focal point for the Plan's implementation in the UN system;
Work in progress with UNOSAT UN Operational Satellite Applications Programme for the mapping of religious sites. A communication campaign will be launched next week with the hashtag #forSafeWorship; The campaign invites people around the world to submit stories describing their connection to religious sites; It aims to celebrate the universality of religious sites; emphasize the need to safeguard religious sites and protect worshippers;
Last but not least, on February 2020, The Un Secretary-General designated me as the UN Focal Point to monitor Anti-Semitism and enhance a system-wide response. The designation was very timely.
I was vocal in my denouncement of all manifestations of anti-semitism by issuing several statements on anti-semitic incidents
From March – September I liaised with major Jewish organizations and relevant bodies to forge  a comprehensive action plan that enhances a system-wide response.
December 2020 Planning a broader consultation on a widely-agreeable definition of anti-Semitism and good practices to address and respond to anti-Semitism
Concluding, as One Humanity facing a global human crisis, we must nurture mutual understanding. We all have a responsibility to look out for each other, to respect differences and to promote peaceful coexistence.
I look forward to continuing our cooperation.
Thank you.