Stepping off the airplane, after a supremely comfortable flight on Emirates Airlines from Cairo to Dubai, we instantly noticed a difference.  We had arrived in the Gulf, where we would spend the third and final part of our trip.  The first thing we noticed, aside from the modern terminal in which we expeditiously cleared customs, was the heat… WOW!  Having already spent 10 days in Morocco and Egypt, we were accustomed to the North African warmth (both in terms of weather and hospitality), but this was unrivaled – a whole new world! Here we were, ready and eager to demystify the elusive United Arab Emirates (UAE) and learn a thing or two about warmth!
Barely dry from a deep dive into Egypt's political culture – one which Tarek Shoeib, the Founder of Midan Masr, described as a "cacophony of voices, opinions, arguments, debates and discussions – often visceral, contradictory, aggressive, but all expressed with fear and passion," we did not know what to initially make of Dubai.  It seemed, upon first glance, the complete opposite – not a cacophony but an opulent harmony.  Egypt, still licking its wounds from the recent upheaval, felt like another planet altogether.  Though we were still in the "Arab World," we couldn't have been further away from Tahrir Square, where the ink from the graffiti was still wet.  It was hard to look beyond Dubai's flamboyant architecture, as we made our way into the 7th most visited city in the world.  Everything felt ostentatious, especially as we drove by the world's tallest building, the Burj Khalifa.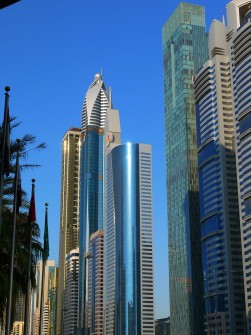 Staying consistent with the fellowship objective, to gain a deeper understanding of "the people and society from Muslim-majority countries," we were eager to learn more about the country's history and culture.  As Ambassadors of this important program, which aims to build bridges between civilizations, we were intrigued and slightly perplexed… How could a country, whose independence and constitution only came to fruition about 40 years ago (1971) could have come this far?!  It seemed paradoxical, to consider it as part of a "civilization" given its embryonic history.  We soon learned otherwise, thanks to Curator of the Museum of Islamic Civilization, located in Sharjah (another one of the 7 Emirates, where the office of our partner ISESCO, our co-host on this trip, is located).  A passionate and incredibly resourceful expert on Arab culture, the Curator gave us a thorough overview of the region's history, as we perused the museum's rich display of artifacts.  In addition to guiding us through this impressive center, she underscored the role of art in promoting intercultural dialogue.  Through art and culture, she went on, topics can come up that are directly linked to the political context.  Art can therefore be a harmless way to bring up and discuss these important topics.  "It's not about objects," she insisted; "it's about the people who transported these objects… It goes beyond pragmatism and highlights the people responsible for solving problems."  It was a fascinating visit which contextualized the way we perceive art.   Moreover, it shed light into the rich culture of the region, helping to frame this short, but meaningful trip in the Gulf.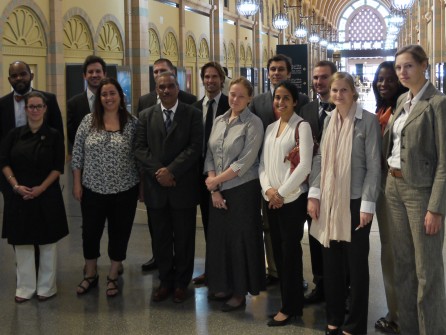 To stay hydrated as well as to quench our cultural thirst, we loaded up on water and continued our trek across Sharjah to our next destination the Dr. Sultan Al Qasimi Centre of Gulf Studies.  In addition to boasting an impressive anthology of the Sheikh of Sharjah's diplomas and various accolades – all kept and displayed in pristine condition – the center contains a number of photographs and various exhibits highlighting the history and culture of the region (all from the Sheikh's private collection).  Though some of this collection could be characterized as self-aggrandizing, it is irrefutably rich (literally and metaphorically) and serves as an influential factor in understanding the region's relatively nascent history.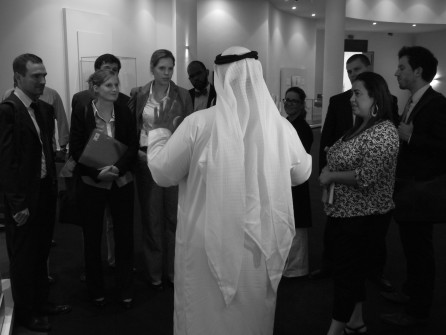 Minimizing our exposure to the stifling high noon sun, we jumped right back into our air-conditioned bus and headed to our next destination, the American University of Sharjah.  Resembling more a serene oasis than a University, this beautiful campus is considered to be one of the best academic institutions in the Middle East.  With only 20% of its population coming from the Emirates, the University is home to a very diverse student body, 40% of whom live on this immaculate campus.  We spoke to the Acting Chair of the Communications Department who highlighted the spike in Journalism studies since the Arab Spring.  It was also interesting to hear that 95% of the program was comprised of women.  In a country where protesting is outlawed by the law and where there is no distinction between state and civil ownership of Media (Al Jazeera is seen as part of the government), it was a refreshing discovery to note the rising interest in women to study this field.
We had lunch with some of the students who shared their backgrounds, interests, aspirations and perceptions of the West. Once again, we were pleased to see a vibrant community of youth, who seemed engaged, driven and passionate about their respective countries as well as the future of the Arab World.  Despite the differences, we were reminded of the prevalent undercurrent which is present across the three countries that we have visited so far – one which underscores the youth's passionate engagement across the Arab World.  This fervor was further highlighted by our meeting with Hamdan, a gregarious Emirati who serves as the University's student body president.  After an insightful discussion with him and his team, we toured the rest of the campus.  Before heading back to Dubai, Hamdan insisted that we could not leave the UAE, before visiting Al Ain, yet another one of the 7 Emirates, where he was from.  He invited us all to visit him there over the weekend, where he assured us that we would see the "real" and best side of the UAE. We thanked him and we made our way back to Dubai for our last meeting of the day.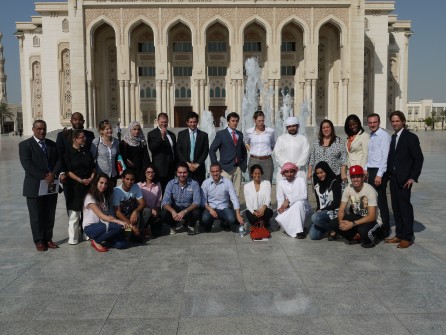 By that time, our expected level of lethargy was further enhanced by the oppressive heat.  Yet despite our collective tiredness, we were all captivated by the substance of the next meeting, which was facilitated by Taufiq Rahim, a partner of the program and UNAOC.  His good friend, Sultan, a UAE-based political commentator and renowned social activist, spoke fervently and intelligently about the role of "Social Media during the Arab Uprisings." Representing one of only 800,000 Emiratis (out of 8 million people across the UAE), Sultan is a respected Secularist in the country who provided us with an incredibly useful crash course on the current political standpoint of each of the countries across the Arab Spring.  With a welcomed level of passion and candor sprinkled throughout his discourse on the region, we learned more in that one hour than months of conventional classes!  Though Sultan is generally optimistic about the future of the Arab World, he maintains certain reservations, and makes it demonstrably clear that "we have not seen the end in the Middle East!"
In addition to providing a much-appreciated regional snapshot, Sultan also honed in on the country's main political issues.  Though women's empowerment is moving forward in the country (as more and more women are taking on the roles of judges, ambassadors, politicians, etc…), the UAE is not at all progressive in terms of political participation.  For example, during last year's election, only 29,000 out of the 133,000 registered citizens voted!  Moreover, Sultan highlighted the country's rampant racism and the fact that most of the social media activists, these days, are Islamists – a worrisome fact for Secularists like Sultan who seek objectivity when discussing the current political context.  We concluded this fascinating conversation and left, armed with an arsenal of political and historical knowledge.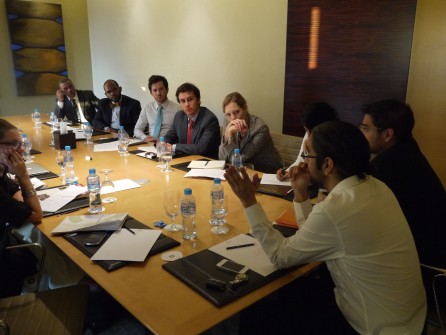 The next day, we visited the Sheikh Zayed Grande Mosque, in Abu Dhabi – the largest mosque in the UAE and the 8th largest mosque in the world.  Entirely financed by Sheik Zayed – The late President and principal driving force behind the formation of the UAE – it is quite simply mind-blowing!  In addition to its impressive capacity (able to accommodate 40,000 worshippers), the details inside are nothing short of breathtaking!  In fact, it took more than 3,000 workers and 38 renowned contracting companies to build this grandiose structure.  It was an interesting contrast, once again, to think of Sultan's analysis of the country, especially as it pertained to the festering problems of racism and inequalities throughout the region.  It was, frankly, difficult to look beyond this majestic display of opulence…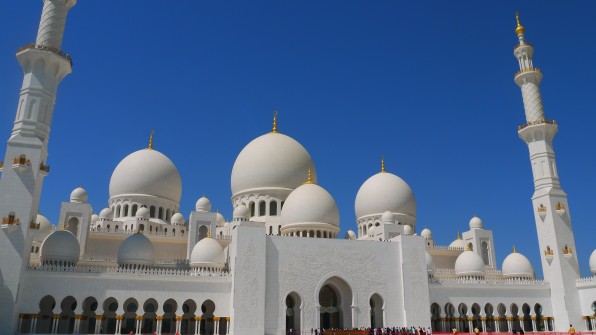 Determined to dig deeper and listening to our faithful coordinator Karima's recommendations, we took Hamdan up on his invitation to visit him and his home in Al Ain on our last day, Friday (which is a day off in the Arab culture).  As tempting as it was to sleep in and relax during the last few hours of this exhaustive trip, we couldn't let this opportunity pass.   About one hour outside of Dubai, we were greeted by Hamdan who pulled up next to us by the side of the highway.  Unconcerned by any potential theft, he didn't even lock his Audi car and jumped right into our bus to give us a tour of the area.  Al Ain, he emphatically remarked, is incredibly safe.  "Everyone knows each other and cares for one another." The place was unlike anything else we had seen in the other Emirates – Dubai, Abu Dhabi, and Sharjah.  With no structures above five stories, Al Ain is known as the Garden City and borders Oman.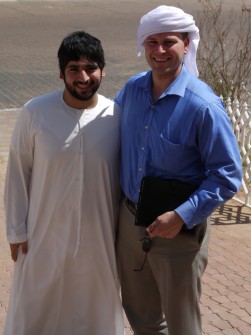 After a tour of this beautiful city, we were treated to a delectable lunch in Hamdan's home.  What a treat!  We met his brothers, as well as his Father, a very-respected, distinguished Military Officer, with an impressive list of military and academic accomplishments.   We feasted on succulent roasted goat, spicy grape leaves, fresh mango juice and delicious Arabic coffee– a truly memorable experience.  The quality of the meal was only surpassed by Hamdan and his family's unparalleled hospitality.
We could not have asked for a better way to end our trip to the UAE.  We came in, mesmerized by the warmth of the country, and left with an equally mesmerizing take on the warmth of its people.  Though we learned a great deal, it seems we have yet a ton more to learn when it comes to hospitality!  Thanks to Hamdan and to everyone else who made this visit a success and for providing an insight into a fascinating region.  If the past 40 years are any indication of what is to come, Sultan's prognosis is spot on: "we have not seen the end…"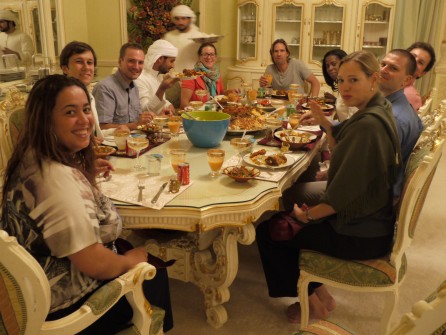 Additional photos can be seen here.