Results of Berkley Center Research presented by UNAOC and UNFPA
On February 23, 2011, Katherine Marshall and Thomas Banchoff of Georgetown University's Berkley Center for Religion, Peace and World Affairs presented the results of a four-year "mapping" study on the role of faith-inspired organizations in development around the world at the United Nations Headquarters. The study was funded by the Henry Luce Foundation, and the event was co-sponsored by the UN Alliance of Civilizations and UNFPA.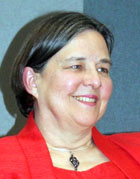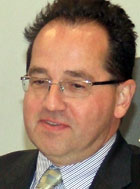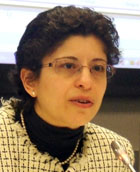 After opening remarks from UNAOC Director Marc Scheuer, Senior Fellow Katherine Marshall introduced the topic with very real examples from everyday life, highlighting the complexity of the themes and terminology.  In her presentation, Marshall highlighted the rationale, methodology, and challenges of the "mapping" exercise, and emerging issues and ideas.  Awareness of the complexity of the issue, as well as a desire to find results and insights into fighting poverty and development challenges were the key factors in the beginning of the research project. The research team held consultations and interviews in the US, Qatar, Guatemala, Cambodia, and Bangladesh as the foundation of the methodology and produced several reports on the topic, all of which are available on the webpage of the Berkley Center.

Berkley Center Director Thomas Banchoff provided the audience with a background presentation of the Research Center and its functions, the research project as well as the center's online knowledge resources related to religion and development.  He noted that the project has a strong educational mission, as providing new, accessible information has a marked impact on understanding the problems and practices at the intersection of religion and development.  This is particularly important for emerging and current development practitioners and policy-makers.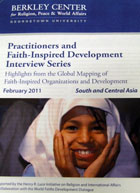 Azza Karam, Sr. Advisor, Culture, UNFPA, and Joop Theunissen, Deputy Chief of the NGO section of DESA responded to the two presentations.  A subsequent discussion with the audience was enthusiastic and inspiring, covering human rights, the changes in religion and development during the past decade and the religious communities and faith-inspired organizations in general.
UNAOC Research and Education Manager Thomas Uthup said, "The education mission of the Alliance includes building knowledge and enhancing understanding on the different areas of interest to the Alliance.  This research of the Berkley Center, a partner in the Education about Religions and Beliefs program, provides stimulating findings and increases our understanding of the complex role of faith-inspired organizations in development."
Katherine Marshall responds to questions on religion and development: short video on youtube

Thomas Banchoff on the convergences between the educational missions of the Berkley Center and UN Alliance of Civilizations: short video on youtube
(PHOTOS: Ksenia Yakustidi/UNAOC)