MEDIA ADVISORY: UNAOC'S 2nd Global Dialogue on Artificial Intelligence "Towards the World of #OneHumanity"
Organized by the United Nations Alliance of Civilizations (UNAOC)
in collaboration with the Onuart Foundation
Friday, 20 October 2023, 9:15 AM–6:00 PM CEST (Geneva time / UTC+2)
Room XX, Human Rights and Alliance of Civilizations Room
Palais des Nations, Geneva, Switzerland
View Concept Note Download the Agenda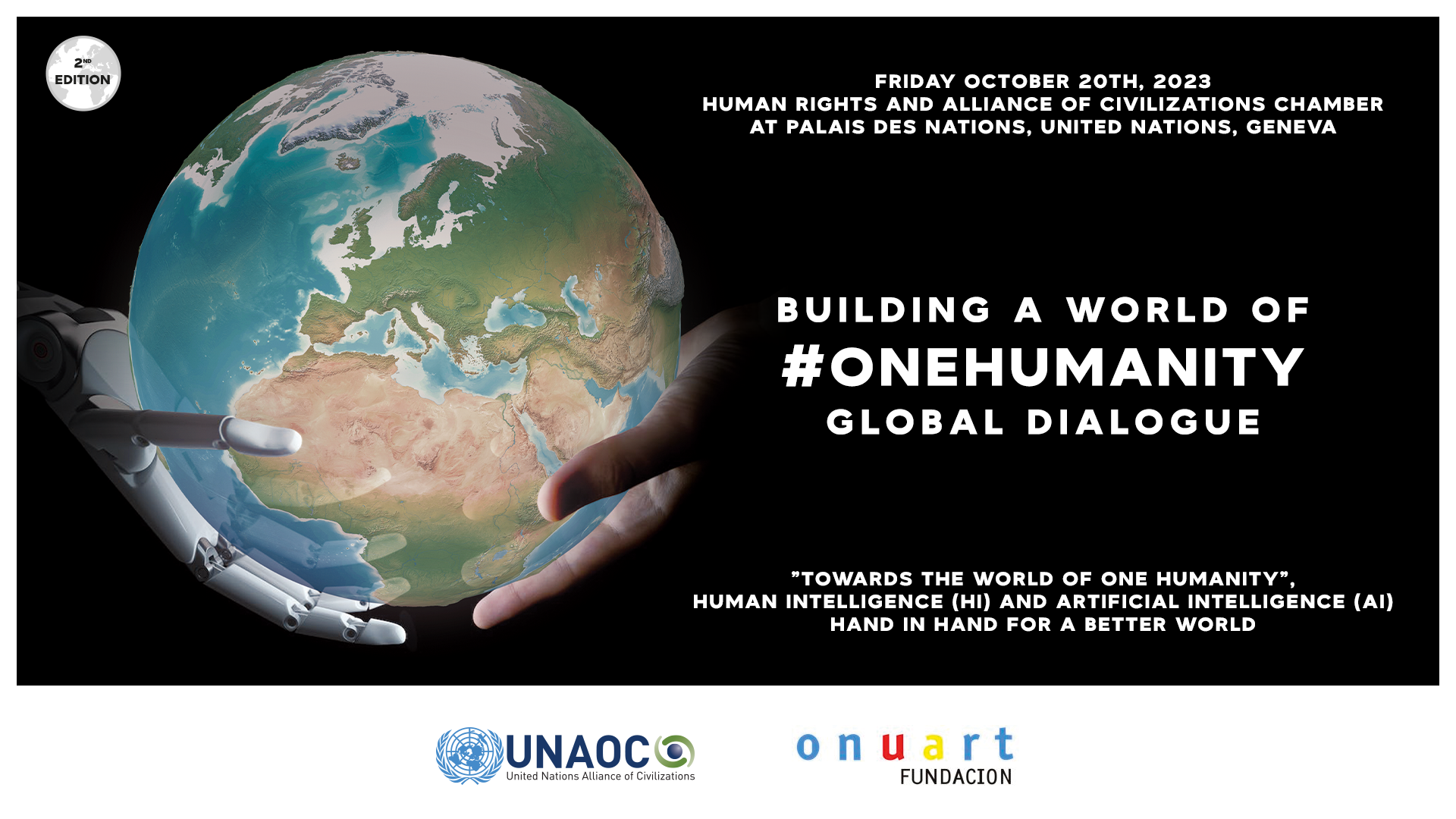 ---
What:
The United Nations Alliance of Civilizations (UNAOC), in collaboration with the Onuart Foundation will convene a Second Global Dialogue on Artificial Intelligence (AI) entitled "Towards the World of #OneHumanity". The event will bring together diverse perspectives and expertise from around the world to debate and exchange views on the development of responsible, ethical, and equitable AI that is rooted in transparency and accountability.
---
Why:
The multi-stakeholder dialogue will explore how recent rapid breakthroughs in AI-powered technologies can be leveraged to advance global governance, foster mutual respect, and promote inclusive development. The impact of AI on global peace and security will be examined, including its potential to spread disinformation, restrict freedoms, reinforce biases and structural racism, and/or infringe on basic human rights. The Global Dialogue also will serve to deepen, amplify, and strengthen ongoing collaboration between the public and private sectors that aims to steer AI technology towards building a better world.
---
Who:
Distinguished speakers from the UN as well as the public and private sectors will include:
H.E. Ms. Tatiana Valovaya, Under-Secretary-General of the United Nations, Director-General of the United Nations Office at Geneva;
H.E. Mr. Miguel Ángel Moratinos, Under-Secretary-General and High Representative of the United Nations Alliance of Civilizations (UNAOC);
H.E. Ms. Rebeca Grynspan, Director-General at the United Nations Agency for Trade and Development;
H.E. Ambassador Juan Antonio March, President of the Onuart Foundation;
Dr. Richard Benjamins, Chief AI & Data Strategist at Telefónica;
Mr. David Carmona, Vice President and Chief Technology Officer for Strategic Incubations at Microsoft;
Dr. Ulrike Till, Director of Intellectual Property (IP) and Frontiers Technology Division, Leading IP Policy and AI at World Intellectual Property Organization;
Mr. Stephen Ibaraki, Chair and Managing General Partner of REDDS Capital & Founder of the UN International Telecommunication Union AI for Good Summit;
Mr. John Shawe-Taylor, UN Educational, Scientific and Cultural Organization (UNESCO) Chair in AI & Director of the International Research Centre on Artificial Intelligence under the auspices of UNESCO.
---
When:
Friday, 20 October 2023, 9:15 AM to 6:00 PM CEST (Geneva Time / UTC+2)
---
Where:
Room XX, Palais des Nations, the United Nations Office at Geneva, Geneva, Switzerland.
---
Entertainment:
An instrumental recital of traditional Chinese music, reflecting intercultural dialogue and featuring Western performers, will follow the Global Dialogue. The Khalili Foundation collection's "House of Peace" pictorial exhibition will open at 7pm, accompanied by a buffet dinner offered by the Khalili Foundation.
---
Media Contacts:
Ms. Julie Ann Ladanan, UNAOC Web and Multimedia Communications Specialist
E-mail: julieal@unops.org
Telephone: +1 (908) 416-6430
Ms. María Merchán Rocamora, Consultant, UNAOC Geneva office
E-mail: maria.merchanrocamora@un.org
Telephone: +41 (0) 78 267 68 98
---
RSVP:
Media personnel are kindly requested to RSVP before 18 October, either: