The 2nd Global Dialogue: "Towards the World of #OneHumanity – The Role of Artificial Intelligence"
October 20
| United Nations Office at Geneva (UNOG)
Event Navigation
Organized by the United Nations Alliance of Civilizations (UNAOC) in collaboration with the Onuart Foundation
Click here to download the agenda.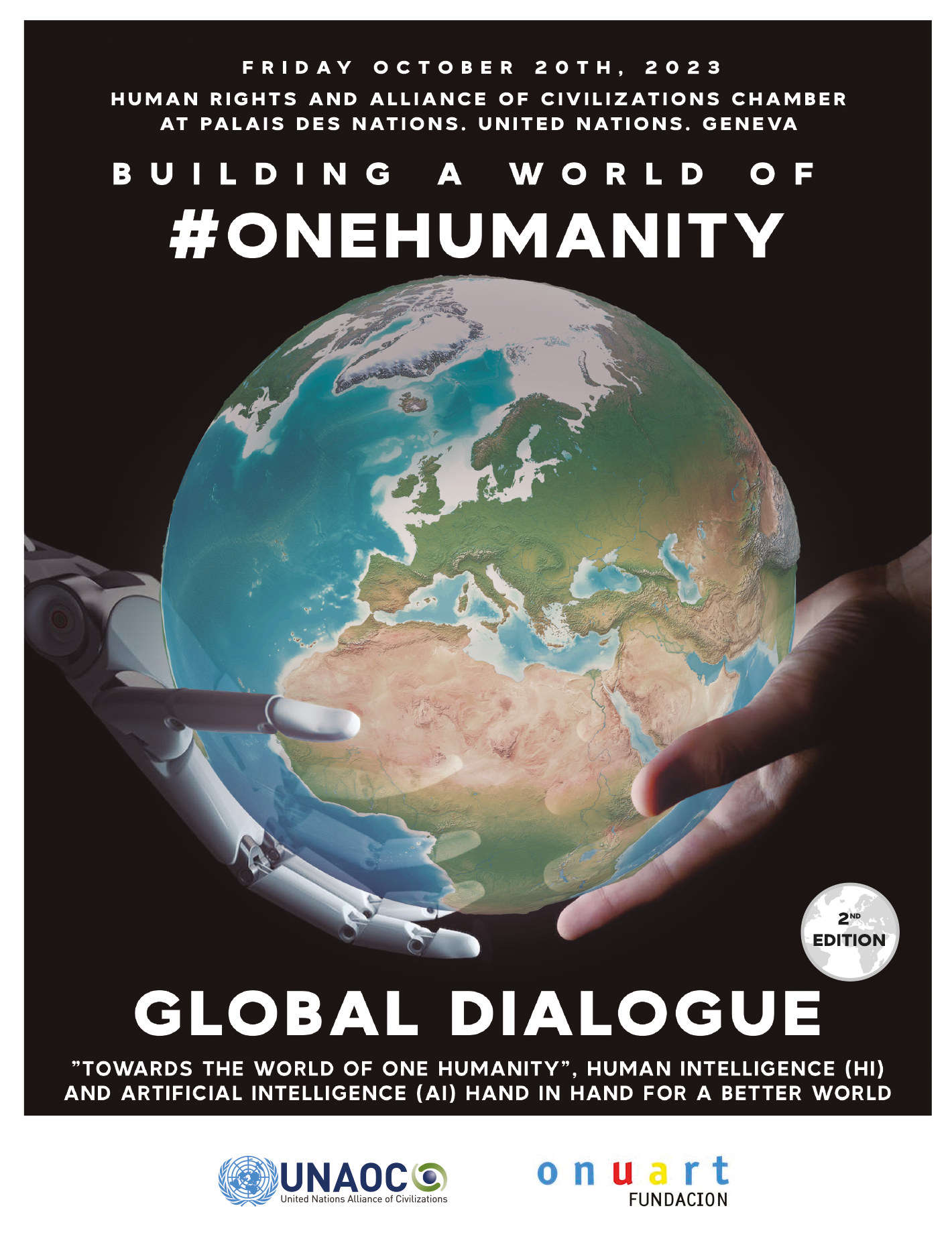 Artificial Intelligence (AI) has been one of the most transformative innovations of our time – with the potential to redefine industries and reshape societies. As AI continues to advance exponentially, its profound impact on #OneHumanity raises important questions about ethics, governance, equity, and sustainable development. Moreover, in our interconnected multiethnic, multicultural and multireligious world, it is crucial to address the surge in racism and xenophobia that persist in many parts of the world , and examine the impact of AI on exacerbating them or counteracting and mitigating them.
To address these crucial and timely themes, the United Nations Alliance of Civilizations (UNAOC), in collaboration with the Onuart Foundation, is convening the 2nd edition of the Global Dialogue on Artificial Intelligence entitled "Towards the World of One Humanity".
The dialogues aim to explore rapid breakthroughs in AI-powered technologies and explore how these innovations can be leveraged to advance global governance, foster mutual respect, and promote inclusive development. On the other side of the spectrum, the event will examine the impact of Artificial Intelligence on global peace and security, as well as its potential to spread disinformation, restrict freedoms, reinforce biases and structural racism, or infringe on basic human rights.
AI-enabled technologies, and particularly generative AI models, have become even more relevant over the past year. The emergence of Chat GPT in late 2022, for example, continues to fuel a global debate. While generative technology has ushered in a new era of creativity and productivity, it has also sparked contentious debate on the propagation of fake news, amplifying stereotypes, perpetuating bias, violating privacy, utilizing copyrighted content for training generative AI models, or promoting unequal representation in media narratives, to name a few.
At this important juncture in history, innovation and inclusion are crucial, and Artificial Intelligence in the service of humanity has the potential to empower diversity, respect and progress for all. However, establishing guardrails and adapting a governance framework are necessary and urgent to steer this technology towards building a better world. Moreover, a strong partnership between the public and private sectors is essential to drive the whole transformation process in harmony. This Global Dialogue will serve to deepen, amplify, and strengthen this collaboration.
Indeed, as AI continues to open infinite possibilities to aid Human Intelligence, it is of utmost importance for a multi-stakeholder, multilateral dialogue to address the potential dangers and misuse of these technologies, while simultaneously harnessing AI's potential for positive impact. It is clear that AI will have an impact on every area of our lives including the three pillars of the United Nations namely, peace and security, human rights and sustainable development. That's why last July, the United Nations Security Council took up the issue and convened for the first time a debate on AI.
The United Nations have taken steps to set new international rules and establish new global agencies. For example, the 2021 recommendations on Ethics of Artificial Intelligence agreed through the UNESCO; the AI for Good summits convened by the ITU to ensure that AI serves the common good. Furthermore, the Secretary-General of the United Nations has announced that he will convene a multi-stakeholder High-Level Advisory Board for Artificial Intelligence that will report back on options for global AI governance by the end of this year.
It is also in this context that UNAOC and Onuart Foundation are bringing together diverse perspectives and expertise from around the world, to debate and exchange views on the way forward for responsible, ethical, and equitable AI development rooted in transparency and accountability.
The event will take place on 20 October, 2023 , 09:15-13:00 , 14:30 – 18:00 in room XX (Human Rights and Alliance of Civilizations room).
---