By Mario Lubetkin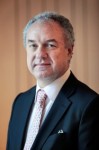 History shows that the amazing diversity of cultures and beliefs blossomed around the globe has often been cause or pretext for bloody conflicts or war.
This is an irrefutable part of reality, but how do not see the back of the medal? On closer view, all civilizations convey messages of harmony and coexistence, promote peace and condemn war and violence.
At the risk of simplification, I think that peace prevails when leaderships of every time and place adopt the values of tolerance and coexistence of their own cultures, in the same way as conflict is inevitable when, from a position of power, cultural and religious diversity is seen as a contradiction, a threat, or an adversity.
For this reason, I see as a promising sign that a diplomatic of international level, who has dedicated his life to the ideals of harmony and friendship between peoples, is today the High Representative for the United Nations Alliance of Civilizations.
In the recent years, I have been following with admiration the career of President Nassir Abdulaziz Al-Nasser, whose capacities and representation brought him to what we can consider the peak of international diplomacy: the presidency of the United Nations General Assembly (14 September 2011-18 September 2012).
As many prominent observers have underlined, it was a particularly difficult and complex time, during which the President of the General Assembly showed his qualities to build consensus around mediation, to peacefully resolve disputes.
Hence, at the end of his mandate as President of the General Assembly, the United Nations Secretary General Ban Ki-moon, declared that: "because of his strong commitment to inter-cultural dialogue, peace and development, I was pleased to appoint Mr. Al-Nasser as my next High Representative for the UN Alliance of Civilizations".
I may add an aspect which I have perceived from my personal experience, since President Al Nasser accepted to chair the IPS Board of Directors, in September 2011: a wise and wide view of the world of communications, which he will be able to use, in order for the intercultural dialogue to achieve a wide dissemination.
Let the President himself to express the sense of his mission:
"As the High Representative of the United Nations Alliance of Civilizations it is my duty to promote multiculturalism and tolerance. The Alliance is a soft power tool of the Secretary-General established to contribute to a more peaceful world by fighting against radicalization and polarization, by encouraging greater intercultural understanding and doing so by engaging in projects that advance those goals.
Although the Charter of the United Nations, the Universal Declaration of Human Rights and many other international law instruments clearly prohibit discrimination on grounds of religion, race, gender and many other differences, sadly we live predominantly in a world of intolerance, xenophobia, marginalization, tensions and conflict. In a growing number of countries, culture is perceived as source of division, instead of a path to dialogue and human solidarity.
This is why I am committed to supporting interreligious and intercultural dialogue as a key tool in the field of mediation, a field that must be used if we are to avoid painful conflicts in the future."
I conclude with a saying of Mahatma Gandhi, which the High Representative loves to mention, and that inspires his mandate: "No culture can live if it attempts to be exclusive".
Mario Lubetkin has been IPS Director General since 2002, after joining IPS as a journalist in 1979, and serving as Regional Director for Latin America.
He served as correspondent for Italian and Latin American print media, as communications adviser for several UN agencies and regional organizations, and coordinated communications projects with the Governments of Brazil, Finland, Italy, Spain and Uruguay, among others.
Between 2000-2007, he coordinated Tierramérica, a Communication Project of the UNEP, UNDP and World Bank, the most important communication platform on environment in Latin America.
In the last years, he actively supported communication efforts at the United Nations and Civil Society major summits, also through the publication of the TerraViva conference papers
Since 2006, he teaches at a Communication Master for international relations of the Milan Communication University IULM. He is Vice-President of Media Watch Global and co-founder of the Com+ Alliance of Communicators for sustainable development.