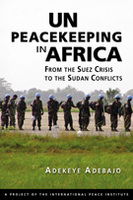 UN Peacekeeping in Africa: From the Suez Crisis to the Sudan Conflicts, by Adekeye Adebajo. Lynne Rienner Publishers, 2011.
Both in the past and the current, Africa has been the site of most of the UN peacekeeping missions.
In this assessment of these missions, Adekeye Adebajo focuses on a series of key issues related to this subject: the reasons for resurgence,factors determining success and failure, what the missions mean for African regional security organizations, and how to divide the labor between the UN and African regional security organizations to be more effective.