UNAOC Fellowship Alumni Event: "The role of media and civil society in fostering peace"
December 6, 2017 | 10:00 am

-

12:00 pm
| Permanent Mission of Germany to the United Nations
Event Navigation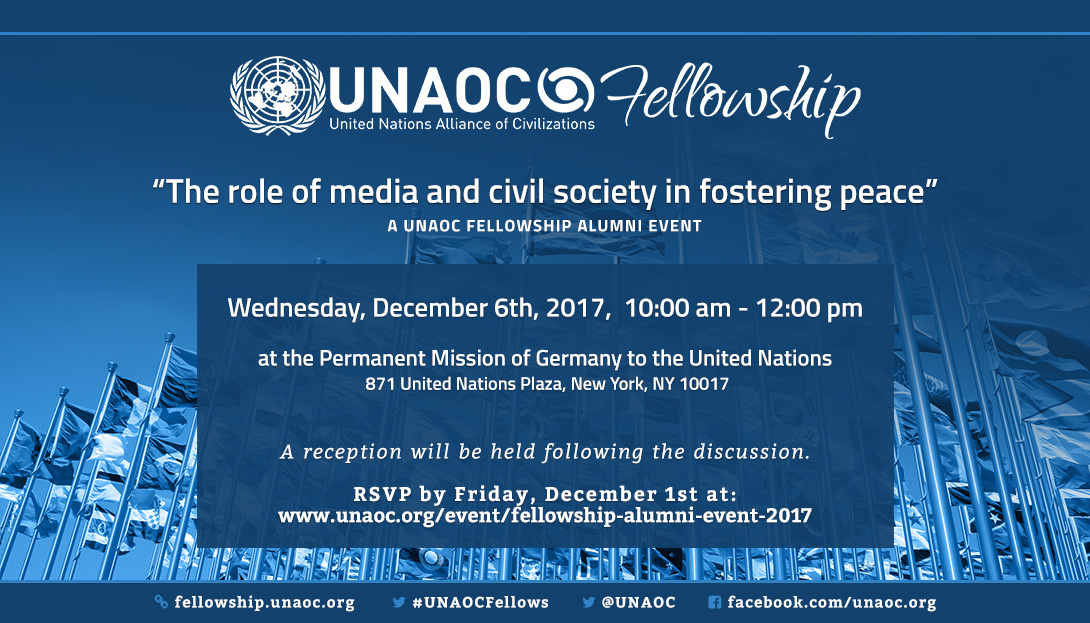 EXPRESSION OF INTEREST
This event is by invitation only. If you would like to attend, kindly submit an expression of interest here.
Please note that submitting an expression of interest does not guarantee an invitation to the event.
Submit an Expression of Interest
General Information
Concept Note
Alumni Bios
WHAT
The United Nations Alliance of Civilizations and the Permanent Mission of Germany to the United Nations are organizing a Fellowship Alumni discussion entitled "The role of media and civil society in fostering peace".
UNAOC Fellowship Alumni are young professionals and civil society leaders from Europe, North America, the Middle East, and North Africa, who took part in the UNAOC Fellowship Programme.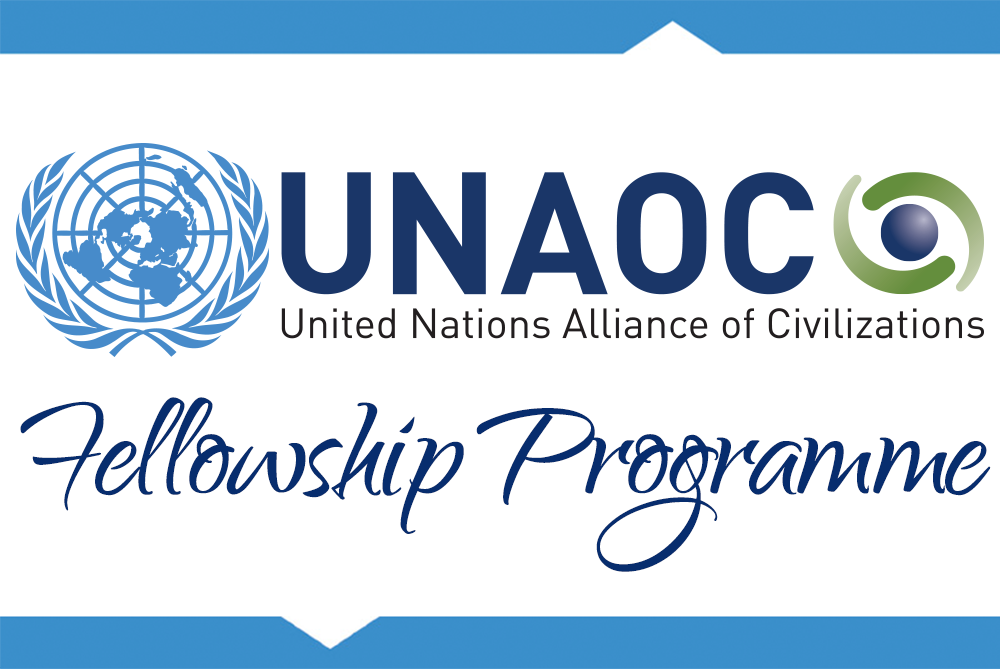 Together, they work on mobilizing their resources and expertise to join the global effort for the promotion of tolerance and inclusion. For this occasion, UNAOC has invited 16 Fellowship Alumni professionally active in the fields of media and civil society. Through an interactive TED Talk format, they will present their observations and their recommendations.
The UNAOC Fellowship Programme is made possible thanks to the financial contribution of the Federal Foreign Office of Germany. UNAOC also thanks the Ministry of Foreign Affairs and Cooperation of Spain, the Ministry of Foreign Affairs of Morocco, the League of Arab States, the Ministry of Foreign Affairs of Egypt, and the Qatar Committee for the Alliance of Civilizations for their support.
---
WHO
UNAOC Fellowship Alumni:
Athar Ahmad, Journalist for the BBC, United Kingdom
Aziza Benlamoudi, Co-Founder of Algeria Youth Voices, Algeria
Elena D'Angelo, Fellow Project Officer at the United Nations Interregional Crime and Justice Research Institute, Italy
Emadeddin Badi, Project Manager at Peaceful Change Initiative, Libya
Emna Ben Yedder, Co-Founder of "ACT – Think and Decide", Tunisia
Fatima Al Banawi, Social Consultant and Artist, Saudi Arabia
Hayder Al Shakeri, Youth Advocate, Iraq
Jasmin Hasic, Assistant Professor at the International University of Burch, Bosnia and Herzegovina
Khalil El Masry, Consultant for the Advancing Inter-religious Peace-building Project, Egypt
Klara Hoskova, Media Programme Coordinator, Germany
Manal Elattir, Founder of ASILASHOP, Morocco
Roda Siad, Documentary Filmmaker, Canada
Shawn Lent, Program Director for Chicago Dance-makers Forum, United States of America
Taras Dzyubanskyy, Adviser to the Mayor of Lviv for Religious and Ecumenical Issues, Ukraine
Tomas Horvath, Project Manager at the Slovak NGDO Platform, Slovakia
Yousef Alhelou, Journalist for Al-Araby TV, State of Palestine
---
WHEN
Wednesday 6 December 2017 from 10:00AM to 12:00PM. A reception will be held afterwards.
---
WHERE
The Permanent Mission of Germany to the United Nations, 871 UN Plaza New York NY 10017
---