UNAOC Fellowship Alumni Event: "Building peace and fostering social cohesion in the age of new media"
December 10, 2020 | 11:00 am

-

1:00 pm
| Virtual
Event Navigation
Organized by the United Nations Alliance of Civilizations (UNAOC) and supported by the Federal Foreign Office of the Republic of Germany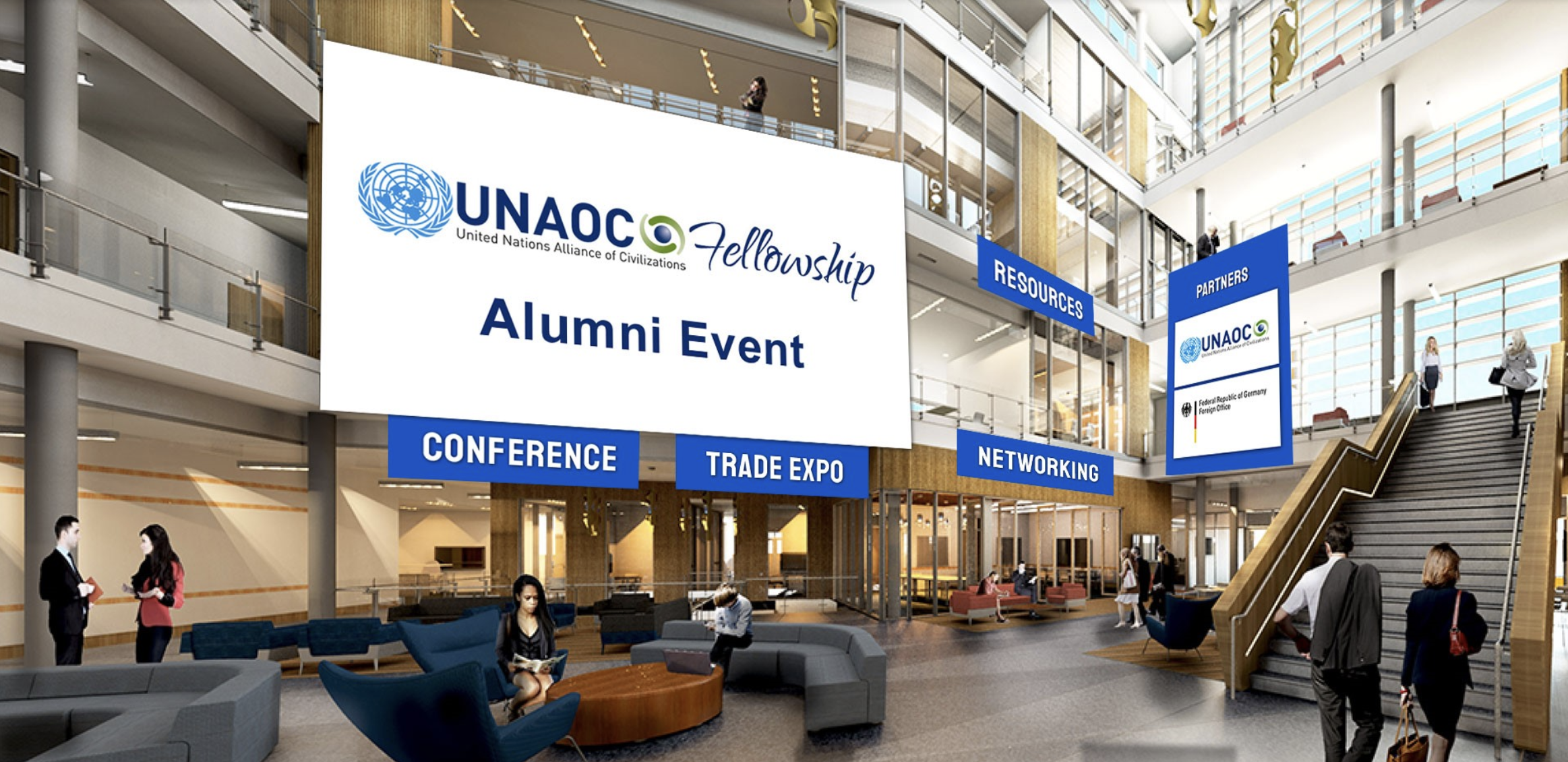 ---
When: Thursday 10 December from 11:00AM to 1:00AM EST.
Where: https://www.unaoc.org/fellowship-alumni-event
---
Background
Across the world, we have witnessed an upsurge in hate speech, bigotry and racist rhetoric on social media and other forms of communication. In the words of the High Representative for the United Nations Alliance of Civilizations (UNAOC), Miguel Ángel Moratinos: "Stigmatization and vilification targeting certain communities based on their religion or belief is an affront to Article 18 of the Universal Declaration of Human Rights." In line with its motto "Many Cultures, One Humanity", UNAOC has worked on addressing these challenges by adopting a whole-of-society approach to foster intercultural and interfaith dialogue, building bridges of understanding and countering stereotyping and polarization.
Promoting the use of new media to foster social cohesion and sustainable peace has become crucial to tackle these threats and to deepen progress across the United Nations agenda, UNAOC is working closely to that effect with a wide range of stakeholders such as media professionals, policy makers, the private sector, civil society, youth organizations, women advocates, educators, religious and community leaders and more. In this context, UNAOC has invited twenty young professionals and civil society leaders from Europe, North America, the Middle East and North Africa, to share their recommendations and good practices for the meaningful use of new media and information technology in the global efforts for sustainable peace and social cohesion. All participants are UNAOC Fellows, professionally involved in the fields of intercultural and interreligious dialogue, media and peacebuilding.
---
The UNAOC Fellowship Programme and its Alumni Network
The Fellowship program is one of UNAOC's flagship programs funded and supported by the Federal Republic of Germany. It's an intercultural exchange programme between young professionals and civil society leaders from the Middle East and North Africa (MENA), and Europe and North America (EUNA). The Fellowship aims at deconstructing stereotypes and at fostering dialogue and understanding between youth of different faiths and cultures. During their trip, UNAOC Fellows meet with a wide range of stakeholders. Together, they explore opportunities for intercultural collaboration and exchange good practices on how to address current global challenges.
In 2020, the Fellowship Programme took the form of a virtual capacity-building exchange programme focused on "Building peace in the age of new media". All 2020 UNAOC Fellows were selected for their professional achievements in the fields of media and peace-building. After completing their Fellowship, participants join the UNAOC Fellowship Alumni Network, a global pool of 250+ young experts and civil society leaders from 53 countries. UNAOC Fellowship Alumni are professionally involved in a wide spectrum of activities.
---
Objectives of the Event
The High Representative for the UNAOC will lead an interactive discussion with twenty UNAOC Fellowship Alumni from Europe, North America, the Middle East, and North Africa, on the role new media can play in building peace and fostering social cohesion.
In their exchange with the High Representative, discussants will share good practices and ideas about how to harness the power of new media and information technology to support the global community and international organizations in their work towards building sustainable peace and fostering social cohesion.
Together they will touch upon underlying issues such as exploring the definition of peace; fighting misinformation through media literacy; promoting inclusive intercultural and interreligious dialogue; drawing the line between hate speech and freedom of speech; engaging in All-of-Society partnerships
Basing their interventions on their own experience on the ground and engagement with UNAOC, Fellowship Alumni will share recommendations on how to leverage new media as a tool for good in the prevention and mediation of conflicts and in achieving peace.
Participants to the latest edition of the Fellowship Programme will share the lessons learned during their virtual visits to Austria, Canada, Egypt, France, Germany, Lebanon, Morocco, Qatar, Spain, Tunisia, the United Arab Emirates and the United States on the role of new media in peacebuilding.
---
Virtual Exhibition
The event platform will also feature an online exhibition hall with virtual booths where the audience will be able to learn more about UNAOC, its #forSafeWorship campaign, 2020 UNAOC Fellows' media projects, and other UNAOC programmes and activities.
---
Speakers
H.E. Mr. Miguel Ángel Moratinos
High Representative for the United Nations Alliance of Civilizations
H.E. Mr. Günter Sautter
Ambassador and Deputy Permanent Representative of the Federal Republic of Germany to the United Nations
Mr. Al Mustapha Sguenfle
Journalist for the Moroccan News Agency
Ms. Alba Sabaté-Gauxachs
Professor of Journalism and Global Communication Management at the Blanquerna School of Communication and International Relations, Ramon Llull University
Mr. Ali Ghaith
Media and Communications Specialist for CARE
Ms. Amal El Jabali
Inclusive and Outreach Education Assistant at UNICEF
Ms. Anne Parsons
Visual Communications Manager at Kiron Open Higher Education
Mr. David Fischer
Media Coordinator for Human Rights Watch
Ms. Elizabeth Arif-Fear
Founder of "Voice of Salam"
Mr. Jacopo Ottaviani
Chief Data Officer at Code for Africa
Mr. Josh Cass
Founding member of the Forum for Religion and International Affairs
Ms. Kawtar Amrani
Product Policy Manager – Trust and Safety for TikTok
Ms. Kholoud Al Ajarma
Anthropologist and Refugee Rights' Advocate
Ms. Najwa Ben Wheba
Social Media Journalist for Al Jazeera Arabic
Ms. Orla Murphy
Speechwriter to the President of the 75th session of the General Assembly
Mr. Peter Mosaad
Co-Founder of Robabikia
Ms. Radwa Sakr
Administrative Assistant and Consultant to the Executive Director of the Anna Lindh Foundation
Ms. Samiha Tadjine
Academic Advisor for the Advanced Science and Creativity Association
Mr. Tim Mortimer
Programme Manager at The Faith & Belief Forum
Ms. Veronika Verner
Communication Specialist for the Council of Europe
Mr. Walid Alnabahin
Founder of the Media Show initiative
Mr. Yehuda Silverman
Faculty Diversity Postdoctoral Fellow at Ursuline College