Strengthening Interreligious and Intercultural Dialogue through Knowledge Sharing: Opportunities and Challenges
July 10, 2018 | 10:00 am

-

1:00 pm
| Conference Room 9, UNHQ
Event Navigation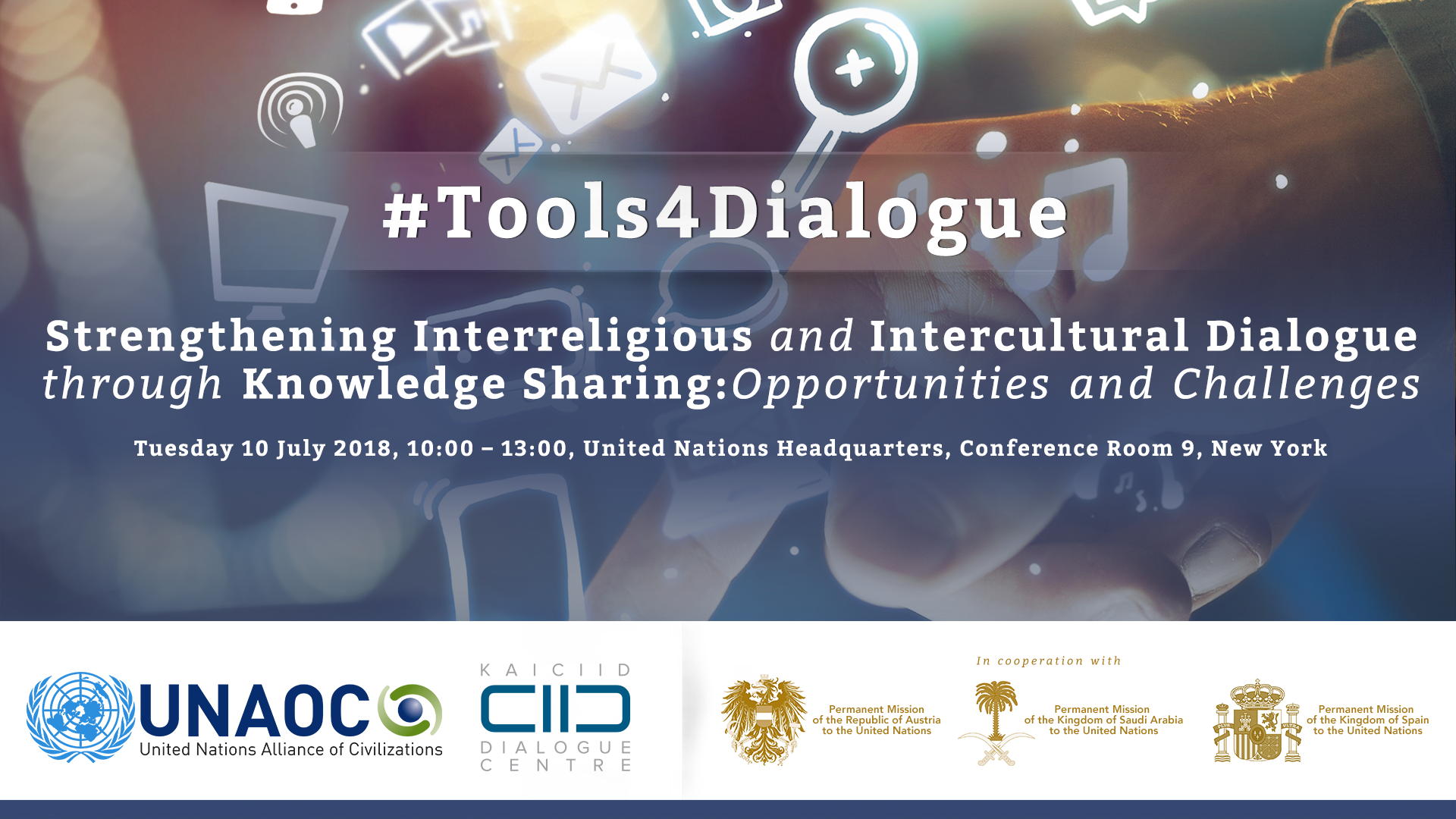 Organized by UNAOC and KAICIID International Dialogue Centre
The United Nations Alliance of Civilizations (UNAOC) and the KAICIID International Dialogue Centre are co-organizing an event entitled "Strengthening Interreligious and Intercultural Dialogue through Knowledge Sharing: Opportunities and Challenges", to be held on 10 July 2018, 10:00 AM to 1:00 PM, at the United Nations Headquarters.
---
---
BACKGROUND:
In face of the global scourges of violent extremism, xenophobia and discrimination, the promotion of a culture of peace and dialogue at the local, national, and international levels has become more than ever crucial to the security and well-being of our societies.
Teaching the values of reconciliation, tolerance and respect between cultures, religions and beliefs, should be a priority for educators and curriculum developers, disregarding whether they target diplomats, politicians, media experts or young children.
As one of the leading entities in the United Nations system for the promotion of interfaith and intercultural dialogue, the United Nations Alliance of Civilizations (UNAOC) has been working for more than a decade on building bridges between people and communities from different cultures and religions.
Over the years, UNAOC has developed a solid expertise in the field of interreligious/ intercultural dialogue (IRD/ICD).
With the support of a variety of partners, UNAOC has implemented a wide portfolio of activities with the aim to foster cross-cultural understanding and respect for diversity. As a result, the Alliance has established a growing network of Alumni involved all over the globe in different fields of work and areas of expertise, but all strongly committed to UNAOC mission.
Through its activities, UNAOC has contributed to empower innovative civil society leaders and organizations, working on harnessing the power of online platforms to strengthen IRD/ICD.
Read more in the concept note below
---