Seville Dialogue on Creating Cities of Resilience
October 6, 2021 | 11:00 am

-

5:00 pm
| FIBES Palace of Congresses and Expositions
Event Navigation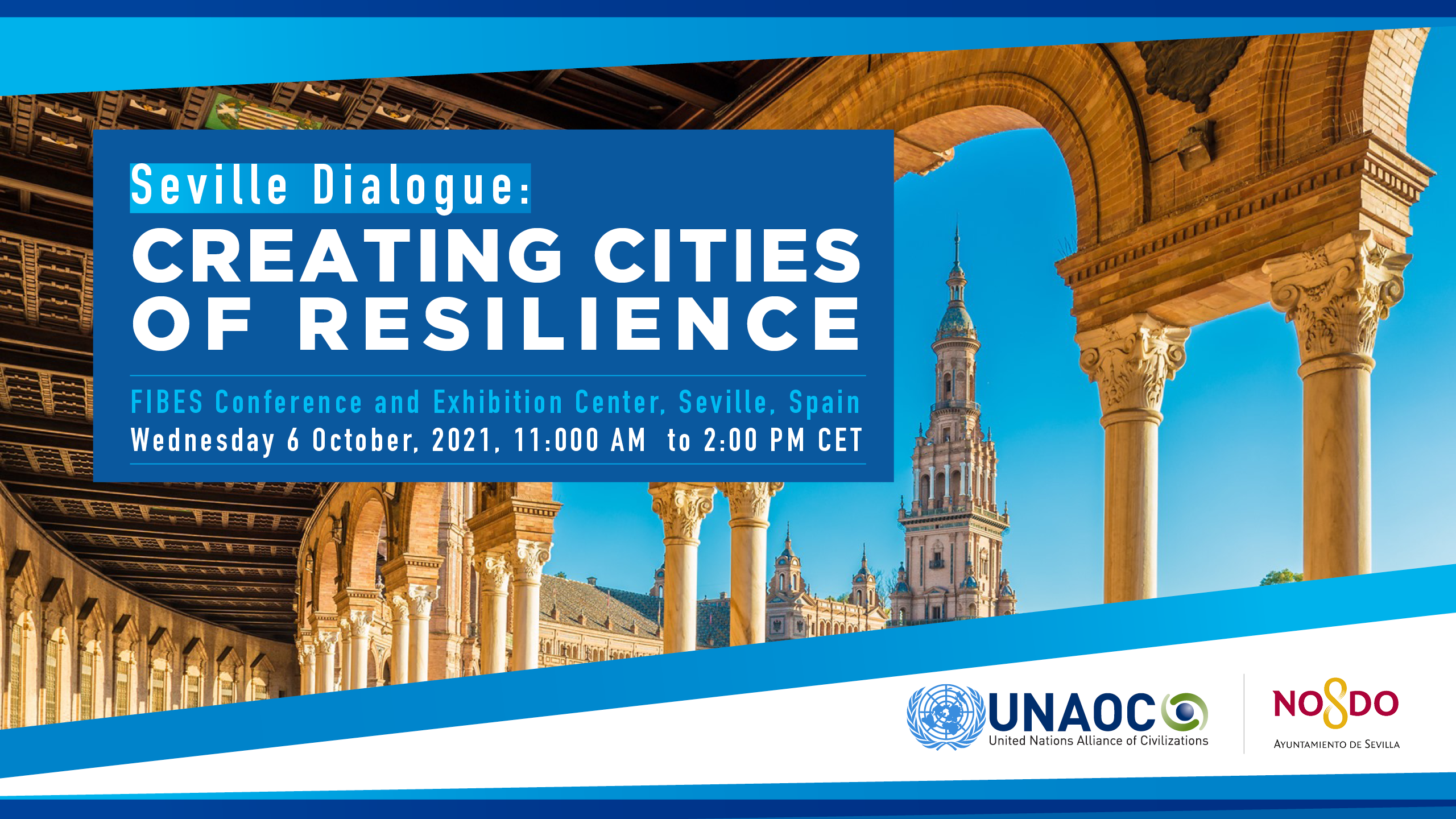 Venue: FIBES Palace of Congresses and Expositions, Seville, Spain
Date: 6 October 2021 (First Urban Forum of Spain and Third Global Forum of Local Governments 5 – 7 October)
Co-Chairs:
His Excellency Miguel Angel Moratinos, High Representative of the United Nations Alliance of Civilizations
The Honorable Juan Espadas, Mayor of Seville
Background:
Historically, cities have been places of exchange between the world's culturally, ethnically and religiously diverse populations that live and share together a common urban space. Yet, growing ethnic and religious tensions have recently made the challenge of creating peaceful cities of belonging ever more difficult. In this context, the United Nations Alliance of Civilizations and the City of Los Angeles organized in March of 2020 the "LA Dialogue on Creating Cities of Belonging", providing space for mayors, regional government leaders and civil society to work together towards creating more inclusive and peaceful cities.
Shortly after this gathering, the Covid-19 pandemic, far from being only a health crisis, once again put cities at the forefront of the response to a global emergency which has affected millions of people, completely devastated social fabrics and pushed entire populations to the brink of poverty. The "Seville Dialogue on Creating Cities of Resilience" aims to bring mayors and regional leaders to share their experience and good practices in responding to the pandemic and best means to recover better to build cohesive, inclusive and greener societies that hold citizens at their core.
The Seville Dialogue on Creating Cities of Resilience
Cities are often at the forefront of humanity's biggest challenges. They are hubs where diverse populations coexist, gather and interact on a daily basis in an endless variety of public spaces, from the workplace or schools to public transportation and parks. As such, cities are charged with the complex task of providing equitably for the ever-increasing multicultural and multi-generational population that lives in them. However, these places of exchange and accommodation of cultural diversity are progressively seeing preoccupying trends that further expand the gap between the rich and the poor, that hamper access to basic human rights, and that sow divisions on the basis of culture, ethnicity and faith. The urgency of making cities "more inclusive, safe, resilient and sustainable," as determined by SDG 11 and SDG 16 of the 2030 UN Agenda, is not a new concept. The Covid-19 pandemic has not only exposed the extent of global vulnerabilities and inequalities in cities particularly, but it has also underlined the deep need to foster more resilient population hubs, while simultaneously providing a unique window of opportunity for doing so.
Despite its initial character as a global health crisis, more than a year and a half of the Covid-19 pandemic has brought to the forefront a political, social, economic, and urban crisis. These crises have been particularly severe in urban spaces which, given their sheer size and role as connective, global hubs for people and goods, saw 95% of the world's virus cases in the first months of the pandemic. As in most emergencies, it is the vulnerable communities of society and their marginalized populations who suffer the most. Endemic patterns of inequalities within cities, often characterized by unequal and in many cases inaccessible basic health, sanitation and social protection systems, as well as poverty and overcrowded living conditions, became key destabilizing factors which increased the epidemic's overall impact.
Nonetheless, it is also cities that have spearheaded enlightened responses to provide fast and essential answers to the current crisis. From swiftly redesigned urban spaces and easily accessible financial and food support stations for homeless populations, to population-wide increased emergency care, or dedicated health protection websites for migrants, cities soon become main actors in addressing the global Covid-19 pandemic.
Meanwhile, local governments and cities find themselves at a critical crossroads: the "new normal" seems to be irreversible. However, this is also a unique opportunity for them to become the main architects of a new social contract, one that can be the spinal cord of fairer, stronger and better societies. Urban hubs are now faced with the challenge of providing sustainable solutions to the chasms underlined by the pandemic and to tackle inequality at its roots. With the support of the United Nations, the world's cities must work towards a more sustainable future by, among other actions: ensuring the participation of marginalized groups and capitalizing on their knowledge in decision making processes; improving access to health, education and technology in particularly disadvantaged areas; and creating safer, greener spaces for people to share and live together in the urban world. Indisputably, it is only by working together and sharing knowledge that we, as a global population, can achieve this urgent goal.
Hence, it is in this spirit that the United Nations Alliance of Civilizations and the City of Seville have organized the "Seville Dialogue on Creating Cities of Resilience", intended as a space for mayors, local government leaders and civil society to share best practices and lessons learned from the Covid-19 pandemic, as well as to brainstorm together how to rebuild cohesive, inclusive and more sustainable societies where the world's many cultures, but one humanity, can live together in peace and exercise mutual respect.
The United Nations Alliance of Civilizations
The United Nations Alliance of Civilizations (UNAOC) is the United Nations entity that has placed dialogue among different cultures and faiths at the core of its activities. Its mandate is "to improve understanding and cooperation among nations and peoples across cultures and to reduce polarization at local and global levels." With the mantra "One Humanity, many cultures", UNAOC is an ardent defender of inclusiveness. It recognizes that there is a plurality of civilizations. Each and every one of them has contributed to enriching our common and single humanity. UNAOC's work is based on the notion that shaping the future we want for humankind, does not only rest in our collective efforts to save our planet, but also on nurturing cultural diversity, pluralism and a sense of belonging.
UNAOC and the City of Seville have a long standing approach in fostering inclusive and sustainable cities. Hence, the integration of the "Seville Dialogue on Creating Cities of Resilience" into the First Urban Forum of Spain and the Third Global Forum of
Local Governments, which will focus on "Cities and Territories in the Social and Economic Recuperation", was a natural partnering decision.
City of Seville's First Urban Forum of Spain and Third Global Forum of Local Governments
The forum invites national and local leaders, university experts and civil society to explore, reflect and debate on the topics of "Cities and Health", "Equity and Social Cohesion", "Ecological Transition and City Models" and "Digital Transformation and Innovation", while determining best practices and means to create more sustainable cities.
Seville
Given its history and present social fabric, Seville is a unique place for hosting the second edition of the Dialogues. Having seen the passage of many of the world's civilizations and being a place where diverse religions and cultures have historically coexisted, Seville keeps within its walls the secrets to promoting diversity, dialogue and inclusion between its citizens, as well as the will to build back better and stronger during and after the Covid-19 pandemic.