PLURAL+ Youth Media Makers Against Racism: a Virtual Watch Party featuring PLURAL+ Winners
June 26, 2020 | 10:00 am

-

11:30 am
| Online
Event Navigation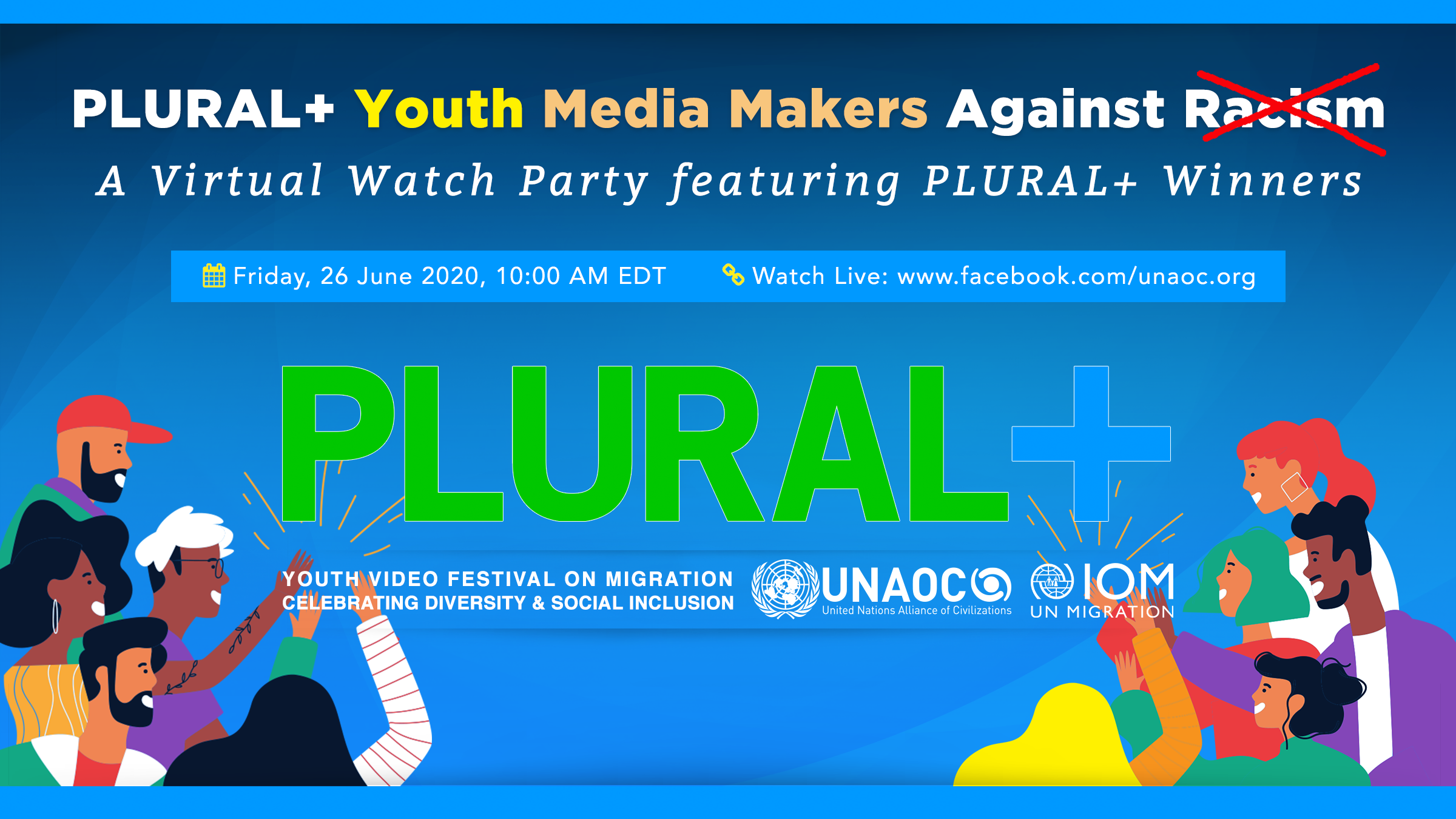 Join the PLURAL+ Watch Party Here
Join us for a virtual "watch party" featuring short movies made by young filmmakers who stand up against racism. All featured films are winners of the PLURAL+ Youth Video Festival, a joint initiative of UNAOC and the International Organization for Migration (IOM).
Featured films:
Exit Right
By Rupert Holler (Austria)
2015 PLURAL+ winner
Synopsis: A man on the bus verbally abuses a black passenger. The story takes an unexpected turn and conveys a strong message using a keen sense of humor.
Click here to watch the video
Inspire
By Awais Ali and Sheroze Khan (United Kingdom)
2015 PLURAL+ winner
Synopsis: A conversation on the positive impact of cultural diversity and immigration, challenging audiences to counter discrimination in their own communities.
Click here to watch the video
A Letter to My Unborn Daughter
By DaeQuan Collier (United States)
2016 PLURAL+ winner
Synopsis: An expecting father writes a letter to his daughter, encouraging African American women to embrace who they are.
Click here to watch the video
Translate into Power
By Andreia Friaças and António Castelo (Portugal)
2018 PLURAL+ winner
Synopsis: Three migrant women recite a poem in its original language, Portuguese, sharing one message of inclusion and resilience.
Click here to watch the video
It's Not Me, It's You
By Zavia Forrest and Ella Cooper Creative production (Canada)
2017 PLURAL+ winner
Synopsis: This short film explores the injustices of systemic racism through art, rejecting western beauty standards, and empowering women of color to do the same.
Click here to watch the video
Blue
By Breech Harani (Philippines)
2015 PLURAL+ winner
Synopsis: In this short animation, the main character leaves home to move to a new community and discovers that no matter who you are or where you come from, you are not alone.
Click here to watch the video
The Cops Don't Know
By Sam Chegini (Iran/United Kingdom)
2016 PLURAL+ winner
Synopsis: This music video explores the history of police brutality against the African American community and reflects on the injustice people still face today.
Click here to watch the video
Seeking Refuge
By Eva Eileen Limones Macdonald (Spain)
2019 PLURAL+ winner
Synopsis: A young refugee adapts to life in a new country with her mother and sister, while navigating friendships across language barriers and the challenges of her mother finding work.
Click here to watch the video
Colour
By Taryn Birkett (Canada)
2016 PLURAL+ winner
Synopsis: Born in Ontario, Canada, to Bajan and Scottish heritage, Taryn reflects on her experience living in a predominantly white neighborhood and takes pride in her diverse background.
Click here to watch the video
The True Impact
By Babar Ali and Sarah Randolph (Nepal)
2017 PLURAL+ winner
Synopsis: This video invites the viewer to reflect on the fundamental impact that discrimination and violence have on individuals and humanity.
Click here to watch the video
Color Makes the World Better
By Carlo Villanueva Ruiz, Claudia Ruiz, Moremil Tornero, Silvana Villanueva Ruiz, and Luciano Villanueva Ruiz (Mexico)
2018 PLURAL+ winner
Synopsis: Through art class and color theory, students explore the concepts of social inclusion, its impact on people's lives, and how diversity enriches our global society with a mosaic of ideas, choices, beliefs, languages, roots, and cultures.
Click here to watch the video
See Actions, Not Colors
By Joana Maria Sousa (Portugal)
2017 PLURAL+ winner
Synopsis: Shot from the perspective of our four-legged furry friends, this video reminds us to judge people by their actions, not by their skin color.
Click here to watch the video
We are human
By Sophie Kanza, Louise Kanza, and Stuart Williams (South Africa)
2017 PLURAL+ winner
Synopsis: African immigrant youth living in South Africa recite common racist slurs and stereotypes associated with their different nationalities. The video ends with a message calling for African unity.
Click here to watch the video