Remarks by Under-Secretary-General Miguel Moratinos
High Representative for the United Nations Alliance of Civilizations
VII Congress of Leaders of World and Traditional Religions
"The Role of Leaders of World and Traditional Religions in the Spiritual and Social Development of Human Civilization in the Post-Pandemic Period"
Nur-Sultan 14-15 September 2022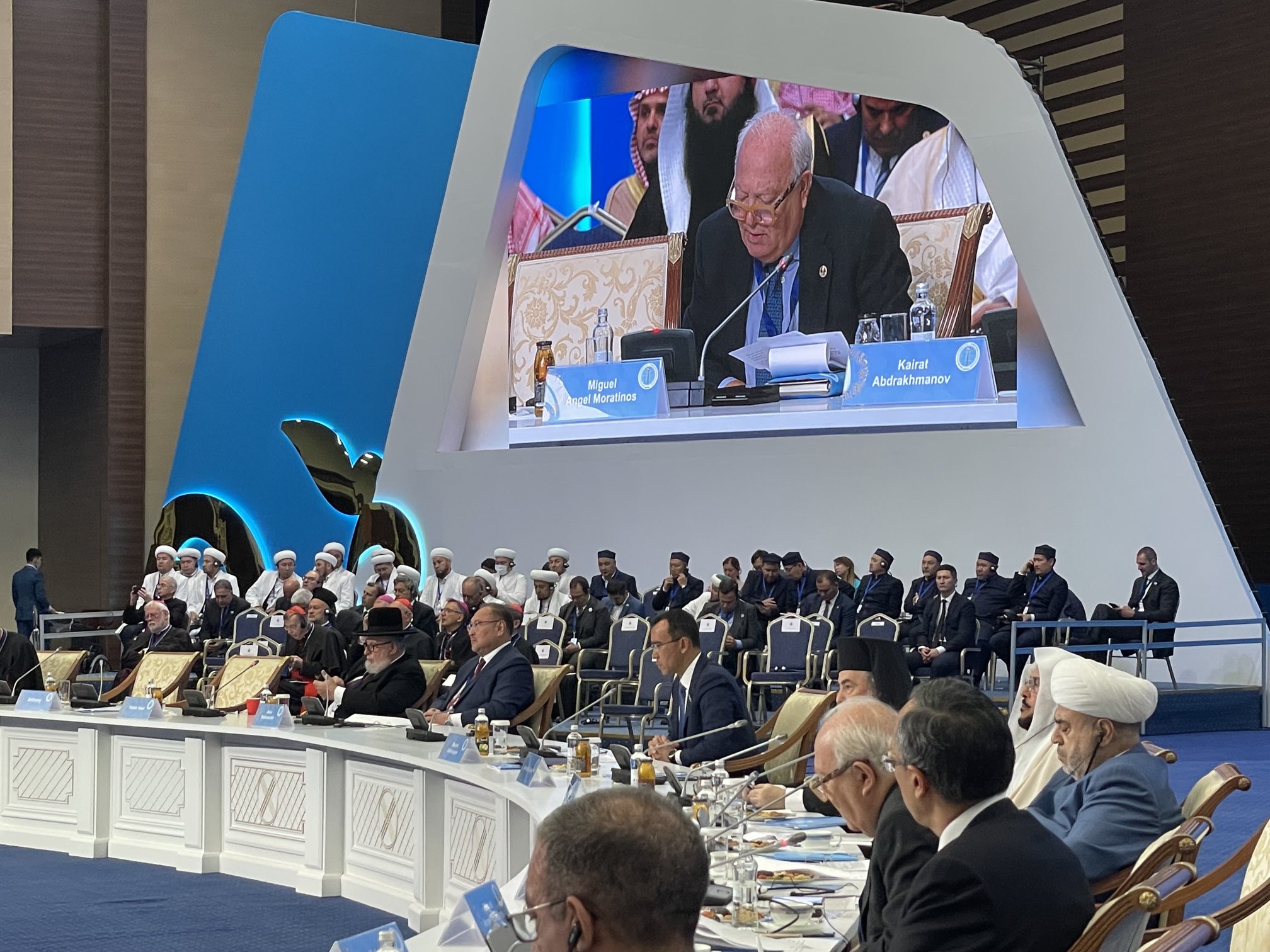 Your Excellency Mr. Kassym-Jomart Tokayev,
President of the Republic of Kazakhstan
Your Eminencies, Spiritual and Religious Leaders
Distinguished guests
I would like to start by warmly thanking His Excellency, President Kassym-Jomart Tokayev for inviting me to address this august gathering of distinguished religious and political leaders. I am truly honored.
President Tokayev's continuing leadership in organizing this congress ever since his tenure as Chairman of the Senate of the Parliament of Kazakhstan demonstrates his genuine commitment to advancing dialogue at the political and religious levels and to strengthening the process of spiritual rapprochement among the peoples of the world.
In that sense, it's heartwarming to see prominent faith and spiritual leaders and political dignitaries come together to re-affirm the importance of shared human values in the spiritual and social development of humankind, ensuring universal peace, security and stability.
It's no coincidence that this initiative was born in Kazakhstan, home to 17 religions and more than 100 ethnic groups who have peacefully coexisted for decades and centuries in this beautiful country.
This is your history. It has made you who you are – defining the region and enriching the world.
Eminencies,
Distinguished guests,
We are at a defining moment of human history. A moment like no other, perhaps since World War II.
The political, economic and social repercussions of the war in Ukraine, now in its eighth month, continue to unfold every day
Prior to this war, the global pandemic brought the world to its knees, upending lives and livelihoods. But most of all COVID-19 exposed the inequalities and fissures in our societies. Hate speech, racism and misogyny surged. And as we know, in times of uncertainties vilifying the most vulnerable, including religious communities becomes convenient.
It is quite an irony, that we see divisions and an erosion of trust at a time when societies have become ever more multi-ethnic and multireligious. We need to invest in social cohesion, so that diversity is rightly seen as a richness, not a threat. At the same time, we need to ensure that every community feels that their identity — their culture — is being respected.
For all we know, discrimination diminishes us all. It prevents people — and societies — from achieving their full potential.
Looking at the calendar of historical events, 2 days ago the world marked the 21st anniversary of 9/11 terrorist attacks. This Congress , now in its 7th edition has a particular relevance to the mission and objectives of the United Nations Alliance of Civilizations. Its first edition was in 2003 – two years after the terrorist attacks on September 11, 2001 – to foster dialogue between faiths and cultures and search for answers to the daunting challenges of our time. This platform has been critical in building bridges between Christianity and Islam and other religious communities at a time when terrorism and religious extremism threatened a deeper rift between them. And in 2005, the Alliance of Civilizations was created as the political initiative of the United Nations Secretary General Kofi Annan to respond to and provide a counter narrative to terrorism and violent extremism. We saw the horrific impact of such terrorist attack in New York, Washington, London, Madrid and Bali, not to mention across Iraq.
Since then and while global counter-terrorism efforts helped in curbing this menace and while the locations may have changed and the actors may have changed, the ugly face of terrorism and violent extremism still persist in many parts of the world from Sahel and Sub-Saharan Africa to Libya, Yemen Afghanistan and elsewhere. Terrorist attacks on religious sites and places of worship have also surged.
This is where the United Nations Alliance of Civilizations comes into play. Through advancing intercultural and interreligious dialogue, our mission is especially important in addressing the root causes of radicalizations and providing a counter-narrative to racism, xenophobia, anti-Semitism, anti-Muslim hatred and other forms of religious intolerance, which are increasing in many places, feeding each other and fermenting extremism. We have long recognized the value added of religious leaders and faith based organizations. Hence, we expanded a unique global platform for interfaith dialogue. Intercultural and interreligious dialogue is a critical tool against isolation, mistrust, and confrontation. It is also the most powerful vector for conflict prevention and conflict resolution. I must say, a viable tool that has been often overlooked. We have also developed the UN Plan of Action to Safeguard Religious Sites. A plan rooted in human rights and based on advancing interreligious and intercultural dialogue.
The role of UNAOC today is even more challenging than when it was created 18 years ago. Challenges that emerged as a result of the drastic changes in the geopolitical landscape, the tendency towards unipolarity and the divisions across ethnic, cultural and religious faultlines prompting a revival of a debate over a clash between the West and the rest of world. Against this backdrop, UNAOC is fit to be a bridgebuilder and an alliance for peace. Nur-Sultan can be the incubator of this endeavour due to its geopolitical dynamics and its determination to work for reconciliation and peace.
Through this Congress – and other efforts – we recognize that a peaceful just and harmonious society can never be taken for granted. We realize that sustainable and lasting peace rooted in mutual respect, human rights and dignity for all ,is not a one- day- feel- good act. It is a continuous process that must be nurtured day after day. It is way of life.
And the United Nations Alliance of Civilizations is proud to be part of this endeavour and we continue to be committed to work closely with the Congress Secretariat.
Distinguished guests,
The battle for ideas, for ideals, for values, never ends. Religious leaders must lead the way using their moral voice and channeling the trust vested in them by their communities to stand up against bigotry and hate speech and promote the highest standards of mutual respect, compassion and humility.
Isn't these universal human values inherent in all religious teachings?
In times of turmoil, religious leaders, traditional and non-traditional, can provide a values-based glue to hold communities together and provide common ground for peace-making and problem solving. Only through their relentless pursuit of enlightenment can they play their highest role in eliminating the scourge of extremism, hate and violence.
Faith is and will always be central to hope and resilience.
The document of Human Fraternity co-authored by His Holiness Pope Francis and His Eminence the Grand Imam of Al-Azhar on the 4th of February 2019 is an embodiment of these values enshrined in the Universal Declaration of Human Rights. By co-signing the document, the two religious echelons led by example. It is a blueprint for interfaith dialogue not only among one or two faiths, but it encompasses all faiths. History has shown that dialogue is not a simple process, but that if we fail to teach and cultivate it, the situation can give way to a monologue or to mutism, which is conducive to conflict and violent extremism. HH Pope Francis describes it as parallel monologues.
When we are at a pivotal moment of human history, dialogue not war is the answer.
This brings me to another important point which I believe is worth underscoring before concluding my remarks , namely associating acts of violence or terror with certain religions.
It is not religion that causes violence.
It is individuals who choose to espouse violence, wrongfully and cynically invoking faith when perpetrating their vile acts.
Concluding, allow me to re-iterate that words like dialogue, tolerance, diversity and respect mean little if not supported by concrete broad range of actions under an international umbrella of sincere cooperation from state and non-state actors. After all, peace, justice and human fraternity that we all aspire for, are what bind us together as we are all part of one humanity despite our many diverse cultures.
I once again thank HE President Kassym-Jomart Tokayev for his hospitality and the Government and people of Kazakhstan.
I thank you.