---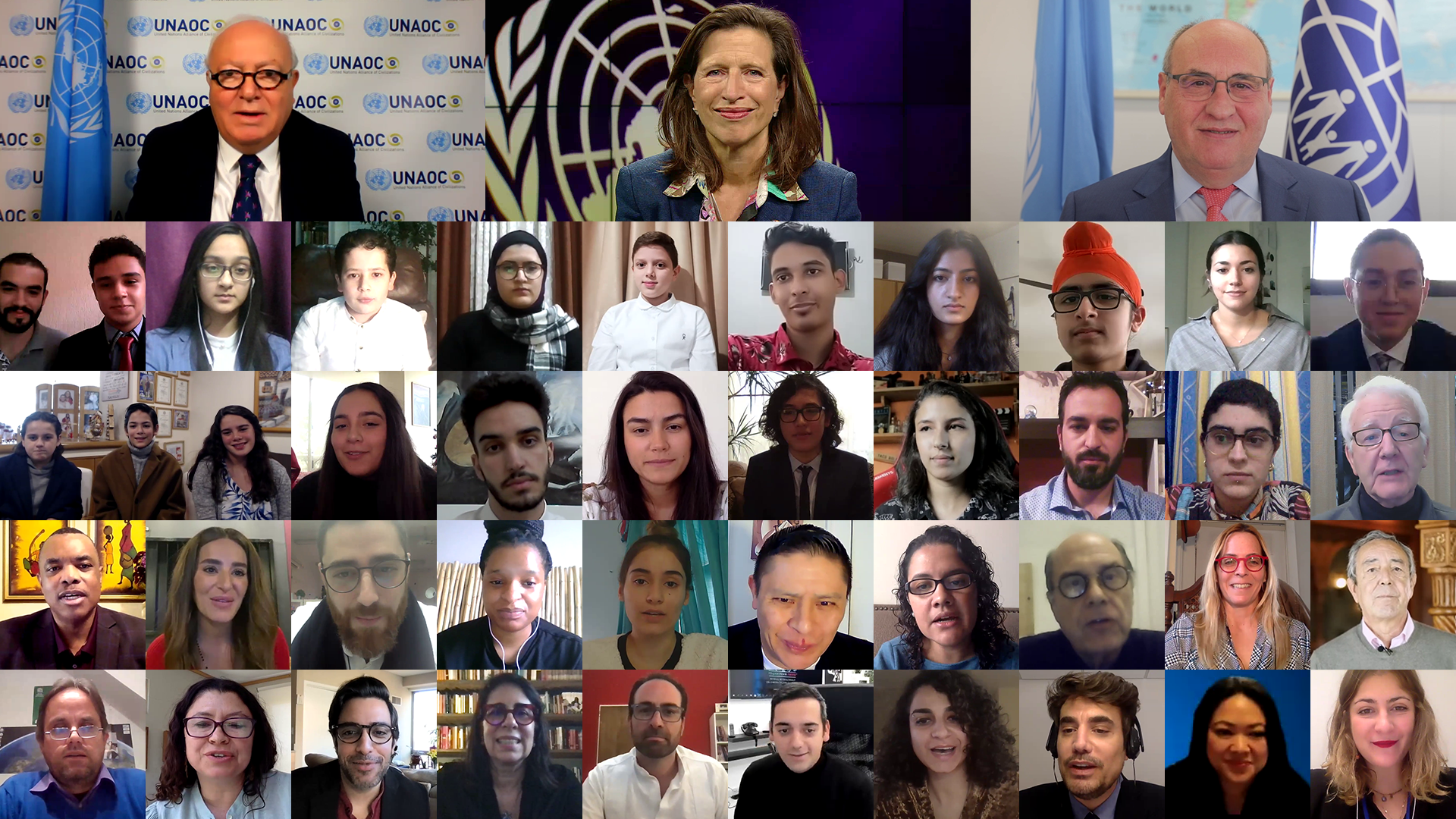 ---
New York, 4 December 2020 – The High Representative for the United Nations Alliance of Civilizations (UNAOC), H.E. Mr. Miguel Ángel Moratinos, and the Director-General of the International Organization for Migration (IOM), H.E. Mr. António Vitorino, announced today the winners of their joint initiative, the PLURAL+ Youth Video Festival, during an annual awards ceremony that took place virtually for the first time.
Selected for their coverage of migration, diversity, social inclusion, and xenophobia, the winning videos were chosen among hundreds of submissions.
The Awards Ceremony opened with a musical performance by internationally-acclaimed Spanish musician Rafael Aguirre, followed by the screening of the winning PLURAL+ videos.
"This year, we received more than 500 videos from more than 70 countries. That is yet another proof of youth's resilience and strength, even during challenging times," said the High Representative for UNAOC, Miguel Ángel Moratinos, in his opening remarks. "Their conviction that the world can and should be a better place, and their creative vision in addressing the pressing social issues of migration, social inclusion, diversity, and xenophobia, are the essence behind the production of these inspiring and thought-provoking short films."
The UN Under-Secretary-General for Global Communications, Melissa Fleming, also attended the ceremony and praised young people's ability to express their views: "Your videos demonstrate the special power of storytelling to move people to care and to take action." She added that "COVID-19 has tested all of us like never before. Yet, even in a pandemic, you should not stop from expressing your creativity and from using it to educate others about key issues like migration, diversity, inclusion, and tackling xenophobia."
IOM Director General, António Vitorino, added: "A world that is diverse, where we can all exist and thrive together despite—and through—our differences. That world that is big enough to include everyone from any culture, religion, gender, or race. Today we have a reason to be hopeful. In their videos, young people are telling us that, despite all the challenges, they are not giving up on the future and the world they want."
Youth Filmmakers from Around the World
The awards were presented by members of the PLURAL+ International Jury, which included Nayeli Chavez-Geller (New York Correspondent, Primer Impacto, Univisión), John Yearwood (Deputy Editor, Politico), Thuraya Ismail (Secretary General, Mentor Arabia), Louise Kanza (Co-Founder, Sophie A. Kanza Foundation), José Antonio Bautista (Investigative Journalist), and Sophia Kianni (UN Youth Advisor on Climate Change). Winning filmmakers had the opportunity to screen their films and share a few words about their experience.
The winners in the up to 12 years old category are Hashem Hamed and Omar Al-Jallad, of Jordan, for their film "Islam and Math", in which they speak about their love for math and how they wish society would be as fair and logical as math equations, instead of discriminating against certain groups, especially Muslims.
The winner in the 13 to 17 category is Kulsoom Rizavi, of India, for the film "Who is a Refugee?", which explores the many labels used against refugees and migrants. The winner in the 18 to 25 category is Bayan Abutaema, of Jordan, for the film "ERROR 017", which tackles the issues of exclusion and discrimination.
In addition, the recipient of the UNAOC-IOM Award for the Prevention of Xenophobia went to "The mask I don't want to wear" by João Maciel, of Brazil, which explores the issues of racism and discrimination against minorities.
New Award Categories
For the 2020 edition of the PLURAL+ Youth Video Festival, IOM and UNAOC created two new award categories, providing even more opportunities for young filmmakers around the world to be recognized for their creative visions.
Entitled "The Future We Want", the first new award category invites young filmmakers to submit videos focusing on the future of migration, diversity, social inclusion, and the prevention of xenophobia. It was created in the context of the UN's 75th anniversary and the organization's efforts to foster a global conversation on the role of global cooperation in building the future we want. The award went to "Dear society: a queer message" by Diego Casillas, of Mexico, in which he shares his dream of an inclusive society where all individuals would be free and accepted by all, regardless of their differences.
The second new category, the #forSafeWorship Award, invites youth to express their views and perspectives on ways to foster peaceful co-existence between religions and faiths. It was created in the context of the UN Plan of Action to Safeguard Religious Sites, developed by UNAOC and launched in September 2019. The award went to "Religion is love" by Marcos Magalhães, of Brazil, in which he emphasizes that all religions carry a message of love and unity and invites the viewer to stand #forSafeWorship.
The remaining finalists received awards from the many partner organizations of PLURAL+.
The winning PLURAL+ videos are now available online and will be disseminated worldwide.
With the PLURAL+ Youth Video Festival, UNAOC and IOM address objectives 16 and 17 of the Global Compact for Safe, Orderly and Regular Migration (GCM) by empowering migrants and societies to realize full inclusion and social cohesion, and promoting evidence-based public discourse to shape perceptions of migration. With increasing interest and participation each year, PLURAL+ has become a premier global platform for youth media distribution.