The United Nations Alliance of Civilizations (UNAOC) has announced the latest recipients of the Youth Solidarity Fund (YSF). Five organizations based in Africa and Asia were selected to receive seed funding of up to USD 25,000 for the purpose of implementing projects with innovative and effective approaches to intercultural dialogue and interfaith harmony. These five recipients join a group of 63 other youth-led organizations that have been funded by UNAOC since 2008.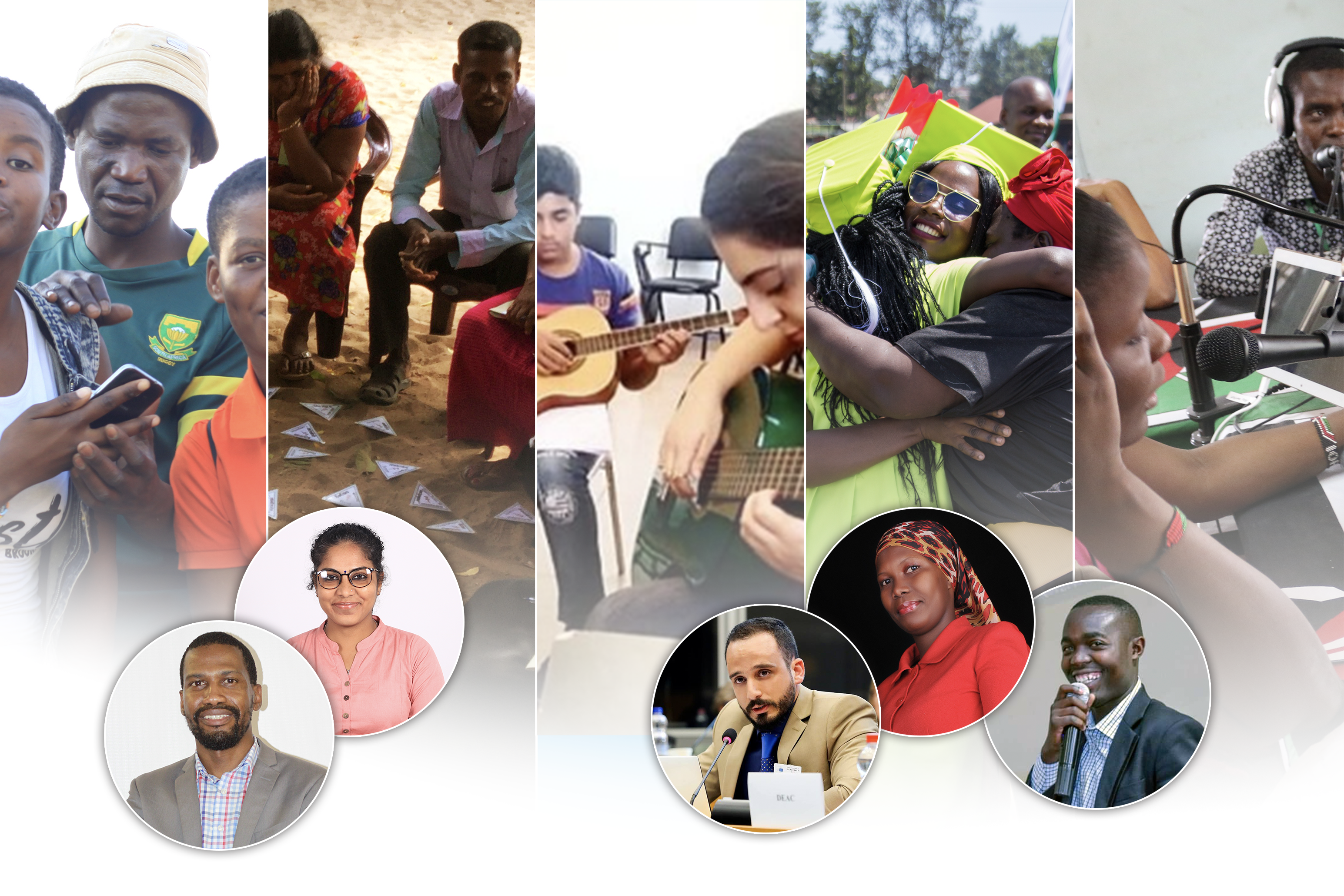 "Our project will bring young people with diverse backgrounds together to connect, create and transform. Through theater, we will facilitate a process of introspection to explore and challenge our own identities, beliefs, biases and perspectives," said Sivatharsini Raveendran, 28, senior project officer of YSF recipient Centre for Communication Training in Sri Lanka. "With the resources and the solidarity shared through UNAOC we will be stronger to stand up and challenge the polarization and separation in our society."
The current edition of YSF is implemented through financial contributions from the Governments of Finland, Malta and the Republic of Azerbaijan. It addresses the need for increased funding of youth-led initiatives, in order to better support the critical contribution young people make to peace and security issues. The Progress Study on Youth, Peace and Security, noted in United Nations Security Council resolution 2419 (2018), recommended that an investment be made in youth, such that they are viewed as equal and essential partners for peace. This included the provision of flexible funding designed with the specific needs of youth organizations in mind.
"We thank UNAOC for their support of our project that will engage youth from seven sects of Islam and Christianity to strengthen interfaith understanding and foster new friendships," said Zulaika Nanfuka, 32, senior programs coordinator at YSF recipient Uganda Muslim Youth Development Forum. "The project aims to reduce support for religiously-motivated recruitment and acts of violent extremism in Eastern Uganda. We are confident that our project will be a living symbol to the ideals of interfaith cooperation and friendship among faiths."
Other YSF recipients will conduct intercultural and interfaith bootcamps in the Kingdom of Eswatini, train community radio journalists to become knowledgeable peace ambassadors in Kenya and teach community coaches in Lebanon to use peer-group peacebuilding during sports activities. The selected projects will advance intercultural and interfaith dialogue with a view to prevent violent conflict and promote social inclusion through different means. The designated project coordinators are two young women and three young men aged 27 to 32 years old.
In addition to seed funding, YSF recipients will also receive technical support to strengthen the implementation of their projects. UNAOC has partnered with Search for Common Ground to facilitate a capacity-building programme called Youth 360, involving online workshops and ongoing support from mentors. YSF recipients will have access to this support until the end of their project implementation period in November 2020.
Established in 2008, YSF responded to calls for action made by youth-led organizations around the world on the importance of establishing funding mechanisms for youth. Today, it is more relevant than ever, as the global agenda increasingly speaks of young people's participation and contribution to peace, development and security. More information can be found at: http://unaoc.org/youth-solidarity-fund/
---
The Youth Solidarity Fund Recipients (in alphabetical order)

---
Amani Center | Kenya 🇰🇪
Project Coordinator: Mr. Bonface Ochieng Opany, 27 years old
Amani Center will train community radio journalists to become knowledgeable peace ambassadors within Tana River County. Eight community radio journalists will be trained to produce and broadcast programs themed on peace, preventing violent extremism and social cohesion. Fifteen radio broadcasts will be developed on these topics and broadcast on Amani FM, which is a community radio station licensed by Amani Center. These radio broadcasts will also be distributed to other areas susceptible to conflict and radicalization.
---
Centre for Communication Training | Sri Lanka 🇱🇰
Project Coordinator: Ms. Sivatharsini Raveendran, 28 years old

The "Theatre for Peace – Connect.Create.Transform" project by the Centre for Communication Training aims to mobilise youth through improvisational theatre to counter narratives of hate and separation following the Easter Sunday attacks in Sri Lanka. Through residential training, 60 young people are engaged in a process of self-transformation that encourages understanding and provides space for building bridges across divides. The trained youth will then be supported to implement 20 community-level activities to share their experiences, as well as encourage community action for peacebuilding.
---
Peace of Art | Lebanon 🇱🇧
Project Coordinator: Mr. Mehdi Houssein Yehya, 31 years old
The "We Play for Peace!" project by Peace of Art aims to create a bridge between divided ethnicities and religions, between eight villages in North Bekaa. Ten community coaches will be trained to teach peer-group peacebuilding. They will engage 100 Syrian refugees and Lebanese youth to play sports together (basketball, volleyball, football and yoga) in addition to participating in peer-group peacebuilding activities. At the end of the project, a handbook will be developed about best practice for peacebuilding using coaches for sports activities.
---
Swaziland Intent Youth Organization | Kingdom of Eswatini  🇸🇿
Project Coordinator: Mr. Sicelo Christopher Gama, 29 years old

A safe space will be created for young people to comprehend multiple identities through interfaith and intercultural boot camps. 120 young people will be engaged through workshops and a simulated global trip to experience different cultures and religions. Interfaith roundtables will also be held at religious centers and universities. At the end of the project, a Youth Charter on Religious Pluralism, Cultural Diversity and Peaceful Coexistence will be developed, adopted and distributed to headquarters of all faiths within the Kingdom of Eswatini.
---
Uganda Muslim Youth Development Forum | Uganda 🇺🇬
Project Coordinator: Ms. Zulaika Nanfuka, 32 years old

The "Nurturing for Peace" project by the Uganda Muslim Youth Development Forum will promote interfaith relations and foster social cohesion among youth of different religious sects in Eastern Uganda. The project will establish Youth Interfaith Peace Gardens in two districts, as well as engaging young people by offering a Gardening Fellowship, where they can develop skills for employment. In addition, the organization will hold two peace leadership camps at the start of the project to reduce recruitment and support for violent extremism in these areas.
---