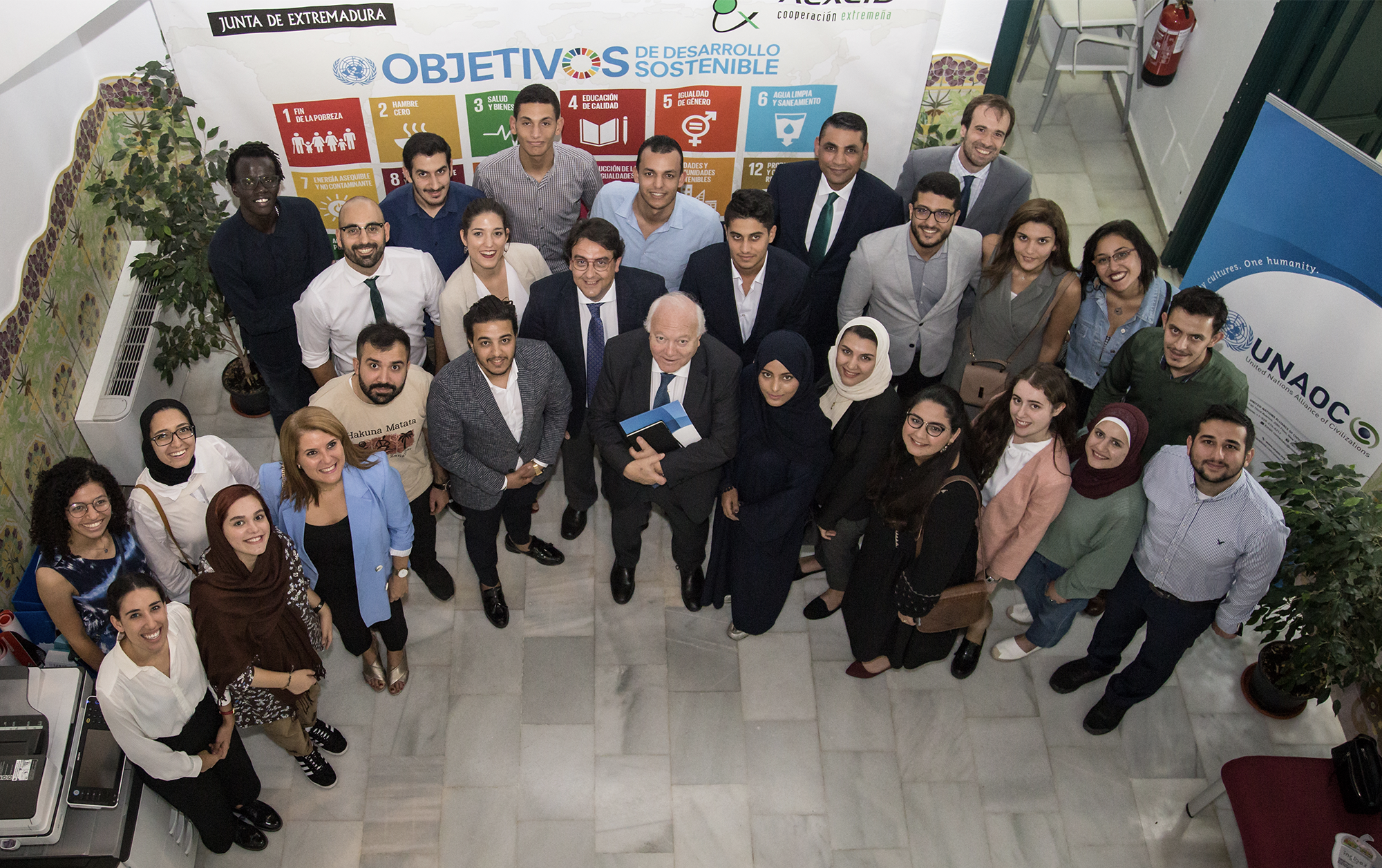 The second phase of the 3rd edition of the Young Peacebuilders programme was successfully concluded in Merida, Spain. The face-to-face workshop organized from October 7-12 2019 brought together 19 participants who came from 12 countries in the Middle East and North Africa, namely: Algeria, Egypt, Islamic Republic of Iran, Iraq, Jordan, Lebanon, Morocco, State of Palestine, Syrian Arab Republic, Tunisia, United Arab Emirates and Yemen.
The overall objective of the workshop, co-organized by the United Nations Alliance of Civilizations and AEXCID, was to consolidate the learning acquired during the first phase, which took place online, and to practice concrete peacebuilding skills. The agenda of the workshop included tools for facilitating constructive dialogue, the role of women in peacebuilding, engaging in debate, theater as a tool for conflict resolution, and combating hate speech in the media, among others.
The High Representative for UNAOC, Mr. Miguel Moratinos, participated in the closing session and engaged in an interactive discussion with the young women and men who took part in the workshop. He thanked the participants for their great commitment to the construction of peace in their countries of origin: "It is a pleasure to see how the projects that UNAOC are implementing on the ground have a real impact on society. We use to talk a lot about security in our societies, but in general, we forget to talk about peace, and there is no sustainability without peace. When we call you 'Young Peacebuilders', it means that you carry a great responsibility in your community."
"When we call you 'Young Peacebuilders', it means that you carry a great responsibility in your community."
– Mr. Miguel Moratinos, High Representative for UNAOC
Mohamed from Egypt thanked Mr. Moratinos for his honest words: "I appreciate the responsibility that you put on our shoulders and I will act accordingly as well as my fellows."
Afaf from Morocco said: "I'm so glad that you have chosen Morocco for your next UNAOC Global Forum in 2020. I fell that the Forum will bring to our community an awareness of respect for other communities, cultures and religions."
During the next phase of the programme, the young leaders will implement a personal peace initiative guided by UNAOC's professional trainers team.
---
About the UNAOC Young Peacebuilders programme
The Young Peacebuilders is a peace education initiative that is designed to support young people in gaining skills that can enhance their positive role in issues of peace and security and in preventing violent conflict. It also brings visibility to the initiatives, actions and projects initiated by young people towards peace and the promotion of diversity and dialogue. Read more about Young Peacebuilders here.