Remarks by
H.E. Mr. Miguel Angel Moratinos
The High-Representative for the United Nations Alliance of Civilizations
Religions for Peace 10th World Assembly
"Ring for Peace" Ceremony
Lindau – Germany | 20-23 August 2019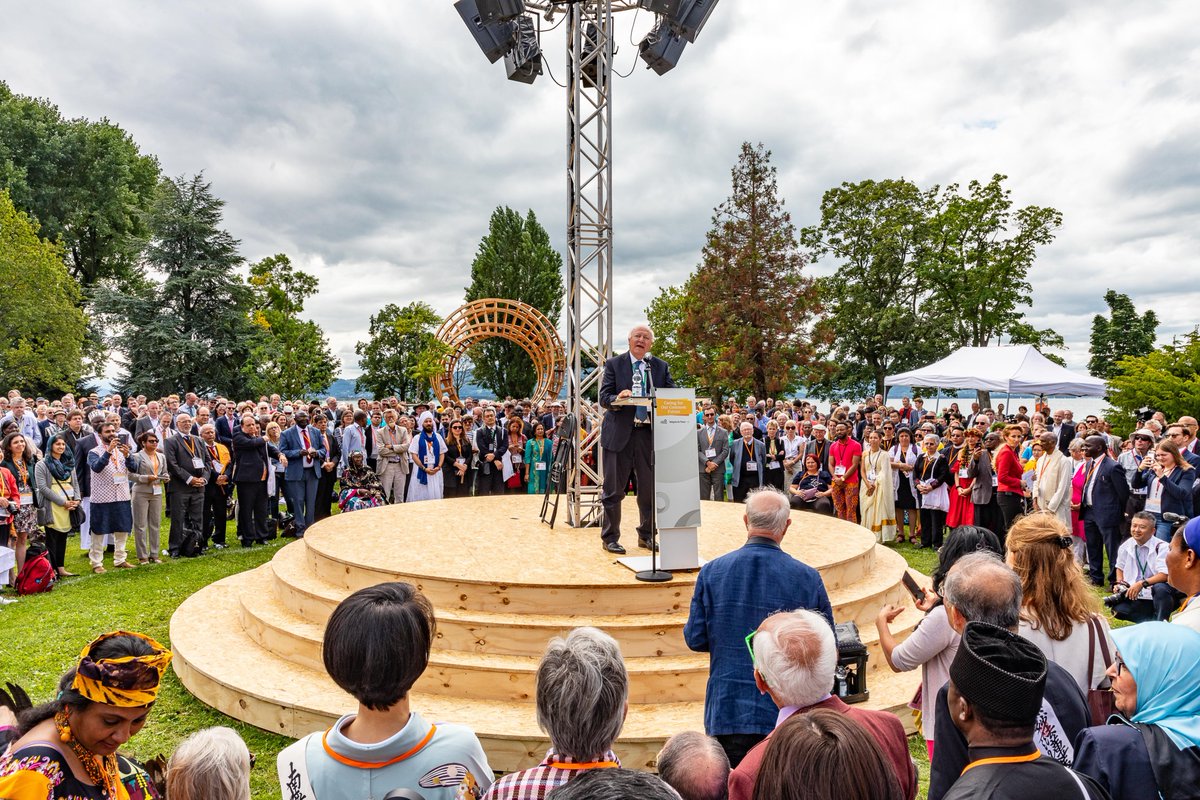 Photo by Ring for Peace
Ladies and Gentlemen,
Good afternoon.
I feel very privileged to be launching the sculpture "The Ring For Peace", a symbolic artwork that sheds light on the theme that is gathering all of us here in Lindau, namely Peace between Religions. I thank Dr. William Vendley, Secretary-General of the Religions for Peace for inviting me. I also thank the Federal Government of Germany for co-organizing this important and timely meeting. Yesterday, I was very glad to meet with my good friend President Frank Walter Steinmeier. I echo what he said in his opening remarks that we should all work for peace and respect. I take the opportunity of this moment and invite you to commit to fulfill this recommendation "work for peace and respect".
I also commend Dr. Wolfgang Schurer, the inspiration behind this sculpture and artist Mr. Gisbert Baarmann for this extraordinary piece of art. Indeed, The Ring For Piece goes beyond its value as an artwork and stands as a connecting and unifying element, of all religions. In many world religions, the ring symbolizes loyalty, truthfulness and honesty. The Buddhist Wheel of Life, the signet ring of the Prophet Mohammed in Islam, the Ring of Solomon in Judaism.
Afterall, all faiths are intertwined and interlinked together, complimenting each other and nurturing the same values that are also Universal values that unites us as One Humanity and Many cultures and many religions. That is the motto of UNAOC and its raison d'etre.
It is also befitting for me to be here today as there may not be a topic closer to the heart of UNAOC, the organization that I lead than the theme and venue of this meeting and the symbolism underlying this sculpture. "Caring for our Common Future and Advancing our Shared Well-Being" is a common goal that I believe all of us should strive to achieve. This venue, the beautiful city of Lindau with its long history as a city of peace, starting with Valentin Heider, the co-architect of the Peace of Westphalia, a turning point in the history of diplomacy envisions living together peacefully.
As such, our mandate is to promote interfaith and intercultural dialogue as essential tools for living together peacefully and preventing violent extremism. A tool that had been often overlooked. With more than 800 religious leaders, youth and women of faith gathered here, there are no better actors to lead and fully deploy this tool than you.
At UNAOC we firmly believe that enlightened religious leaders and scholars of all faiths have a key role to play. Their advocacy can influence political leaders and ordinary citizens alike. Their teaching and guidance can inspire people to new levels of responsibility, commitment and public service. And by their example, they can promote interfaith dialogue and bridge the chasms of ignorance and misunderstanding. Indeed, faith-actors have the capacity of social mobilization. At a time when people are in despair, uprooted from their homes or suffering injustice or destitution, faith has often been their anchor and the place they turn to for consolation. Indeed, faith is central to hope and resilience. Religious leaders' voices should be heard at the negotiating table. We need their essential complementary role together with that of the state actors. We need this aspect of spirituality to be revived and re-enforced.
Dear friends,
Religion and spirituality are back. As His All-Holiness Ecumenical Patriarch Bartholomew, Archbishop of Constantinople, told us yesterday that the 21st century comes with a new beginning. Religion and spirituality are back.
With this in mind, I have emphasized the role of faith actors in the Plan of Action to Safeguard Religious Sites and guarantee the safety of worshippers. A plan that the UN Secretary-General Antonio Guterres had entrusted me to develop on March 22nd in the aftermath of the Christchurch terrorist attacks on Muslim worshippers. Other similar attacks followed targeting Christians in Srilanka and Jewish worshippers in San Diego. A band of terrorists and extremist groups sought to hijack entire faith communities and drive a wedge between humans, pitting religions against each other. Religions and beliefs that have so much in common that unites them rather than divide them. Before I brief you on the Plan of Action to Safeguard Religious Sites, allow me to draw a bit about the global context of our world today:
Conflicts are multiplying and are becoming more complex. People whose identities are defined by religion, culture or ethnicity, continue to be besieged by hatred.
We see it in the ignorant vitriol directed at refugees and migrants who are being used by far-right parties and white supremacists to score political gains. We see this hate in rising anti-Semitism, Islamophobia and attacks on Christians. Xenophobia and violent misogyny are amplified through digital platforms fueling more hatred and violence. People are angry amongst each other and at each other. They losing their trust in political institutions and in the multilateral system. They see insecurity rising, inequality growing, conflict spreading and climate changing. The global economy is increasingly integrated, but our sense of global community may be disintegrating.
Against this bleak backdrop, religions, faith communities and places of worship became the targets of terrorist groups who seek to sow the seeds of hatred and destroy the fabric of the diverse communities.
Ladies and Gentlemen,
This brings me to The Plan of Action to Safeguard Religious Sites, a noble and challenging task and I take pride in shouldering this responsibility. I am also grateful for the valuable input I received from religious leaders and faith-based organizations that I see many of them here today. Religious sites are representative of the history, social fabric and traditions of people in every country and community all over the planet and must be fully respected and protected as places of peace and harmony where worshipers feel safe to practice their rituals.
The Plan is a global call to rally around our most basic tenets of humanity and solidarity and to reaffirm the sanctity of all religious sites and the safety of all worshipers who visit houses of worship in a spirit of compassion and tolerance. The increasing number of attacks against religious sites in the past years is a stark reminder that no country and no faith is spared from those heinous crimes. Attacks and all acts of violence against religious sites and worshipers must be unequivocally condemned without exception. All places of prayer and contemplation should be safe havens, not sites of terror There is a clear sense of urgency that the time has come for all relevant actors, including governments, religious leaders, faith-based organizations, civil society, young women and men, and local communities, media and the private sector to come together and identify concrete actions that can help prevent attacks against religious sites and contribute to guaranteeing the safety of the faithful to worship in peace.
This Plan is elaborated in consonance with Article 18 of the Universal Declaration of Human Rights, which affirms the right to freedom of thought, conscience, and religion, noting that this right includes the right of individuals and communities to manifest their religions and beliefs in teaching, practice, worship and observance. It is conceived as an action-oriented framework for action with suggested recommendations to support relevant stakeholders in their efforts to prevent possible attacks against religious sites and enhance preparedness to safeguard religious sites and worshippers. At the same time, this Plan is mindful that Member States have the primary responsibility in protecting their population throughout their territories.
In a nutshell, the Plan is anchored in the following principles:
RESPECT for all peoples, regardless of their faith, culture and history.
RESPONSIBILITY to build bridges of mutual understanding and cooperation.
DIVERSITY to accept and respect the differences among human beings.
DIALOGUE as a tool to better communicate and engage with one other.
SOLIDARITY to support and share compassion for one another, particularly in times of sorrow or trouble.
STANDING TOGETHER as one to respond with unity to attempts to divide us.
STAYING TOGETHER as one to ensure that unity in response to attacks against religious sites is sustained and reinforced overtime.
I would like to conclude with a clear message: It is our responsibility to commit to working together in developing a positive agenda. One that moves away from the negativity, anguish and fear that permeated in the past. We must change this mindset. We should all thank Religions for Peace for reviving and restoring a very noble and essential perspective of peace. In the past decades, the security concept prevailed the way we think. The word peace almost disappeared from our vocabulary. The time has come to shift the paradigms and move from security to peace; from tolerance to respect of the other; from minorities to citizenship rights; from co-existence to living together peacefully; from dialogue to an alliance and a commitment to peace as Dr. Vendley said yesterday.
That should be our future agenda.
Today with the Ring for Peace, one could travel around the world to promote a common future to advance our shared wellbeing.
In that context, I see a lot of resonance in this sculpture with its interlinked rings with the principles embodied in the Plan of Action to Safeguard Religious Sites.
That is exactly why our collective efforts are more important than ever.
We pride ourselves in being One Humanity.
We must act as one, because only together we fulfill the promise of the Universal Declaration of Human Rights and advance human dignity for all. Only then we can truly live to the motto "One Humanity and Many Cultures" .
In this spirit, I invite you to commit to work together to safeguard religious sites and unequivocally denounce all forms of violence against worshippers and believers.
I thank you.