November 9, 2017 from 6:30 to 8:30 pm | United Nations Headquarters, New York City
United States – PLURAL+ is a Youth Video Festival on migration, diversity and social inclusion. It emphasizes intercultural dialogue, youth expression and the desire for peace and better understanding worldwide. It is a joint initiative of the United Nations Alliance of Civilizations (UNAOC) and International Organization for Migration (IOM – UN Migration Agency), supported by partner organizations from around the world.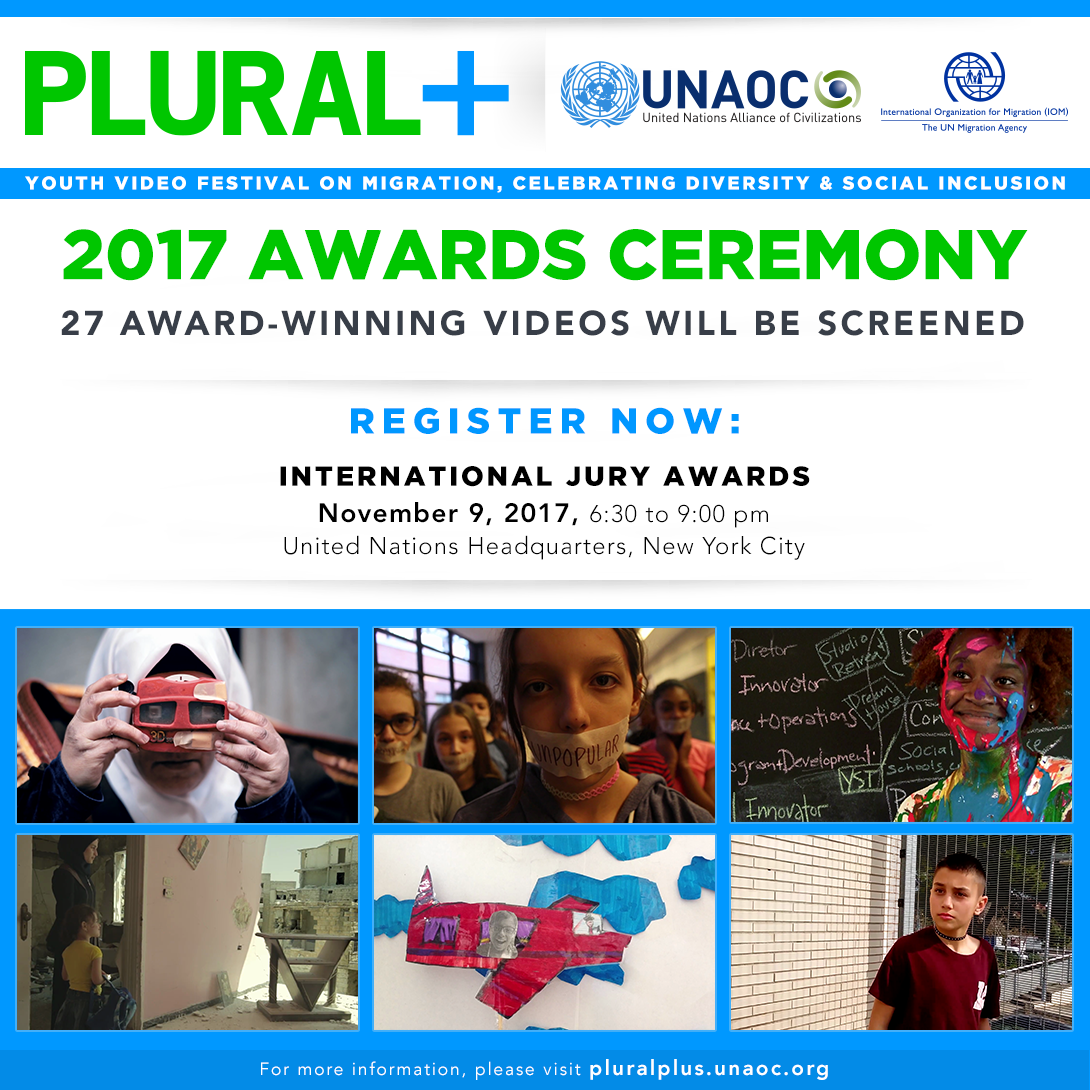 "We all know this to be true: increased participation of youth in the media is essential. These youth – these agents of social change – make up a large portion of today's migrant population, and they have something valuable to tell us about their migration experiences. And this is what PLURAL+ aims to achieve, to provide young filmmakers with a global platform to share their thoughts and experiences with us," said IOM Director General William Lacy Swing.
Each year young people (up to 25 years of age) are invited to send short videos (up to 5 minutes in length) to PLURAL+, addressing issues of migration, diversity, social inclusion and the prevention of xenophobia.
"PLURAL+ provides youth around the world with the opportunity to submit real stories told by real people, which help foster intercultural dialogue and understanding as well as respect for diversity and tolerance," says Nassir Abdulaziz Al-Nasser, UN High Representative for UNAOC.
Young video producers from around the world are again going to share their work with an audience and receive PLURAL + 2017 Awards at United Nations Headquarters in New York City on Thursday, November 9th.
The three winners of the PLURAL + International Jury Awards for the age groups of 9-12, 13-17 and 18-25 are respectively: "Eliminate Hate, Eliminate Borders from Mexico"; "Aibek" from Kazakhstan; "Child of All Nations "from Indonesia.
In addition, this year PLURAL+ will also give for the first time an Award for the Prevention of Xenophobia, TOGETHER Award, UN Video Award, and their winners are respectively; "The True Impact" from Nepal, "Twighead" from Philippines, "We are not Enough" from Poland, "Refugee" from Turkey.
PLURAL+ partner awards will also be celebrated. This year PLURAL+ received over 320 videos from all over the world. Twenty-seven videos were selected for awards. Winners included entries from Afghanistan, Bangladesh, Brazil, Canada, Finland, India, Indonesia, Jordan, Kazakhstan, Mexico, Nepal, New Zealand, Pakistan, Philippines, Poland, Portugal, Spain, South Africa, Syria, Turkey, UK and USA.
Many of these award winning young video makers will be in New York attending the Awards Ceremony.
The event will take place on November 9, 2017 from 6:30 to 8:30 pm at the United Nations Headquarters, New York City. A reception will follow. All attendees must register in order to attend.
On November 10, PLURAL+ will hold panel discussions with the winning young media makers at the Paley Center for Media (25 West 52nd Street). Click here for more information.
Click here to RSVP to PLURAL+ 2017
For further information please contact Jordi Torrent at jordit@unops.org and/or plural@unaoc.org.
---
With special thanks to the following partners:


---