UNAOC participated at the UNESCO-led Media & Information Literacy Global Conference in Sao Paulo, Brazil. Hosted at Sao Paulo University, the conference was part of the Global MIL Week with the participation of almost 150 MIL experts from across the world. The conference was also the occasion for the 6th Forum of the UNESCO UNITWIN UNAOC on Media and Information Literacy and Intercultural Dialogue, a global network of universities researching on MIL as a platform for intercultural dialogue. This network is a direct outcome of UNAOC's 1st Forum (Madrid, January 2008) and later further developed in partnership with UNESCO, it currently has eighteen universities associated with it. For more information about this network, please click here.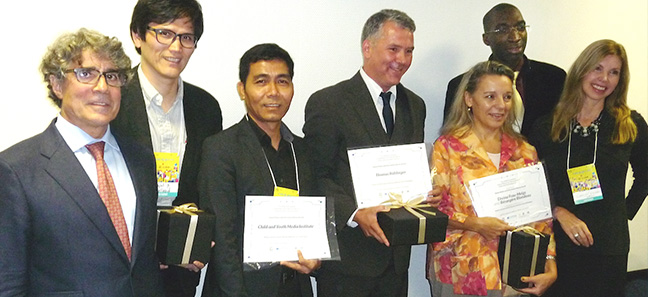 The conference included the 2nd Global Alliance for Partnerships on Media and Information Literacy (GAPMIL) meeting, gathering organizations actively promoting MIL around the world. UNESCO and UNAOC awarded three GAPMIL 2016 prizes to individuals and organizations that are champions of MIL in their communities and internationally. This year the awards went to:
Dr. Divina Frau-Meigs, University Sorbonne Nouvelle
Thomas Rohlinger, Radijojo World Children's Media Network
Child and Youth Media Institute, Thailand

At a plenary session of the conference, UNAOC presented a paper titled "Connecting the dots: Media & Information Literacy, Preventing Violent Extremism, and the Global Goals." To read the presentation, please click here.
For more information on UNAOC's Media and Information Literacy initiatives, please click here.