On June 27, the UNAOC and UNESCO, in collaboration with the Global Alliance for Partnerships on Media and Information Literacy (GAPMIL), recognized two winners for the First Global Media and Information Literacy Awards. The event took place during the 2015 Conference of the National Association for Media Literacy Education in Philadelphia, USA.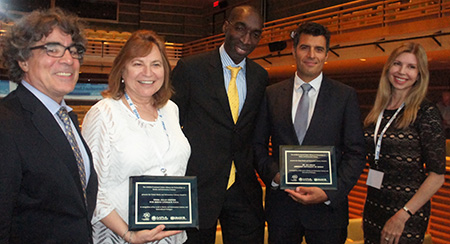 The two award winners were the Media Digital Literacy Academy of the American University of Beirut (Lebanon) for the extensive regional network of media educators that the Academy has created in the MENA region (the Academy's Chairperson, Jad Melki, received the award); the second award winning was the Center for Media Literacy (USA) for their outstanding and long career of work in the field of media literacy education (the center's President, Tessa Jolls, received the award).
Both awardees were invited to Philadelphia, participate at the conference and receive the awards.
The conference was also an occasion for the annual meeting of the UNESCO-UNAOC Global Network of Universities working on Media and Information Literacy and Intercultural Dialogue. Representatives of the fifteen universities of the network, representing all regions of the world, participated in a series of two-day meetings discussing the network's yearly outcome as well as preparations for the upcoming events, initiatives and MIL-relevant research.
The last publication of the network was also presented during the conference. Please see: http://milunesco.unaoc.org/wp-content/uploads/2015/07/milid_yearbook_20151.pdf.
For more information on UNAOC's Media and Information Literacy initiatives, please contact Jordi Torrent at jordit@unops.org.