Polarized debates around migration, national identities and integration of Muslims in today's society are increasing in Europe and North America.
The UN Alliance of Civilizations has invited two prominent personalities for a conversation on these issues: the New York Times journalist Roger Cohen, and the Philosopher and Muslim Scholar Tariq Ramadan.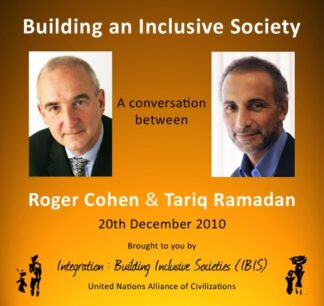 The discussion will focus on the reasons immigration is perceived as negatively affecting coexistence in Europe, and why Islam is often depicted as incompatible with Western values. Together with the in-house and online audience, discussants will explore ways to better acknowledge European and American Muslims' contributions to their societies, and examine what role these groups can have in supporting the integration of recent Muslim immigrants.
The conversation will be held on Monday, December 20th in London, UK, from 2h to 3h30pm, at the St Ethelburga's Centre for Reconciliation and Peace (78 Bishopsgate). It will also be broadcast live on this page. The in-house and online audience will be invited to put forward questions to the speakers in real time, by email or facebook. 
This event is brought to you by: