A Thematic Session at the 3rd UNAOC Global Forum, May 2010, Rio de Janeiro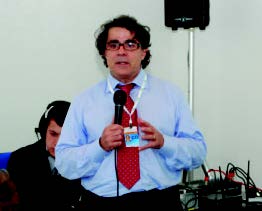 The UNAOC Chair on Media and Information Literacy for Intercultural Dialogue (UAC-MILID) is a network of six universities (from Brazil, China, Egypt, Jamaica, Spain and USA) working together within the overall thematic framework of developing more inclusive societies through the implementation of media and information literacy in educational systems (from primary to higher education) around the world.
Each academic year one of the universities will be the "engine" in charge of developing, coordinating, implementing and promoting the outcomes of
UAC-MILID. UAC-MILID is an initiative developed in collaboration with UNESCO and will be integrated within UNESCO's Chairs and UNITWIN program.
The session was well attended with representatives of eleven countries in addition to UNESCO and the European Union. Dr. Laura Cervi, Autonoma University of Barcelona, presented the draft program of the first year of UAC-MILID. Highlights of the program will include an international symposium in the Spring of 2011 in Cordoba, Spain, attended by all UAC-MILID members as well as representatives of educational broadcasters from around the world. The first year will conclude in Cairo with the presentation of a book, co-published with NORDICOM, assembling thematically relevant articles from the six universities. The event will be co-organized by Cairo University and will also mark the commencement of activities of UAC-MILID's second year.
Dr. Esther Hamburger, Sao Paulo University, presented the draft program of the third year of UAC-MILID, when the SPU will become the engine of UAC-MILID. SPU's contribution will mostly be built upon SPU's strong citizen media programs and will involve the production of television programming focusing on the promotion of intercultural dialogue. Dr. Mogens Schmidt, Deputy Assistant Director General, Communication and Information Sector, UNESCO, addressed the participants connecting UAC-MILID not only with UNESCO's Chairs and UNITWIN program but also with the upcoming UNESCO Media and Information Literacy Teachers Training Curriculum, a resource aiming at facilitating the inclusion of Media and Information Literacy education in schools of education around the world. Matteo Zacchetti, Media Literacy Programme, European Commission, outlined
the significance of UAC-MILID and encouraged the development of working collaborations with the European Commission's Media Literacy initiatives.