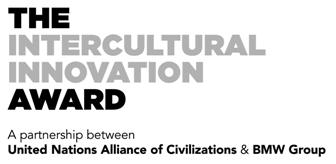 Who can apply?
Applying organizations need to fulfill the following eligibility criteria:
Projects implemented by non-for-profit organizations including non-governmental organizations, charitable organizations, research and educational institutions, labor unions, indigenous groups, faith-based organizations, professional associations, foundations and local or municipal branches of government.
Field of action must fall within one of the following thematic clusters: migration and integration; intercultural awareness; education for intercultural citizenship; the role of specific groups (faith-based; women; youth; media) in promoting intercultural understanding and cooperation.
Projects must implement new approaches and methods to intercultural understanding.
Willingness to develop ideas and expand the range of action of the project with the UNAOC, the BMW Group and other partners.
Projects that have been submitted to previous editions of the Intercultural Innovation Award are eligible to apply.
Projects cannot have been winners in previous editions of the UNAOC Marketplace of Ideas or BMW Group Awards. Winners of past editions can submit different projects, however.
Organizations must have been operational for a minimum of 2 years. Projects submitted within this call should have been launched already for 12 months minimum.
Applications are assessed by an international jury against a comprehensive set of criteria.
Visit the Award website and subscribe for updates to learn about the next competition.