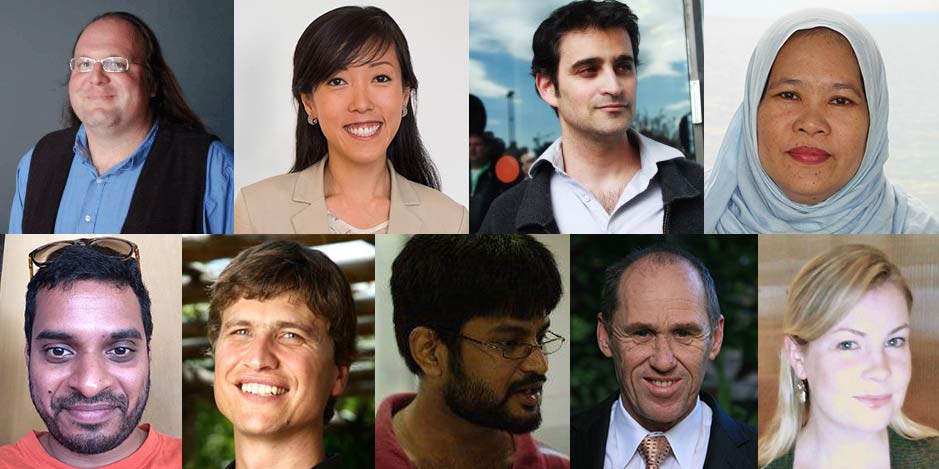 Our judges are drawn from the fields of peacebuilding, technology and international development.
Sanjana Hattotuwa is an Ashoka, Rotary World Peace and TED Fellow alumn who has for over twelve years explored and advocated the use of Information and Communications Technologies (ICTs) to strengthen a just peace, reconciliation, human rights and democratic governance. He set up and curates the award winning Groundviews, Sri Lanka's first citizen journalism website. Teaching new media literacy, web activism, digital security and online advocacy in Sri Lanka and internationally he also works extensively on information management during crises, both sudden-onset and protracted.
Ethan Zuckerman is director of the Center for Civic Media at MIT, and a principal research scientist at the MIT Media Lab. His research focuses on the distribution of attention in mainstream and new media, the use of technology for international development, and the use of new media technologies by activists. With Rebecca MacKinnon, Zuckerman co-founded international blogging community Global Voices. In 2000, Zuckerman founded Geekcorps, a technology volunteer corps.
Dudi Peles is an Israeli entrepreneur and educator. He co-founded 2 game related NGOs: GameIS, the digital games industry association in Israel and Games for Peace, which uses video games to bridge the gap between young people in conflict zones, particularly Arab and Jewish teenagers. Dudi is also the co-founder of Jivy Group, a technology and business incubator for startups and Playful Shark an Israeli video games development studio. He teaches about innovation and video games at Kibbutzim College of Education, Recanati Business School in Tel Aviv University and The Interdisciplinary Center Herzliya. Dudi holds a Ph.D. in science technology and society from bar Ilan University in Israel.
Bharath M. Palavalli is a founding member of the non-profit reasearch group Fields of View and currently leads the group. He creates games and simulations to explore complexities in urban growth and to identify challenges in disaster management. He is currently working on the conflict prone relationship between the urban poor and the city in the rapidly urbanisation context of developing countries.
Mariam B. Barandia is a co-founder and Executive Director of Kapamagogopa Inc (KI), the first and only professionalized Muslim volunteer sending program in the Philippines. She is a licensed civil engineer and a former manager at Landbank of the Philippines. Mariam is currently undertaking a master's course in sustainable development studies. She is a Maranao, a minority Muslim tribe in Mindanao. Mariam is a board member of several Civil Society Organizations working for peace in Mindanao and has recently been appointed to the board of Jesuit Refugee Service Asia Pacific.
Emily Treat is VP of Production Services at Games for Change, a non-profit organization that facilitates the development and distribution of social impact games. She currently oversees game production for a number of non-profit and government organizations and leads development of games for the USAID funded Half the Sky Movement transmedia initiative.  At G4C, Emily supports new programs and initiatives and has advised projects for a range of sectors including; including education, healthcare, finance, social justice, sustainable energy, military, sexual health, and retirement planning. She serves as project adviser for students at Carnegie Mellon's Entertainment Technology Center, taught game design at New York Film Academy, and has presented at technical conferences such as AAAS, TIFF, SIGCSE, and Grace Hopper.
Panthea Lee is the co-founder of Reboot, a social impact firm dedicated to inclusive development and accountable governance. She specializes in the applications of ethnography, design, and technology in improving public sector governance and service delivery. Panthea has led initiatives in over 20 countries, including fragile and conflict-affected states, for organizations including the World Bank, UNICEF, and Internews. Her sector experience includes public financial management, media development, and education. Her work has been featured in The Atlantic, MIT Innovations Journal, and Fast Company.
Steve Killelea is an accomplished entrepreneur in high technology and international business development and at the forefront of philanthropic activities focused on peace and sustainable development.  Steve has always had a strong passion for sustainable development, and in 2000 established The Charitable Foundation (TCF), which specialises in working with the poorest communities of the world. Steve founded the Institute for Economics and Peace to focus on better understanding the linkages between business, peace and economic development.  He is also the founder of the Global Peace Index the first ever tool for measuring the peacefulness of countries and identifying the drivers of peace.
Steve Vosloo is a mobile learning specialist with a particular focus on ICTs in developing countries. Currently he is Head of Mobile at Pearson South Africa, where he is responsible for setting the company's mobile learning strategy and delivering key projects. Until recently he was Senior Project Officer in mobile learning at UNESCO in Paris. Before that he was the fellow for 21st Century Learning at the Shuttleworth Foundation in South Africa. He founded the m4lit (mobiles for literacy) project, which demonstrated the enormous potential of mobile publishing to support teen reading and writing in South Africa and Kenya. In 2007 he was a research fellow at Stanford University, where he researched youth and digital media.
Digital games submitted will be judged according to the following criteria:
Does the submission afford users a novel experience to engage with issues of identity?

Does the submission make stories and information about individuals from other groups more accessible?

Does the submission enable contact between individuals from different groups?

Does the submission creatively engage the end users in a playful manner?

Does the submission articulate how it sets the foundation for dialogue to prevent violence?

Does the submission leverage relevant technology features and functionality?

Does the submission enable connections to key social media channels (Twitter,Facebook, Badoo, Habbo, Sina Weibo, QZone, and other global and regional platforms)?

Does the developer have a plan for enabling the submission to be experienced in multiple languages, especially if language differences are central to the experience?

Does the submission have the potential to reach a large number of users?