From Blair Glencorse
(this a personal blog from a UNAOC fellow)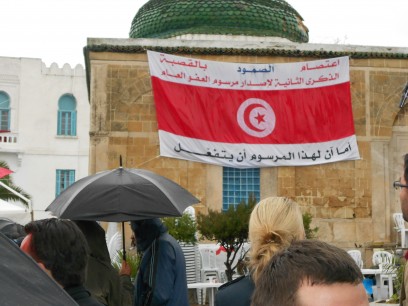 Reading the press of late, it would be easy to fear that Tunisia's post-revolutionary transition towards a more democratic state may be in jeopardy. The country seems increasingly polarized between the ruling Ennahda Party and more secular organizations, which are beset by internecine struggles. In early February, the assassination a leading leftist politician led to huge popular demonstrations and political turmoil. The Constituent Assembly faces the daunting task of drafting a new constitution and simultaneously governing the country, whilst battling unemployment levels (that are almost 50% among young people) and a slowing economy. Despite these challenges, however, a recent visit to Tunisia with the BMW Foundation filled me with hope for the future stability and prosperity of the country, for a number of reasons:
i)Historical Perspective. There was a sense throughout the visit that Tunisians- from policymakers to the public- are aware of the long arc of history in which the changes in their country are taking place. Tunisia has been a crossroads of civilizations for millennia, and has been uniquely influenced by the confluence of Jewish, Christian and Muslim beliefs. This backdrop seems to frame the national psyche to the point that it generates a shared understanding that current political differences are both inevitable and surmountable as part of the historical process of change. As the President of the Constituent Assembly explained to me, the key will be for decision-makers to ensure that they delineate a clear process for this transformation.
ii)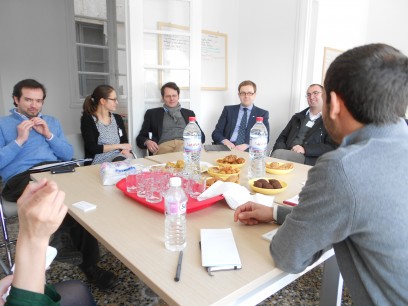 Open Debate. Fadhel Moussa- a key member of the Al-Massar party- pointed out that while political troubles continue in Tunisia, the space for dialogue has widened considerably and rapidly in the country in a way that was inconceivable during the Ben Ali regime. Indeed, it is clear that the shape of society and the core values it should embody are now discussed openly from the cafes of Avenue Habib Bourguiba to tea rooms in villages. While differences on these issues- particularly the role of religion and women- are complicating political progress, they are important because they allow citizens to engage in the essential process of balancing societal continuity and change.
iii) Outsized Potential. The economic challenges in Tunisia are serious, but at the same time the country has huge potential to set an example for the region in the medium to long-run. From its young and well educated population, to its service-industry oriented and bilingual labor force, to its impressive infrastructural base and agricultural capacity, it has a variety of resources it can draw upon. I was lucky enough to interact with social entrepreneurs who demonstrated significant acumen and knowledge across a variety of sectors. If the conditions can be created in which these can be better harnessed, the economic future for Tunisia is extremely bright.
iv) Vibrant Civil Society. For someone engaged in work on accountability issues, perhaps the most impressive discovery in Tunisia was the depth and thoughtfulness of the nascent civil society movement. Two of the truly creative groups I met included Al Bawsala ("The Compass"), an organization that is working on innovative ways to ensure the transparency of politics; and Bus Citoyen ("Citizen Bus") a traveling civic education and citizen engagement initiative. Organizations of this sort are young, dynamic and deeply committed to positive social change, and are playing a central role in Tunisia's transition as catalysts of positive reforms. Arabic does not have an analogous word to describe the concept of accountability- but these groups are working hard to entrench the idea of responsible and people-focused decision-making among those in power.
v) Externally-oriented Mindsets. Disillusionment with the pace of change since the revolution is palpable among Tunisians. It is, however, a small, costal, outwardly facing country which by necessity has generated an externally oriented perspective. While domestic politics remain paramount, there still appears to be a capacity to look further afield to understand change processes and identify how best to shape a more positive future for its people. I had the opportunity to chat with representatives of the Kawakibi Democracy Transition Center, for example, which is doing exactly that. Meanwhile, goodwill towards Tunisia is abundant and the international community is deeply committed (and heavily invested) in supporting a positive transition.
Unfortunately, the people of North Africa and the Middle-East have few examples of positive reform within the region from which to learn lessons and draw hope. But I left Tunisia convinced that Tunisians are making progress towards blending Islam with democracy, tradition with progress and opportunity with equality. It will not be easy, but consolidating revolutionary gains has always been more difficult than precipitating a revolution itself.
Blair Glencorse is a UNAoC Fellow and Executive Director of the Accountability Lab. You can follow him on Twitter @blairglencorse.