Mingling around the tastefully-decorated and dimly-lit Egyptian restaurant, where we feasted on local delicacies with our new friends, it's hard to believe we've only been here for four days.  It seems like only a few hours ago, we were discussing Moroccan politics while being treated to delicious mint tea, which flowed like water from Rabat to Casablanca.  Though the pervasive generosity among the people of North Africa certainly transcends borders, the uniqueness of the Egyptian culture highlights the countless nuances of a beautiful region, which we've only begun to explore.  Alas, tonight, our time in this fascinating country is coming to a close.  Yet, looking around, judging from the palpable level of laughter and excitement, it seems we've been here for much longer.  One should never underestimate the socially-cohesive power of a well-seasoned roasted pigeon stuffed with wild rice… Perhaps the world would be a better place if we all subscribed to gastro-diplomacy more often!  However, it seems that we must wait, as our host, Dr. Magda Zaki from The League of Arab, underlined, "for the soup to settle" before we can validate this theory.   Enough with the culinary metaphors! Muslim-Western relations, as we're becoming more and more acutely aware, require a deeper level of analysis and comprehension. Yet a few days spent interacting with a number of thoughtful, driven, and incredibly affable Egyptians have underscored the irrefutable power of the human dimension.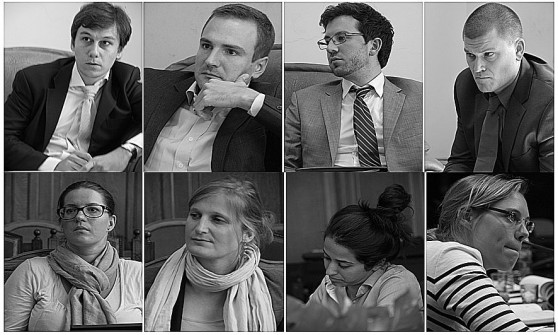 Though it has often been said that the journey is more rewarding than the destination, we can all attest that there are exceptions to this adage!  After an epic 24 hour journey punctuated with a series of flight delays and missed connections from Rabat to Cairo (via Paris and Frankfurt), we finally reached our destination around 4 am.  Though each of us could have slept on a rock by the time we finally got there, we were all very grateful for the level of comfort that awaited us at the El Gezirah Sofitel.   Judging from the ubiquitous level of weariness, our coordinator Karima had kindly arranged to reschedule the early part of the morning's agenda in order to give us all an opportunity to catch up on some much-needed sleep.
Rested, fed and eager, the reality set in:  we had finally arrived in Cairo – a bustling vibrant metropolis, home to over 20 million people.  What a treat!  As the icing on the cake (there he goes again with the recurring culinary digressions!), the first item on the agenda was a visit to pyramids of Giza, about 30 minutes outside of Cairo.  An aggregate level of excitement was present on the bus, as we motored through the impressive Cairo traffic and etched our way closer to these majestic structures.  Nour and Hayam, our wonderful local coordinators had arranged the perfect tour, with the just right amount of historical information and cultural relevance.  Naturally, we took all the obligatory tourist photos in front of the pyramids and the Sphinx.  This was the perfect way to start this Egyptian adventure, paving the way for what was sure to be a couple of intensive days.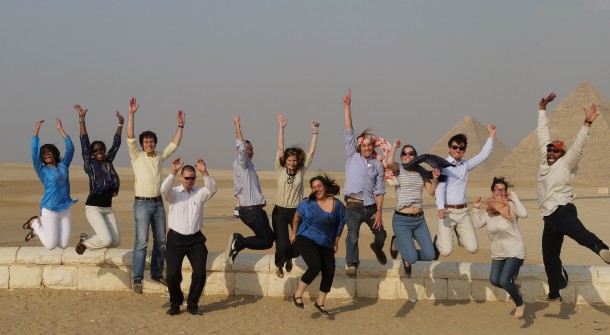 And intensive there were!  The following day, we were punctually greeted by the smiling Nour who organized a short drive over to the League of Arab States, our home base for the next couple of days.  The League of Arab States, which was founded in 1945, groups together the twenty two Arab states and promotes economic, cultural and political relations among these member states.  It was there that Dr. Magda Zaki, our main host while in Egypt, welcomed us and gave us an insightful overview of the Organization as well as the country and the current situation.   We learned about the Egypt's fascinating history, which has been experienced a number of transitions.  Much of our conversation focused, of course, on the tumultuous 18 day political revolution in and around Tahrir Square, which resulted in the ousting of former President Mubarak – a pivotal time which Joseph Nye describes as a "social movement which overcame an entrenched autocratic government."  The discussion was substantive, lively and provided a very-much needed framework to start to understand the latest cultural and political developments in the country.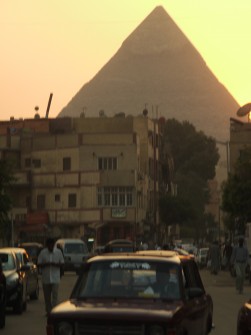 Each presentation was unique and the subsequent discussions helped to shed light on a number of important aspects of Egyptian society.  Whether it was with Parliament Members, Field Reporters, Diplomats, Professors, NGO workers, Private Sector Leaders, Social Media Specialists, Alumni living or currently in Cairo, and Students (belonging to different political parties), each conversation played an integral role in deepening our understanding of this complex country.
Waged in the name of freedom, equality, liberty and justice, the revolution, as one of the fellows noted, has not brought equal rights to all.  "As borders between authority and the state, power and freedom, and civil military relations are being teased out, there have not been clear gains for all. Women revolutionaries marched shoulder to shoulder with their male counterparts to secure freedom yet they have been marginalized across all political parties and all branches of government. As one prominent member of one political highlighted, 'Mubarak appointed women in his Cabinet; President Morsi has appointed only 2 [women].' "Women's leadership is linked to greater economic performance and less corruption," she goes on. "There is evidence which suggests a correlation between women's empowerment and the type of growth and development that the revolution was fought for.  It is a shame that more has not been done to support women's issues. It could be said that advancing women's issues might be reminiscent of the Mubarak regime – but dismissing the rights of more than half of your population is hardly the right way to begin as a state committed to democracy, pluralism and equality."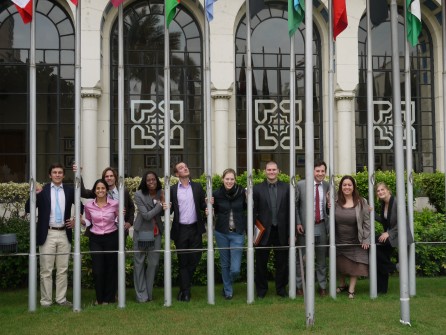 Our last meeting provided a fresh and inspiring perspective, as we met with Tarek Shoeib, the Founder of Midan Masr, a bilingual (Arabic/English) "Opinionated Paper" covering contemporary Egyptian politics and culture with a refreshing point/counterpoint format.  Unrestrained by convention, Tarek left his comfortable, high paying finance job in New York and London to return to Egypt, as he felt that he had a responsibility to take action to help his country transition to a brighter future, especially since that fateful January 25, 2011 ("the day of revolt."  Tarek is a prime example of the many young Egyptian activists who represent an educated, vibrant society, eager to be heard and eager to see change take place.  "The idea that the Arab political culture is inherently violent," as was written in his thoughtfully-articulated newspaper, "has been most eloquently debunked by the extraordinary self-disciplined nonviolence of the protesters in Egypt – in spite of extreme provocation and abuses by the police and government-paid hooligans.
In keeping up with the rigorous cadence of the program, we had little time to digest everything that we heard and learned.  And yet after each day of thought-provoking meetings, most of us somehow managed to muster up the energy to explore a bit of Cairo with our trusted tour guides from the Arab league and the alumni fellows in Cairo.  Even after having worked all day to ensure that each meeting was organized and executed seamlessly, these two lovely women would take the time to take us out to experience genuine Egyptian culture.  We toured Tahrir square and marveled at the artistic graffiti which, despite having been erased several times, still stands.  We will never forget seeing this iconic area, which will forever be etched in our memory as a paradigm of change during our generation.  In fact, as Dr. John Inge, a contributor to Midan Masr, remarks:  "the crucial thing  about democracy, as Egyptians know from bitter experience, is not how governments are elected or how decision are made, but the fact that you can get rid of a government."  It was truly a unique honor to be able to listen directly to the voices of those who contributed to this change, and to do so right in the heart of where these catalytic events took place.
Ralph Waldo Emerson once wrote that "the civilized man has built a coach; but has forgotten the use of his feet."  It is perhaps a stretch to apply 19th century existentialist philosophy to the current situation in the Egypt; but the central message holds true.  It matters not, how many facts we read or how much geopolitical analysis we apply; the human dimension is indeed the driving forces behind constructive opinions based on solid, lived experiences, rather than preconceived and outdated notions.  These experiences provide us with a foundation to focus not on what separates our cultures, but rather on what viscerally and innocuously unifies us.  From the simple pleasures derived from a meal to the collective desire for mature institutions and strong civil societies, these experiences are far more meaningful than anything we can read or watch.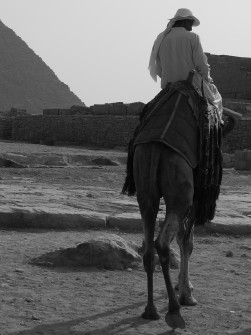 Social networks may have played an integral role in the Egyptian revolution, but when we learn that there are only 256,000 registered Twitter users out of a country of more than 83 million people, we must dig deeper.  We must not forget "the use of our feet."  In an increasingly more complex world, often limited to 140 character sound bites, we must not forget the power and impact of this human dimension as a vector of virtue and not greed.
In retrospect, as we attempt to immortalize this ephemeral evening, we are reminded of the importance of these fleeting moments of cross-cultural dialogues.  We are so lucky to have shared this experience with such incredible people – all of whom are unique in their own personal and professional ways, but all embody a collective sense of passion and enthusiasm.  We are even luckier to have been able to share this passion and contribute to this enthusiasm.  Though the recent events in the region would suggest a grimmer reality which goes beyond this quixotic appreciation, the human dimension prevails.  It allows us to look beyond the misperceptions and demystify the stereotypes.  It is perhaps a trite realization, but a genuine one nonetheless.  Call it the Egyptian version of what one might find inside of a Chinese Fortune cookie… or in this case, a stuffed pigeon!  Whatever it is, it's real.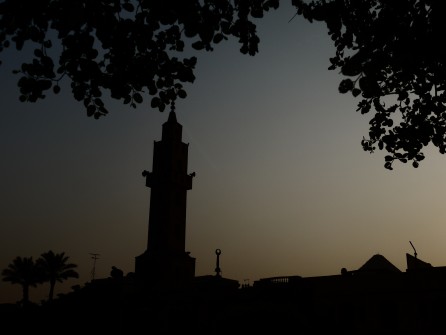 Additional photos are available here